Trees planted in names of senior citizens
Housing complexes undertake green drive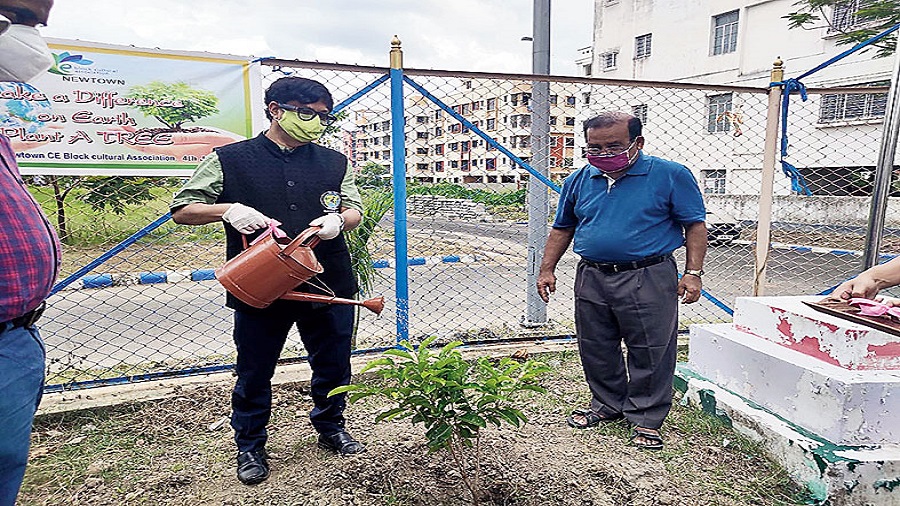 Hidco chairman cum managing director Debashis Sen waters a sapling in CE Block in New Town as block secretary Alok Das looks on. Sixty trees were planted in the block on Saturday. Another 40 will be planted in course of the monsoon
Sourced by the Telegraph
---
Published 10.07.20, 03:26 PM
|
---
Hidco chairman cum managing director Debashis Sen waters a sapling in CE Block in New Town as block secretary Alok Das looks on. Sixty trees were planted in the block on Saturday. Another 40 will be planted in course of the monsoon
Even as Hidco started its plantation drive, residents of New Town are coming forward as well to do their bit to replenish the green cover lost to the ravages of cyclone Amphan.
About 100 saplings have been purchased from the Tall Tree Nursery by New Town Forum & News, a residents' body, for plantation in housing complexes that are coming forward to partner the green drive.
"We do not have an equivalent of Central Park in New Town. So we must do what we can to increase the number of trees here. We have chosen 12 kinds of saplings about a year old as per the soil quality of New Town," said Chaitali Srivastava, a member of the forum, which is urging housing complexes to ask their senior citizens to adopt each tree.
Plantation has taken place at five complexes so far. "The next is planned at Panache," she said. "Senior citizens have time in hand as well as maturity to judge the well-being of trees. We tell them to look after the tree they are adopting like their child. We plan to celebrate the birthday of the tree next year with them. They get emotional on hearing this," Srivastava said.
The first such plantation drive took place in New Town Heights on June 20. "We plant trees every year. This year, when they approached us we readily agreed. When we sought nominations for adoption in our residents' WhatsApp group, we got 25 requests. But since we had to leave a gap of eight feet between saplings, we could give space for 15. They gave us a list to choose from. We picked neem, palash and jarul," said Hemant Sareen, co-ordinator of the gardening committee of New Town Heights. The senior citizens mostly stayed away from the programme to stay safe. The complex has registered a Covid-19 case a month back.
The second in line for the programme was NBCC Vibgyor Tower, on June 21, where 22 saplings were planted. "We got adoption requests from 15 senior citizens. Perhaps more did not come forward because of the Covid situation. We planted a tree each in the names of our Children's Club and Ladies Club as well, as we wanted participation of all groups of residents," said Avik Kumar Sinha Roy, treasurer of NBCC Vibgyor Owners' Association.
The complex had lost 14 trees to Amphan. "We will plant 30 more trees on our own on August 15."