Tree makeover for New Town
Palm and coconut to replace species vulnerable to storms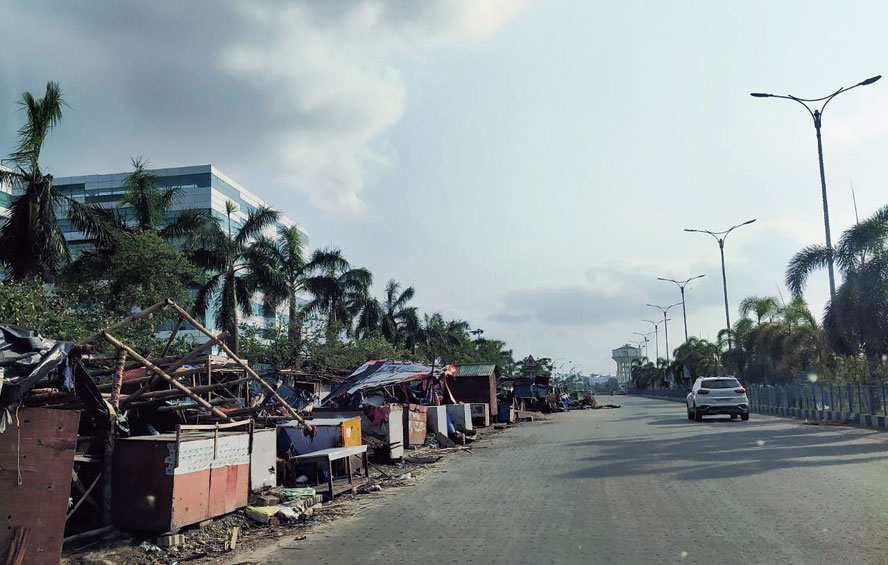 ---
|
Calcutta
|
Published 06.06.20, 08:55 PM
---
Palm, coconut, cherry blossom, pine and casuarina will be planted across New Town where more than 4,600 trees were damaged by Cyclone Amphan.

The New Town authorities have decided to change the way it plants trees after the cyclone left a trail of twisted branches and uprooted trees.
In order to have a clear idea on the type of trees that were the most susceptible to damage during storms, a recent survey was conducted by the New Town Kolkata Development Authority (NKDA) across the township, including Eco Park.
According to an NKDA official, during the survey they found that the mostly krishnachura, radhachura, kadam and simul trees were damaged or uprooted by the storm.
The authority has decided to avoid planting these varieties on the median dividers and pavements.
According to another official of NKDA, those trees that spread out in a large canopy will be avoided as they are susceptible during storms, if not pruned properly.
NKDA chairman Debashis Sen said they would focus on planting trees that were flexible and did not have a large canopy.
"We will plant trees that have flexible trunks that can bend and not snap when hit by strong gusts of wind. We are looking for those varieties that absorb dust as well as all-season flowering trees. We have asked the forest department for help and will carry out a detailed survey of places where trees are being planted," said Sen.
Slender trees such as foxtail and rosy trumpet will be planted to weather storms while neem, kadamba, gokul, arjun, palash and ashoka to combat air pollution.
According to Sen, they will hold training workshops for those who prune trees in New Town as several experts have pointed out that trees in urban areas are pruned unscientifically and untimely.
According to a tree census that was carried out in 2018, there are 22,800 trees in New Town, of which most are radhachura, arjun and palash. Of the 4,600 damaged trees, the New Town authorities and the forest department have restored 3,738 trees using cranes, payloaders and ropes.
A forest department official said the restored trees were being checked regularly.
"We have propped the trees up using bamboo poles and are applying medicines to damaged branches or trunks. We are also packing the soil around the trees with fertilisers," the official said.