Tree branch crashes on moving vehicles in Calcutta
Occupants unhurt but accident bares safety risk
---
---
Occupants of two vehicles escaped unscathed as a large branch of a kadam tree fell on two moving vehicles metres from Dhakuria bridge on Monday.
The accident highlighted the dangers posed by trees along roads in the absence of proper care. Both vehicles — a private car and a small goods vehicle — were headed towards the bridge from Gariahat in the afternoon when the branch crashed on them about 100m ahead of it, police said.
"The branch fell on the windscreens of the vehicles and the drivers escaped without any injury. It would have been disastrous if the thrust of the branch was above the driver's seat," an officer of South East traffic guard said.
The goods vehicle had Calcutta Municipal Corporation water supply department written on it.
The private car, a red WagonR, had none other than the person driving the car, a resident who witnessed the accident said. She was not sure, though, if the goods vehicle had anyone other than the driver, she said.
The tree is slanted towards the road and the branches to its east haven't grown much because of tall buildings blocking their way. On the other hand, the branches to its west where the road runs have expanded considerably. A naturalist said it was possible that the tree was heavier to its west.
"The tree is already inclined towards the road… on top of that the load was more towards the road… ideally, the branches should have been more on the side towards the buildings to maintain proper balance," Arjan Basu Roy, founder of the NGO, Natures Mates, which works on environment and green matters, said.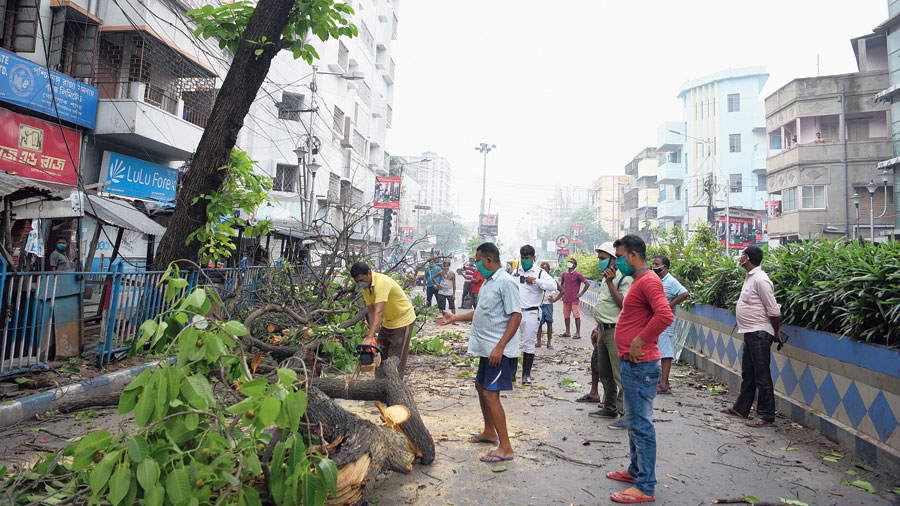 The Telegraph had WhatsApped the pictures of the fallen branches to Basu Roy.

The branches must have become heavier because of the rain and the simultaneous wind created a thrust that led the branch to crack and fall on the vehicles. "Many branches had been partially severed from the tree trunks during Cyclone Amphan. It could be that the same happened in this case, too," Basu Roy said.

After the cyclone, the CMC decided to set up a tree management authority. There are many trees in the city that are leaning in a dangerous way, a naturalist said. Branches on one side have become heavier than the other in many trees.

"There are many trees that need proper management. If a tree is inclined and doesn't have space to grow on one side, it should be transplanted in another place. Often, trees need to be pruned carefully to create a proper balance between its sides. These are things that need expertise… and for that the tree management authority should be formed at the earliest," said the naturalist.