Top draws in corona season
Shops have reinvented themselves to cater to demands of a pandemic era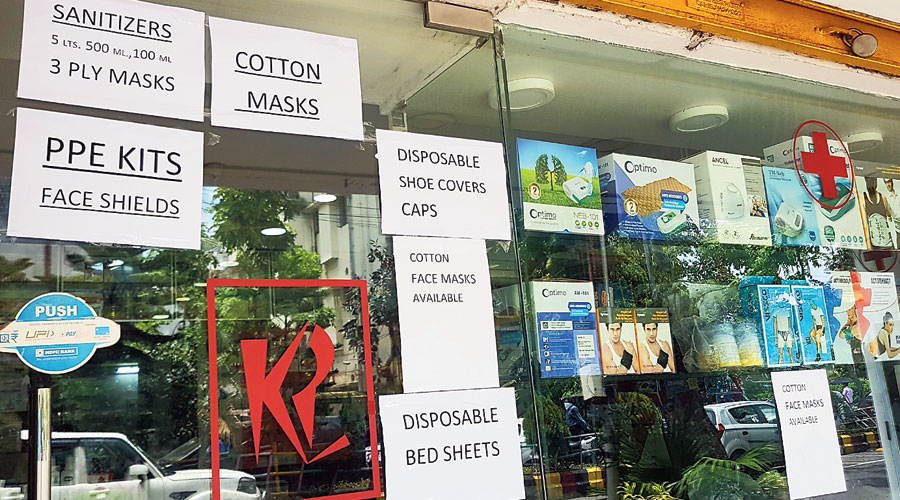 ---
|
Calcutta
|
Published 03.07.20, 01:52 AM
---
Over the last three months, mask and hand sanitiser have become our best friends. We haven't stepped out of the house without these. Shopkeepers too, claim these to be top selling items and almost every shop has been selling them.
As the weeks roll by, the markets have started offering wider range of masks, sanitisers and several more utility items to safeguard against the coronavirus. The Telegraph Salt Lake does a survey of what's on offer.
New items in armoury
Face shields, hair covers, gloves have all hit the market. AE Market's New Variety Stores displays mist sprayers prominently on its shelves. "This finger-sized gadget sprays sanitiser into the air in mist form at the press of a button. It's mild and looks classy," says Prasenjit Pramanik, who runs the store. It costs Rs 200.
Face guards look like motorbike visors with a transparent plastic sheet before your face, held by a band on the forehead. Markets and even medicine shops say these sold quite well in early June when they first came out. "Back then, they were a novelty and we could charge Rs 70 to 80 for them. But now everyone is selling them and many are of poor quality so the prices have come down to about Rs 40," says Palash Banerjee, who sells Covid-safety items around the township on his bicycle. A downside of face shields is that any scratch on the plastic obstructs vision.
CA Market's Jiko Men's Tailor has started making hair shields. "The virus can latch on to the hair and head too so why leave it vulnerable," asks owner Dipankar Saha. He is now making these caps — that look like regular baseball caps but without the brim in front. "The back has Velcro to adjust the size. Women with long hair can tuck their hair inside it too." The caps are available in six colours and are priced between Rs 120 and 150.
Cheaper, disposable surgical caps are also available. "We have caps priced at Rs 5 and 10 and together, 30 to 40 of them are selling a day," says Tarun Maity of Petals, a stationery and gift store at Baisakhi.
As for gloves, three kinds are readily available. "The cheapest is a transparent plastic one. A pack of 100 of these costs Rs 110. But the more durable rubber gloves are selling better. One variety costs Rs 20 a pair and another Rs 90," says Ripon Saha of New Indrapuri Stores in BJ Market.
Personal protective equipment (PPE) are also available. "But they are expensive — priced at Rs 1,500 a suit — and must be disposed after using once so hospitals alone have been procuring them," says Aswini Das of K.R. Lynch Healthcare in BF Block. "Hospitals and clinics are also buying disposable bed sheets to change for every patient."
Nandan Medical Stores in DD Block keeps PPEs too, although sales are modest, at only one or two a week.
Wildcraft, that has a branch in City Centre, should soon have its own version of PPEs. "While we are known for our sports and trekking gear, post-lockdown we are offering Covid-related items," says store manager Pulak Jana. "Our personal protective gear is already selling at our Camac Street branch and we shall sell them here soon. Besides the safety factor, they will be available in blue, red and white colours and be priced at Rs 1,999. We shall target security guards and home delivery people with these."
Petals, at Baisakhi, says they have steady demand for big disposable sheets of tissue. "These are being used by salons. They are spreading these sheets over customers when they sit for haircuts. Previously they used cloth for this but everything has to be disposable now," says Maity.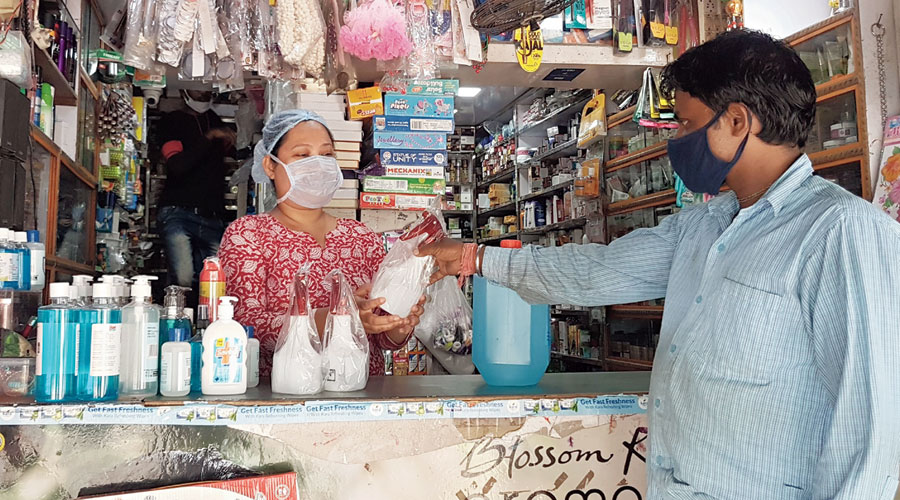 Old bottle, new uses
A runaway hit since June has been sanitiser spray bottles. "Previously salons would use these to spray water on customers' hair before chopping. We would sell one or two of them a month. Now we're selling seven or eight a day," says Maity.
The prices of the bottles are subject to market forces. "Before Covid-19, wholesalers would sell these at Rs 40 or 50. Now they are charging Rs 70 to 80. In order to make a profit, I am forced to charge customers Rs 100," says Tapas Saha of BJ Market's Saha Dresses.
"Shops are opening up now and are buying these spray bottles to offer customers sanitiser before letting them in. They prefer these to traditional sanitiser bottles as these can be sprayed from a distance. With regular bottles, the security guard has to go quite close to the customer and pour the liquid on his hands," explains Saha.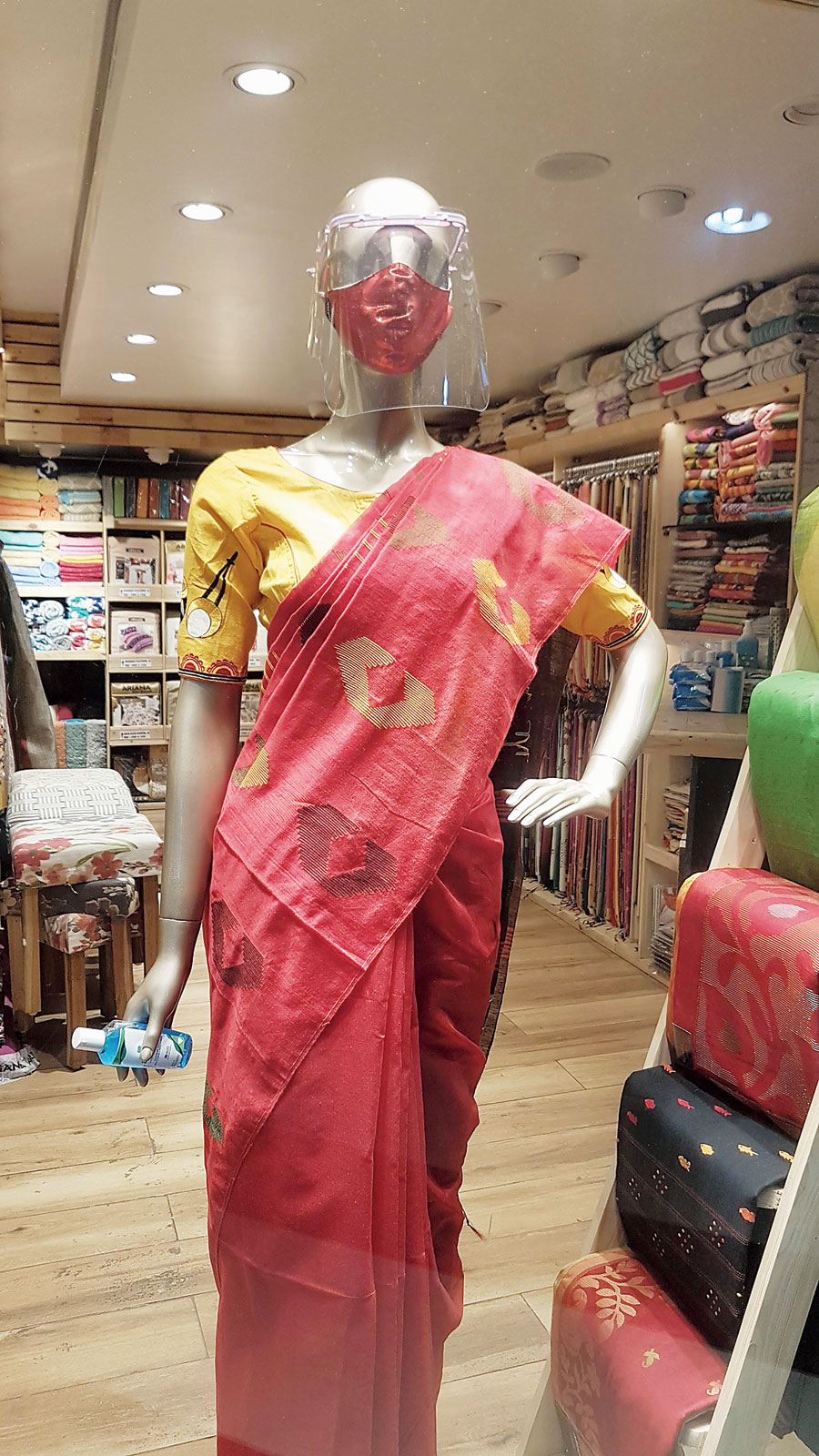 Sanitiser and handwash
Offices are buying sanitisers in bulk and so shops are selling them in 5l jerrycans besides smaller bottles of 50ml,100ml and 500ml. "Numerous companies with national and local presence are making sanitisers now, to the extent that customers are unable to decide between brands. So they are checking the alcohol content in the product before buying. Most want sanitisers with over 70 per cent alcohol," says Maiti of Petals at Baisakhi.
Most pocket and table-sized sanitisers at the store are priced within Rs 500 and 5l bottles priced between Rs 700 and 1,700.
At IA Market, Rishiraj Ghosh has started getting custom-made sanitisers with 95 per cent alcohol strength. "The market for regular sanitisers has stagnated. Individuals have bought enough sanitisers to last a while but now offices need stronger chemicals to cleanse their premises," says Ghosh.
Pramanik of AE Market has stocked up on chemicals for body sanitising, vegetable washing, room and cutlery disinfecting. "These products are being used by companies on a daily basis," he says.
Handwashes and antiseptic liquids are still so high in demand that supply is falling to catch up. "People are soaking their clothes in these," says Maity of Baisakhi.
"We are placing orders but supplies are reaching us after a week."
At BJ Market, Saha says he has had to buy antiseptic liquid in the black. "I bought Rs 160 bottles at Rs 250. Regular supply is not smooth," he says.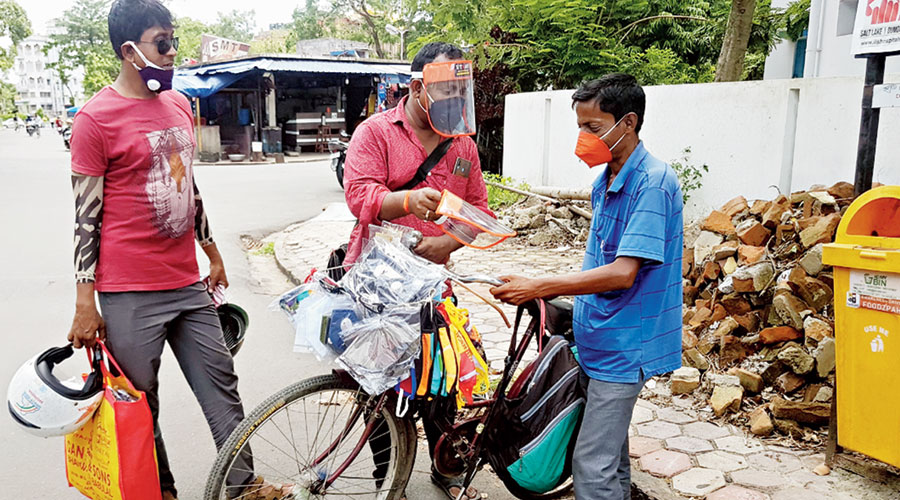 Masks, fashionable and safe
Masks are available in as many kinds as one can think of and at as many places one can think of. "Cloth masks are available at Rs 30 to 40 but customers are preferring surgical masks that are priced at Rs 10 to 15. Some prefer the latter as they are cheaper, other use them as they are disposable and comfortable," says Saha of BJ Market.
A company called Wildcraft is promoting its six-ply mask. "Not only will it protect from infection, dust and pollution but its material also makes it easy to breathe through, has low heat build-up and comes in three different sizes, including one for children. Unless a mask fits perfectly, the virus can still enter," says Jana. The masks cost Rs 200 and there's a buy-three-get-one-free offer on now. The masks are washable up to 30 times.
Noting that customers may be unwilling to venture into malls to buy the masks, Wildcraft has put up kiosks in and around town selling the same.
Tailors and boutiques have started stitching masks too. By this time last year, Ranjit Mondal of Rema Ladies Tailor at BJ Market was already getting orders to stitch blouses for the Pujas but this year his table is decked up with packets of chanachur and sanitisers instead. Out of work, he is stitching masks.
It's the same story at CA Market's Jiko Men's Tailor shop. "I'm buying colourful and printed cloth, and making masks," says Saha. "Now that people have begun going to offices and socialising, they want something other than the plain white masks." He's selling them at Rs 40-50.
The mannequin outside Ariana at City Centre wears a red silk sari and a matching mask. "We aren't making masks out of sari material as customers would doubt its efficacy. We are making cotton masks but in case someone wants to match it with a glazy oufit, we're giving it a silk outer cover," says Riya Chowdhury. A pack of three masks is available here at Rs 200-400, depending on the material and design.
Masks are available everywhere now — from malls to tea stalls. Saiful Sapui, who runs a tea and snack shop called Sakina Stores at the market opposite New Town's Candor complex, keeps disposable masks too. "Masks and sanitisers are essential items and can be required by anyone anywhere," says Saiful. "Most customers come here to eat but in case their masks fall or fly off I can provide them with a substitute," he says.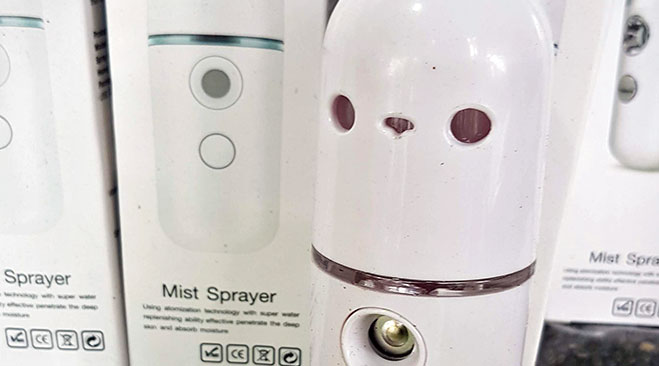 Market ups and down
Some may claim Covid-related items to be the only products making money this year but businessmen will tell you that even with this, timing is everything.
Palash Banerjee used to be an accountant at a Mandarmani hotel before the lockdown. He switched to selling masks on his cycle weeks ago and says he initially sold 100 a day. "But these days I don't sell more than 20," says the man, who comes from Barrackpore. "There are too many competitors in the market now."
Das of K.R. Lynch Healthcare says the same. "Initially masks, sanitisers and visars all flew off the shelves but now sales have dwindled. Why will they come all the way to a medicine shop when even paan shops are selling these items now?"
Medicine shops across Salt Lake and New Town feel that customers have already bought huge stocks of these items and need not buy them again for a while.
"In the first 10 days of June, I sold Rs 50,000 worth of Covid-protection items — masks, sanitisers, face shields… That was the time offices were preparing to open. But now I'm not even making Rs 20,000 in 10 days," says Pramanik of AE Market. "The only factor that will spike demand again will be the opening of schools and colleges. I have huge stock of items now and once they run out I won't replenish till schools are declared open."
Which Covid-19-related items top your shopping list?
Write to The Telegraph Salt Lake, 6 Prafulla Sarkar Street, Calcutta 700001 or email to saltlake@abpmail.com