Recognition of grit of students
Role of schools, guidance of teachers and support of parents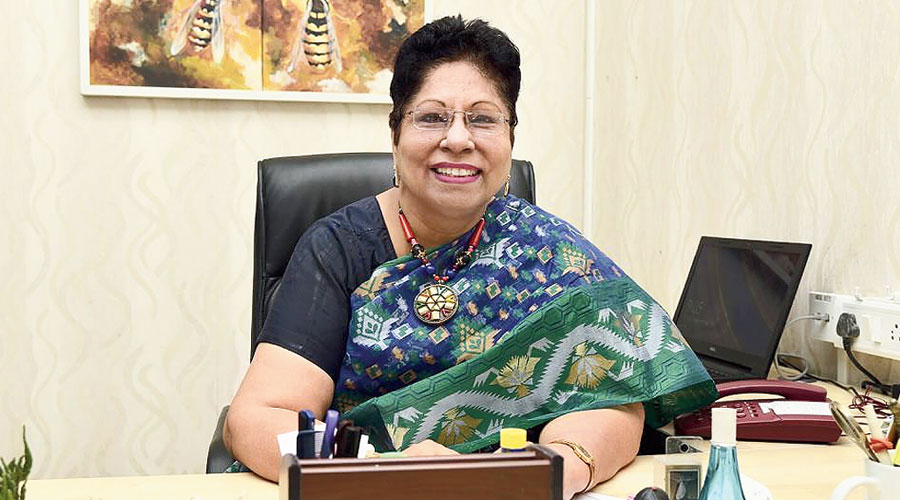 Mukta Nain, director of Birla High Schools, awarded the Dr Mrs NB O'Brien Memorial Lifetime Achievement Award for a Teacher
Sourced by Telegraph
---
Calcutta
|
Published 13.12.20, 04:21 AM
|
---
A list of the awardees at the IIHM presents The Telegraph School Awards for Excellence 2020, 25th Edition, in association with The Bhawanipur Education Society College
The Caring Minds Award for a 'School that Cares'
Special mention (for handling the pandemic)
Calcutta Rescue: Distributed smartphones among slum children
Adamas World School: Provided a part of its Barasat campus to set up a quarantine centre
Joint winners
Antyodoy Ashram: Home to 78 children, orphans or children of single parents incapable of bringing them up Batighar Pathshala: School for 56 children, mostly from slums and footpaths
Don Bosco School, Liluah: Host of welfare activities like teaching girls over 14 years for free and conducting night schools 
The Somak Dutta Endowment Award
Moner Unmesh: A school for tribal children, mostly first-generation learners, in Garbeta, West Midnapore. The mud building of the school was damaged by Cyclone Fani (2019) and razed by Cyclone Amphan in May this year
The Anand Paul Memorial Award for Social Service
Chowringhee High School
St Joseph's School, North Point
The Ambuja Neotia Award for Excellence in Maintenance and Eco-Friendly Initiatives
Adamas World School
Tribeni Tissues Vidyapith Scholarships, Section 1
Dr. Ashin Dasgupta Memorial Scholarship
Rhichick Dey: South Point High School 
Lakshmipat Singhania Education Foundation Scholarship
Jyoti Mardi: Maladang Koherakuri Bangshidhar Uchcha Vidyalaya, Birbhum
Dr Amiya Kumar Bose Memorial Scholarship
Indrajit Roy Laskar: Haldibari Uchha Madhyamik Vidyalaya
The Late Debaprasad Das Purkayastha Memorial Scholarship
Santanu Dutta: Malpar Vivekananda Sikshaniketan, West Midnapore
Hariyana Vidyamandir Scholarship
Jhumi Debnath: Ranaghat Nasra Girls High School, Nadia
The Bansari Saha and Late Malay Saha Scholarship
Prerna Rana: Belda Gangadhar Academy, West Midnapore
The Sonika Chauhan Award for Courage
Yubasana Kapa: Gokhale Memorial Girls' School
Susmita Sarkar: National High School Hazra Road Campus (The Sonika Chauhan 27 Foundation Scholarship)
The Surrendra Paul Memorial Award for Courage
Aaditya Kumar Agarwal: MC Kejriwal Vidyapeeth
Arkojit Mukherjee: Union Chapel School
Kinkini Chatterjee: Lakshmipat Singhania Academy
Ronit Adhikary: Calcutta Public School Kalikapur (also winner of the Tarun Kumar Sinha Memorial Scholarship)
Sk Muhemin Ali: Saifee Golden Jubilee English Public School
Sumit Kumar Lal: National High School, Hazra Road Campus (also winner of the Chittajit De Memorial Scholarship)
Soumili Hor: The Assembly of God Church School, Park Street (Died on September 17. Diagnosed with a degenerative neurological disease in Class VI, for which she struggled to move even with crutches. She attended school regularly despite her numerous health issues) The IIHM Award for Excellence in Academics
CBSE: Lakshmipat Singhania Academy
ICSE and ISC: The Heritage School
Madhyamik and HS: GB Memorial Institution
The Madanlal Dhandhania Charitable Trust Award for Academic Excellence by a Student
Special honour
Auhona Mukherjee: Delhi Public School Megacity (Humanities stream)
Subham Ghosh: DAV Model School, Durgapur (Science stream)
Yamini Chetani: Mahadevi Birla World Academy (Commerce stream)
Joint winners 
Sreemanti Dey: Delhi Public School Ruby Park 
Utsav Basu: South Point High School
Scholarships, Section II
The Delhi Public School Megacity Scholarship
Prabir Mukherjee: Malpar Vivekananda Sikshaniketan, West Midnapore
The Admissiontree Scholarship
Kajal Das: Paschim Barisha Kamala Vidyamandir
The Tarinidas Roy and The Pratibha Roy Memorial Scholarship
Piyali Nayak: AK Mitra Institution, Dhakuria
The Mayukh Mitter Memorial Scholarship
Debanjan Sarkar: Ashokenagar Boys Secondary School, North 24-Parganas
The Capt. Sanjib Sen and Mrs Suchitra Sen Memorial Scholarship
Barsha Mandal: Kanaknagar SD Institution, Hingalganj, North 24-Parganas 
The Bhawanipur Education Society College Award for an Educationist
Chhaya Biswas: She started at Loreto Day School Bowbazar in 1955 as a teacher, worked in several other schools and more than six decades later, she is still guiding students and this time in online mode.
Ratan Chandra Dhara: The teacher of Bonbibitala High School (HS) writes skits to raise awareness against child marriage.
Dipak Roy Chowdhury: He uses magic to teach sciences and mathematics at Niva Ananda Vidyalaya, Brahmapur, Garia.
Special mention
Theo Baker. Now in her 90s, she was associated with many schools as a care-giver to underprivileged children.
The Dr Mrs NB O'Brien Memorial Lifetime Achievement Award for a Teacher
Mukta Nain: The director of Birla High Schools has been in the field of education for more than three decades and believes in providing all-round education to students.
Nazirah Ganjee: The former teacher of La Martiniere for Girls, both "strict and soft", has involved herself with various occasions like Founders' Day, Sports Day and Children's Day.
Grace Williams: The teacher at Loreto Convent Entally, also a social worker, has instilled the Loreto values in her students.
The Abhirup Bhadra Memorial 'Thank You Baba-Ma Award'
Rehana Sardar: A single mother of three children in a middle-class family, she took up a job after her husband abandoned them and is bringing up her daughters. One of the daughters, Mehdiya Binte Aftab, of Jewish Girls' School, received The Dr Krishna Roy Scholarship.
Sunil Sharma and Mamta Sharma: They have never let their hard times impact their daughter's education. Sunil Sharma lost his job a few years back, got a part-time job but met with an accident. Mamta Sharma does a part-time tailoring job. Daughter Anjali Sharma, of St John's Diocesan Girls' Higher Secondary School, received The Saradindu Sen & Indira Sen Memorial Scholarship.
Kalyan Adhya and Rupa Adhya: Rupa had to sell a kidney to make ends meet and pay for the treatment of son Acharya, who had a rare disease. Acharya received The Indu Basu & Pritish Chandra Basu Memorial Scholarship. 
Abhijit Sarkar and Late Mandira Sarkar Chakraborty: The couple's son, Arkodeep of St Luke's Day School, has scored 96 per cent in ISC. His mother, who passed away last year, played a significant role in guiding him in academics and music.  
The Kalyan Bharati Trust Award for All-Round Excellence
Joint winners
Dhruv Banka, of La Martiniere for Boys, scored 94 per cent in ISC. He is a debater and a cricketer, and his social work includes conducting food drives
Acharya Adhya, of Abhinav Bharati High School, has fought a disease in childhood, excelled in academics and also in rifle shooting and other sports.
The Adamas University Award for Outstanding Talent in Sports
Special Honour
Shreyas Bahadur Shah, of St Joseph's School North Point, for volleyball, basketball and athletics.
Winner
Aronyak Ghosh, of South Point High School, an international master who has been playing chess since he was nine
The Balrampur Chini Mills Award for Outstanding Talent
Nilav Bose (photography): Don Bosco School, Liluah    
Shivam Agarwal (space technology): Lakshmipat Singhania Academy
The Anirban Sinha Award for Outstanding Talent in Music
Sagnik Sen: South Point High School
Shreyan Bhattacharya: DAV Public School, Midnapore
The Shining Star Honour
Suchandan Ghosh: K. Carmel School, Sarisha
Usha Mondal: Calcutta Public School Kalikapur
Mira Das: Silver Point School
Biswajit Mazumder: Bhavan's Gangabux Kanoria Vidyamandir
Satyabrata Kayal: Gems Akademia International School   
The Telegraph Education Foundation Award for Excellence in Extra Curricular Activities
Joint winners
Lakshmipat Singhania Academy
South Point High School 
The Telegraph School of The Year
The Heritage School
Delhi Public School Megacity Suborno Bose 
Chairman and CEO, IIHM
We are very proud and privileged to be a part of The Telegraph School Awards for the past four years. I would like to congratulate the entire The Telegraph Education Foundation for providing support to students for the past 25 years and this is something that nobody has done. I also want to thank every teacher for their selfless service 
towards educating children during the Covid-19 pandemic. Miraj D. Shah 
Vice-chairman, The Bhawanipur Education Society College
Stepping into 25 years is a huge thing for any programme and the fact that The Telegraph Education Foundation has been helping students all along is just amazing. The sheer number of students' lives it has touched is incredible. We can only wish all the best and want this programme to grow even bigger and better. Barry O'Brien 
Trustee, The Telegraph Education Foundation 
Twenty-five years is a long time and over this time period some of us have doubled or tripled our chins. However, The Telegraph School Awards has grown in strength and we are grateful to those who stood by rock solid at our side. Amitabha Datta 
Chairman, The Telegraph Education Foundation
The Telegraph School Awards has become extremely popular over the past 25 years not only in the city but all over the state and it is extremely heartening for us.
The programme that we had started 25 years ago has transformed the lives of many young children as it helped them pursue their educational endeavours despite their problems and we are grateful to all the individuals, corporates, schools as well as the teachers who have all made it possible for us.