The man who grasped statistics and its untapped potential
ATINDRA MOHAN GUN (1931-2020): A student pays tribute to the mentor who steered him to the subject of the future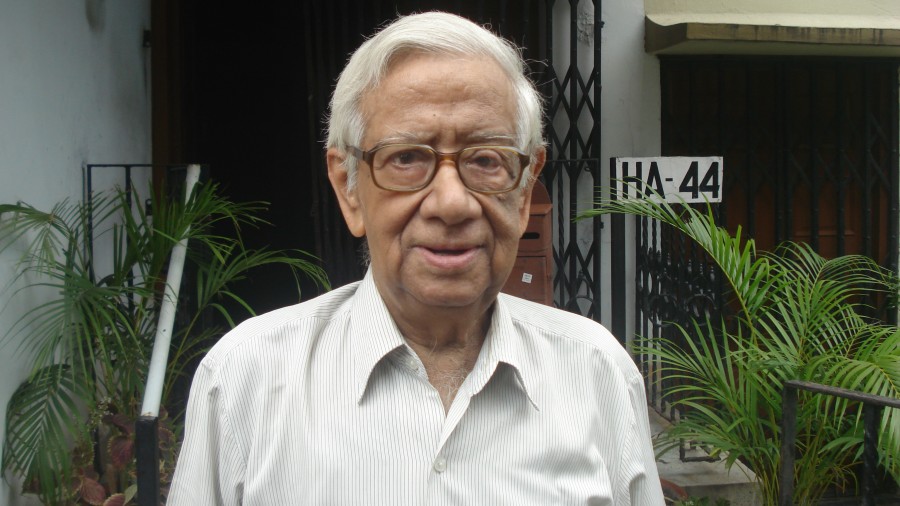 ---
Published 12.09.20, 09:43 PM
|
---
In 1981, I was a young man in my late teens, about to make the transition from school to college. My mother was a professor of economics and I was veering towards making a career in economics as well. When our higher secondary results were declared, I went to Presidency College to pick up a form to apply for the honours course in economics. At that time, I was told that each candidate could apply for two subjects. After some thought I picked up another form for statistics. Although I had studied statistics in plus+2, I had not developed a liking for the subject as our statistics teachers in high school could not provide enough motivation for us to develop an appreciation for the topic. Hence, while I may have filled in applications for both subjects, I was not seriously thinking about majoring in statistics at that point of time. 
Being successful in both admission tests, I then had to decide. Economics or statistics honours? Although I was still overwhelmingly in favour of joining the economics course, I met Prof Atindra Mohan Gun, with whom my father was  acquainted, for advice. I knew that being the head of the department of statistics, his opinion was likely to be biased towards his subject, but I considered myself mature enough to be able to weigh his advice rationally. That meeting changed the course of my life.
Of course, Prof Gun explained to me why somebody should study statistics, and what options a well-trained statistician had. He also told me that the discipline was yet to attain its full potential, a statement which seems prophetic today with the emergence of analytics and data science. To some extent, I was expecting to hear such things. But to a greater extent, it was the force of his personality which convinced me. By the time I left his chamber, I had made up my mind. I joined the statistics honours course in Presidency College, and since then, never for a single day in my life have I regretted my decision.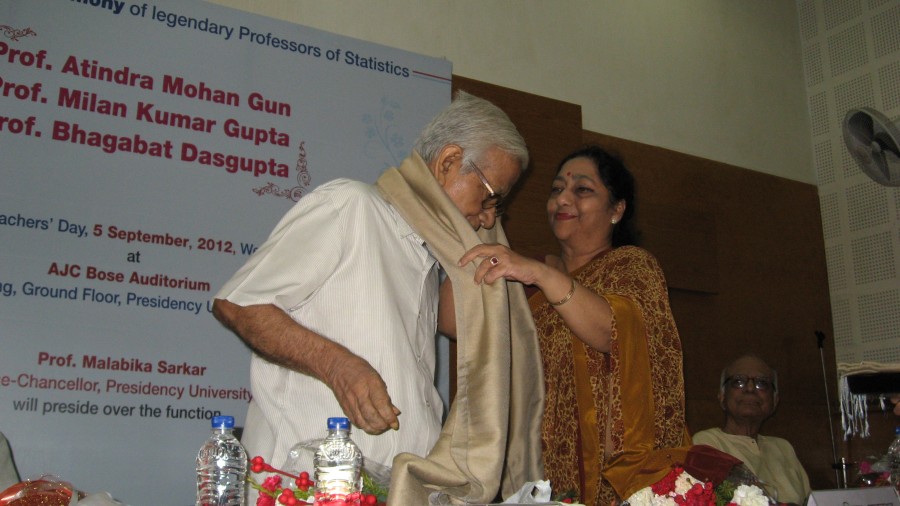 It is debatable whether Presidency College in the 1980s was qualitatively at par with the Presidency College of 1950s and 60s. But there is no doubt that it was still the best college of the state. And Prof Gun was prominent among the handful of teachers whose dedication allowed the college to retain this distinction. As a teacher his effectiveness was beyond question. Within the classroom he was a perfectionist. His class-notes were complete in every respect, and simply compiling them was enough to produce a complete textbook. He was also a strict disciplinarian. If a group of students would bunk a certain class, he would send the non-teaching staff to look for them, and, if found, haul them back to class. Occasionally he would wander in the classrooms of younger teachers and observe, sometimes for long durations, how they fared in class. Yet, he was a classic old school professor, who cared not only about students' education but also about their complete well-being. There was an aura about him, which all teachers and professors hope to attain, but very few actually do. He was an institution by himself.
Prof Gun was extremely protective of the status and stature of Presidency College. He strongly resented any move to dilute the elite status of the college. This led him to several conflicts with the state's higher education authorities of the time which continued for almost the entire second half of his tenure at the college. He was a very vocal proponent of autonomy for Presidency College but that did not happen during his tenure, although the institution has now been converted into a university. It is also widely believed that he was passed over for several appointments and positions because he did not see eye-to-eye with the authorities controlling the education system.
It is to our great pleasure and satisfaction that in 2012, on Teacher's Day (September 5), we could felicitate Prof Gun, together with his contemporaries Prof Milan K. Gupta and Prof Bhagbat Dasgupta, at Presidency University on their attaining the milestone of 80 years. And although we did not realise it at the time, it was later pointed out that the year 2012 also marked the 50th year of the publication of the famous book, Fundamentals of Statistics, co-authored by these three legendary professors. And this year, 2020, marks the 50th year of their other famous book, An Outline of Statistical Theory. One is amazed to think that over the last five-six decades no other textbook has come to the market which could effectively replace these epic texts; and that too in a modern subject like statistics which is constantly evolving. Generations of statisticians, many of whom have never seen Prof Gun, or professors Gupta and Dasgupta, have learnt the subject through these textbooks, and the same may happen for many generations in future. The entire community should be grateful to them for leaving behind such valuable resources for us.
It is also my great personal satisfaction that I got to dedicate one of my own books to him. In 2016, I wrote a book on predictive analytics with my wife Srabashi, who was also a student of Prof Gun and my classmate at Presidency College. We were very happy to pay our intellectual debt to him through the dedication, and he was also very happy when we visited him at his residence to present him a copy of the book. That was in 2016, and it was my last meeting with him.
The demise of Prof Gun signals the end of an era. I consider myself to be fortunate to have him as my first statistics mentor.
(Ayanendranath Basu is a professor at Indian Statistical Institute)