The lockdown forced upon us by the pandemic is our chance to start living responsibly, say speakers at an Earth Day meet
'People are calling it a pandemic but I think it's a green-demic!'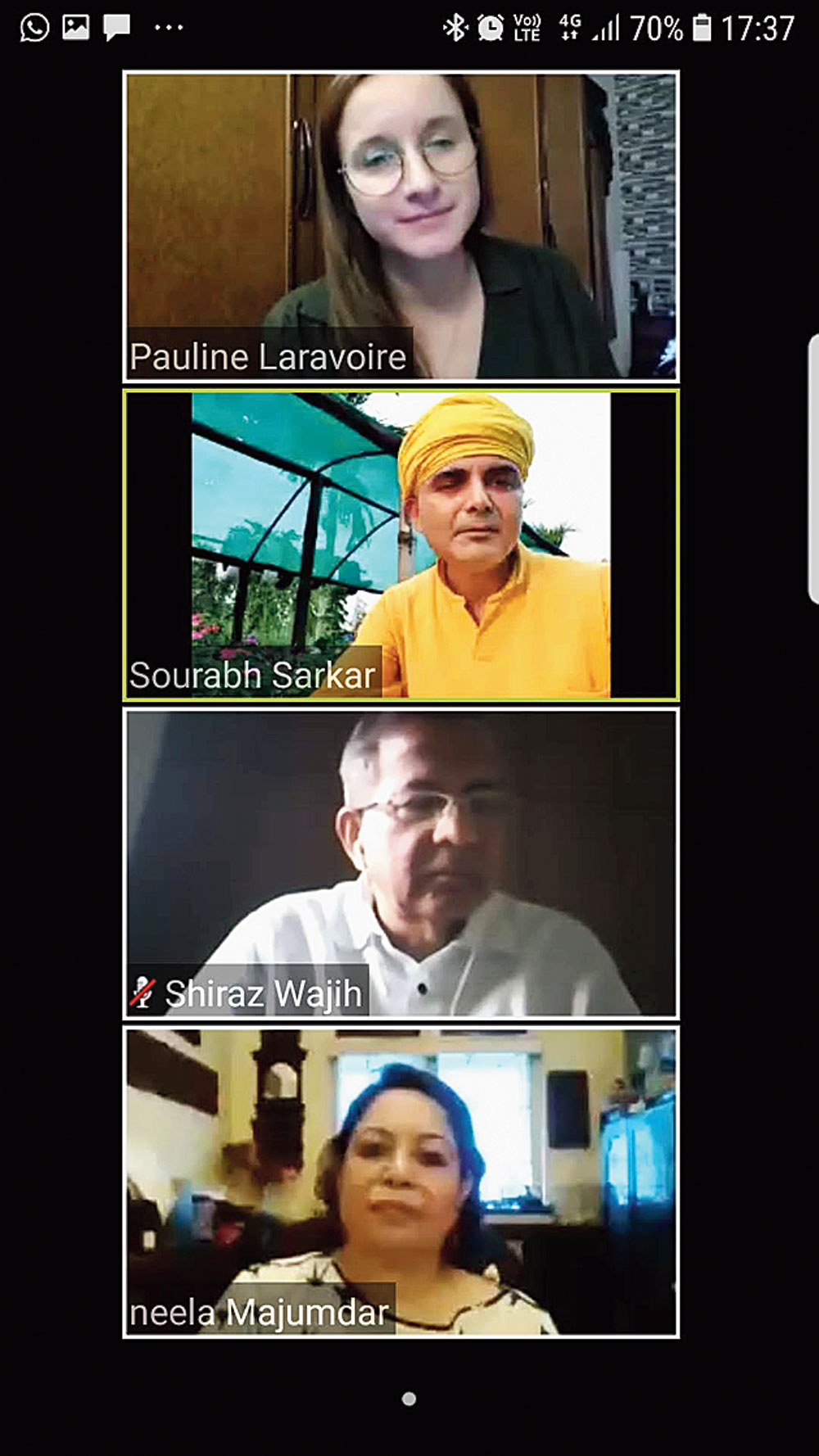 Pauline Laravoire, Sourabh J. Sarkar, Shiraz Wajih and Neela Majumder at the webinar
Sourced by the Telegraph
---
Published 23.05.20, 12:40 PM
|
---
Ever since the lockdown, we have heard the twittering of birds, seen clear blue skies… There is no more mad honking on the streets, the Ganga water is clean enough to drink. People are calling it a pandemic but I think it's a green-demic!" said Neela Majumder of Earth Day Network.

Majumder, whose city office is at Alipore, was attending a webinar hosted by Techno India University (TIU). Being an online event, the show was attended by experts around the country and moderated by Pauline Laravoire, sustainability director of TIU and co-founder Y-East, a network of professionals working for the environment.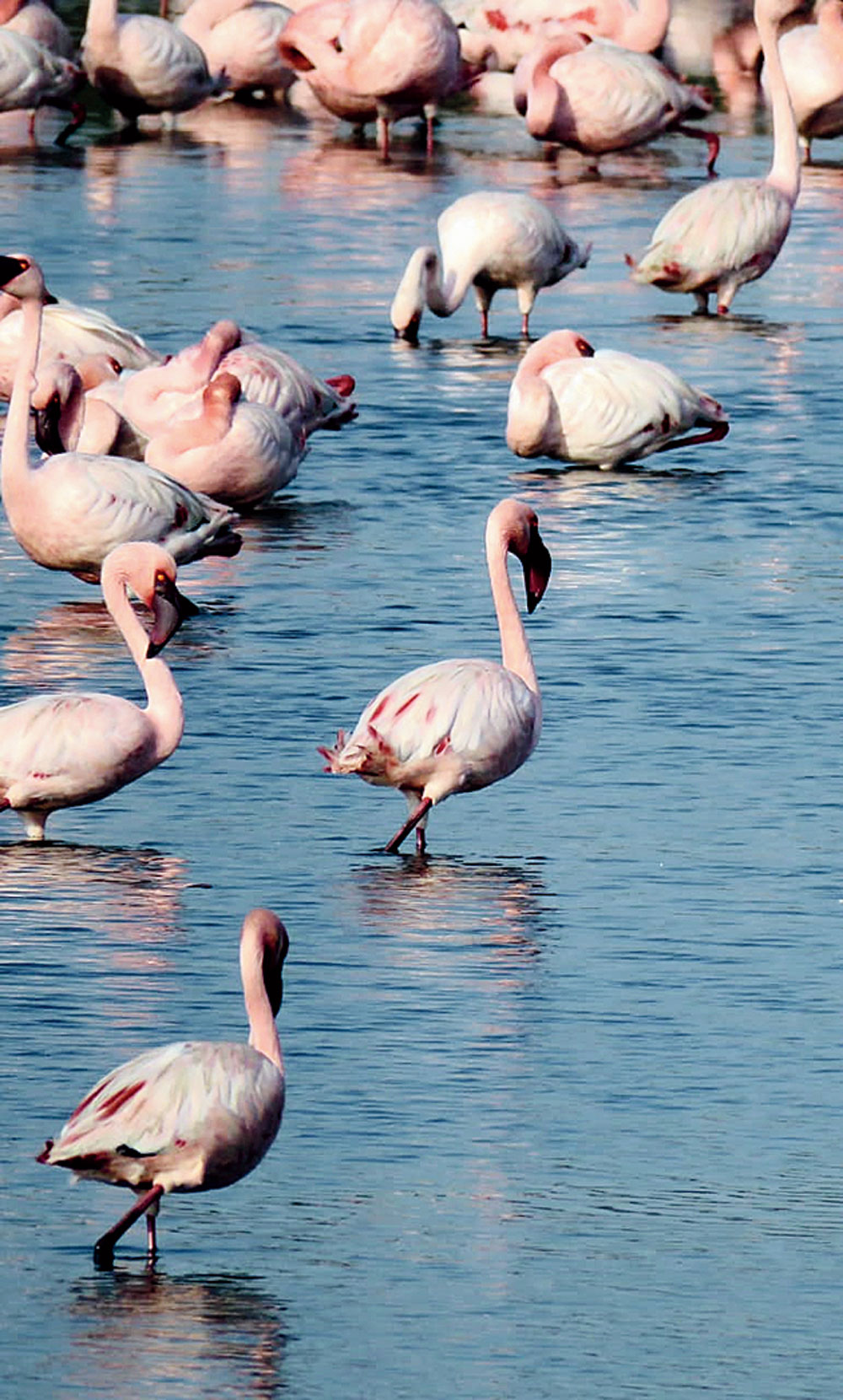 Majumder explained how 50 years ago chimneys belching out thick black smoke was seen as a sign of prosperity in the West. "The concept of Earth Day was started to mobilise the youth to take cognisance of the environment. It was after this that the government in the US passed environmental bills and the like," she said.
Earth Day Network is based in Washington and the body coordinates Earth Day events across the globe on April 22. This year was their 50th annual celebration.
All events in 2020 are under the cloud of Covid-19 and Earth Day was no different. Pauline asked the experts if they found any similarities between the Covid crisis and that of climate change.
Covid and climate change
"Climate change is as serious as Covid-19 but since it's a slow process the world ignores it," said Deb A. Mukherjee, president designate of Bengal Chamber Commerce and Industry Kolkata (BCC&I). "If Covid is like a 100m dash, climate change is a marathon and unfortunately, we have to run both. If we ignore climate change it can overwhelm us the way Covid has now."
Mukherjee said that both Covid and climate change were pushing the world to societal transformation. "The catch now is to see whether sustainability and renewability form part of the recovery process," he said.
While Mukherjee was optimistic, he recalled how carbon emission rose after the 2008 recession in an attempt to increase global production and revive the economy.
Shiraz Wajih of the Gorakhpur Environmental Action Group joined the discussion from Uttar Pradesh. "I don't expect any real change in the long run," he confessed. His group, founded in 1975 works on farmers, climate change and disaster resilience.
"We are now feeling sorry at the agony of migrant labourers stuck in the cities but think of why they had to leave their villages in the first place. Climate change is leading to bad crop production and affecting the income of the rural population. The youth there has no option but to move to the cities in search of a living," Wajih said. "The global standstill has given us an opportunity to change the way things are run but the question is whether or not we learn from the situation."
Leave animals alone
Pauline cited a study which said that 60 per cent of vector-borne diseases come from animals and wondered if people were meddling too much with nature. To this Sourabh J. Sarkar, founder of Karmyog Greens urban eco-village opposite Biswa Bangla Convention Centre, couldn't agree more. "We have to respect boundaries of the animal kingdom and realise that bats, chimps, tigers, people — we are all in this together. If we don't leave animals alone we disrupt the ecological balance," he said.
He asked the audience to read a 2013 book by David Quammen's called Spillover: Animal Infections and the Next Human Pandemic to realise how extreme things can get. "As for climate change, the climate is something we don't have control over so the least we can do is to revere it. How many of us look up at the sun with a sense of surrender?" Sarkar asked.
Role of education
TIU has taken several measures to make its campus eco-friendly and its students environmentally responsible. They are even ready to launch an MBA course on waste management. Pauline took the opportunity ask the experts what role education could play in changing mindsets.
To this, Sarkar answered that there could not be a gap between what is taught and practised. "Imagine a situation where a student drives across city from Barackpore to Behala to take an exam on environmental studies. It defeats the very purpose of conservation," he explained.
Majumder felt that the Covid-19 pandemic has rubbed in the message that there is no Planet B. "We can take this lockdown period to think about living responsibly. We can make small changes around us like switching to energy-saving LED lights, using reusable bags instead of plastic ones, may be not cook for a day as a way of saving energy," she said, adding that if this can be turned into a habit, Earth Day would not restricted to a day but become an ongoing movement.
Pauline noted how the world has been forced away from consumerism during the lockdown due to lack of options. "Do you think we will return to the old ways after this?" she wondered.
Majumder asked people to give this a thought by going through their wardrobes. "Use your time to de-clutter our closet and donate to charity clothes that you haven't worn in a year."
Lower carbon footprint
By hosting a webinar, Pauline felt the scale had been tremendous. "Many more people could attend it sitting home than if they had to come over to a venue. That also means that much less carbon footprint," she said.
However, over a webinar one cannot read the eyes and faces of the audience so we one cannot be sure of their involvement. But the lockdown has proven that institutions from now on need to depend on technology as well as face-to-face communication from now on."
Finally, Pauline shared a trick to always stay motivated. "When doing something with a negative environmental impact, stop and think what would happen if everyone did what you were doing. Similarly, you'll find a push to do good when you think of what would happen if everyone did the good you were doing," she smiled.