The bus route conundrum
Some routes have buses galore but they are going empty while others have too few buses, and passengers are travelling packed like sardines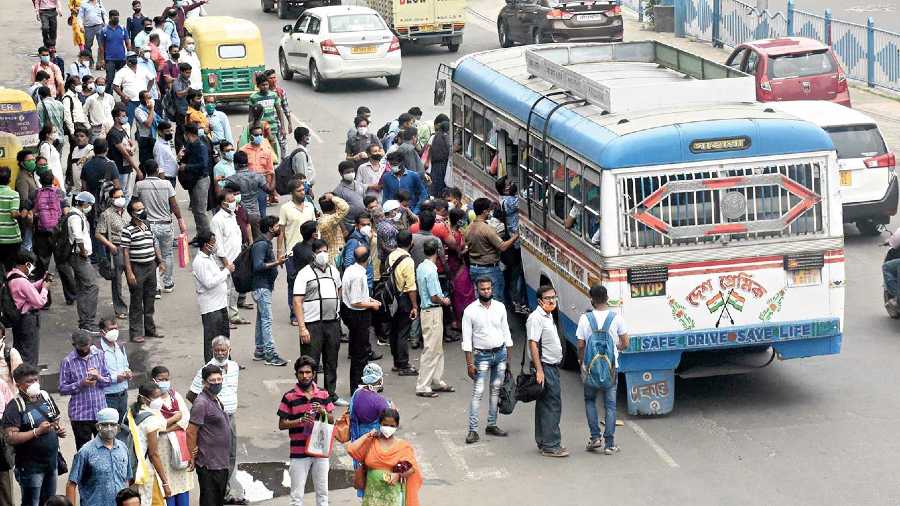 First day morning show: A Sealdah-bound bus is packed to the rafters and yet has commuters trying to squeeze in.
Picture by Mayukh Sengupta
---
Salt Lake
|
Published 09.07.21, 03:22 AM
|
---
It's a cruel paradox. Some routes have buses galore but they are going empty while others have too few buses, and passengers are travelling packed like sardines, flouting every social distancing protocol in the book.
Since July 1, the state has lifted restrictions on public transport but a mismatch has ensued and no one is satisfied. Government buses are plying but many private ones are reluctant unless their fares are hiked. Some auto drivers rue lack of passengers while some passengers accuse the drivers of quoting exorbitant fares. 
Seeking passengers
Karunamoyee was beyond recognition on Monday morning. Time was when pedestrians would spill on to the roads during rush hour and the streets would be clogged bumper-to-bumper with buses, cars, autos, rickshaws…
But on Monday at 8.45am, the only heavy vehicle at Karunamoyee was a garbage truck. After a long wait, AC 9, a government bus, came from Sector V and waited for passengers while the conductor cried out "Jadavpur, Jadavpur!" several times. There were hardly any takers. In fact, there were hardly any commuters waiting in the first place. "The government has asked us not to let in passengers beyond 50 per cent capacity but we are getting way less than that anyway," said the conductor.
The private AS3 buses have been leaving from New Town bus terminus to Garia ferrying all of five, or even two, passengers. "We are plying just four of our 30 buses,"  said Subrata Naskar, a member of the consortium that runs the fleet. "After last year's lockdown, people had thronged the streets out of boredom but the second wave has changed their attitude. Previously many labourers would come to work at construction sites in New Town but now even those haven't reopened."
Most stakeholders felt their fortunes would revive once the local trains started. No space for toehold
A diametrically opposite picture, on Monday, was Ultadanga and the Haldiram stoppage at the VIP Road junction of New Town. Buses to Sealdah, Dalhousie and Howrah were few — no more than one bus in an hour — and they were packed to the rafters. No social distancing was being maintained and no matter how many masks passengers wore, they had no option but to stick to each other with hardly space to breathe.
Ila Das, who travels to Dalhousie everyday, was stuck at Ultadanga for almost an hour. "There are no buses. I saw five or six go by on the Bypass route but nothing towards the office para in the city. I have been taking a shuttle for the last couple of weeks but they charge Rs 100. They're sucking us dry," she said.
Priyajeet Chakraborty, conductor of an electric bus on the Shapoorji-Howrah AC 12 route said they were struggling to maintain distancing. "It's most crowded between Topsia and Dalhousie and we do not stop if the bus is half-full already. If we do stop to let someone off, others force their way in," he said.
Soumen Kauri, driver of an S4 bus from Karunamoyee to Behala, said this was because there were not enough private buses on the street. "We can't push people out if they have already entered. And how do they get home if there are no buses?" he asks. Mismatched
Then again there was a section of commuters that struggled to find a bus — crowded or otherwise.
Phoolbagan resident Monalisa Bera said she was petrified of not getting a ride home from her Unitech office in the evening. "There are no buses or autos there at that hour. Last week I had to plead with an auto driver who was ferrying a 'reserve' passenger to Tata Medial Center to take me along else I would have been stranded. And how many days can I ask my boss to let me go home early?" she said, waiting at Karunamoyee for a bus to take her to work in the first place.
Arunava Pal Choudhury of EC Block no longer has a direct bus route to take him to his Wipro office. "I now have to break journey by auto costing me Rs 80 one way. App cabs are even more expensive. How can we afford such a lifestyle when we have had 30 to 40 per cent salary cuts in the pandemic?" he asks.
Empty autos
Autos on routes like Karunamoyee-Phoolbagan, Ultadanga-Karunamoyee and Karunamoyee-New Town had few takers on Monday. "I've been waiting for 40 minutes with a single passenger seated in my auto. I need three people before I can leave," said Samares Pyne, a driver on the Karunamoyee-SAI Complex route. "Sector V is as good as dead. None of their employees come to work anymore. We are now dependant on the government office employees around Karunamoyee."
The drivers said they were getting crushed under the ever-rising prices of LPG but that they weren't raising prices as passengers would protest. "As it is, no one will take autos once private buses return to the streets," said Raju Porey, a driver on the Karunamoyee-Phoolbagan route.
Bapi Mondal, on the Karunamoyee-New Town route, said that while they would previously make Rs 500 to 600 a day, they were now struggling to make Rs 300.
Fleecing autos
"Autos that used to charge Rs 10 before the pandemic and Rs 20 before the second wave are now demanding Rs 50 to ply from Ultadanga to Basiakhi," lamented a college-goer who lives in the complex. "A ride to CRPF Island — two stops away — would cost Rs 7 or 8 previously and now it costs Rs 15. Autos are fleecing us."
Autos from the Haldiram crossing were charging more than the regular fare and with — not three but — five passengers aboard! Traffic sergeants turned a blind eye to it all. The usual routes of these autos was to City Centre 2, Eco Park or Hidco Crossing but now they were plying up to Axis Mall, Sector V and even College More as per the passengers' wish, charging Rs 50 to 100 per head. Rising fuel prices
The petrol pump opposite City Centre said not a single bus had come to refuel with them since the restrictions lifted. "Government buses have their own fuel stations but we used to cater to private ones. They are all missing now," said Tapas Mondal, a staff member. "We are the only station in the Salt Lake that provides LPG for autos but again, only 40 per cent of them have returned to the streets, by our estimates."
The soaring prices of diesel is one of multiple reasons why private buses wanted a fare revision before hitting the streets. "Owning a bus is like owning an elephant these days," says Sourav Sadhukan who owns two buses, including one on the 215A route (Sector V to Howrah) that is not plying yet.
"Our bus's insurances have expired, batteries have died and the seven tyres are spoilt by sitting immobile during the lockdown. To top it all, the bank is calling up every day asking me to pay the next EMI. Even after a fare revision, I will have to shell out tens of thousands of rupees to make the bus road fit."
Bus owners have since agreed amongst themselves to roll out services based on mutually agreed fares to cover their costs. "We, 215A owners, have decided, for instance, to raise the minimum fare from Rs 7 to 10. If fuel prices rise again we shall have to raise the rates again," says Sadhukan.
At present, the 80 buses on the 215A route are lying at the terminus in Sector V. Owners believe they shall start plying from next week, depending on the condition of individual buses.
Other ways
Till then, the void is being filled in by miscellaneous modes. Md. Wahi started using his van as a shuttle from Karunamoyee to Exide from Monday. "Previously I used to charge Rs 30 for the seven passengers but now it's Rs 50 for five. But commuters are so few that I'll leave even if three or four people land up," he said.
Drivers of electricity-run totos do not have to worry about fuel prices but they said they had to replace all four batteries every six months at a cost of some Rs 25,000. "Besides, even if we are on full charge, there are no passengers to ferry," said Amol Ghosh, who was waiting outside the vaccination centre behind Pride Hotel, in wait for commuters.
Write to saltlake@abp.in