Terror has no link with colour
Christian priest at RKM Xmas Eve programme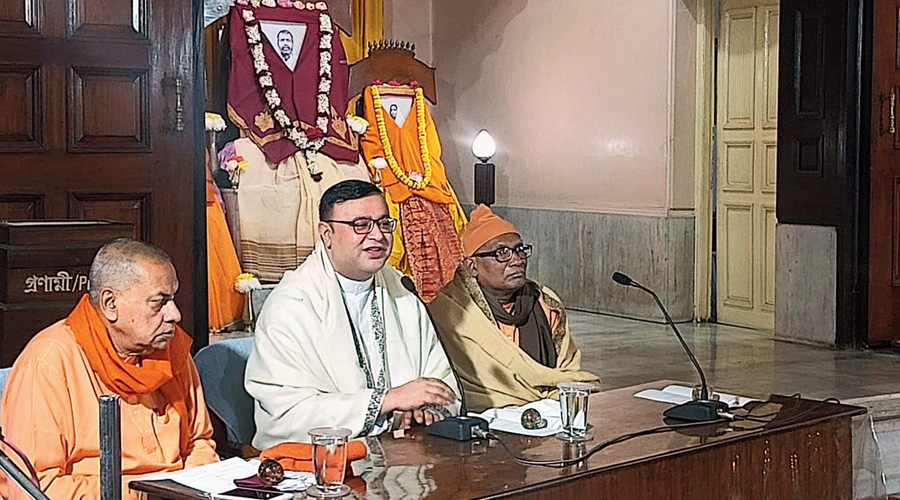 (From left) Swami Sarvalokananda, secretary of Ramakrishna Mission Ashrama, Narendrapur; Father Rodney Borneo, a priest at the archdiocese of Calcutta; and Swami Sandarshanananda, a monk of Ramakrishna Mission; at the Christmas Eve programme
Telegraph picture
---
Calcutta
|
Published 25.12.20, 03:42 AM
|
---
Terror has no colour, nor does love, said a priest of the archdiocese of Calcutta at the Christmas Eve celebrations at Ramakrishna Mission Ashrama, Narendrapur.
In the same way, violence has no colour, said Father Rodney Borneo on Thursday evening. He voiced his reservations about the term "saffron terror", because he said: "Terror does not come from clothing, it resides within a person."
"Today, many are using a word which pains me and that is saffron terror. What is this? Terror has no colour...if I wear white, do I become a good person, if I wear green, so I become a good person, and if someone wears saffron, he becomes bad? No. Violence has no colour, violence is in the heart," said Father Borneo, the principal of Loyola High School.
Father Borneo was the guest of honour at the programme held at the main temple of the ashrama. In the audience were saffron-clad Ramakrishna Mission monks.
"Doesn't matter what I wear — green, saffron, white. All three make our national flag and in it is our love," he said. "Today, sitting in a temple I want to say that love (bhalobasha) has no colour... in the same way violence (hinsa) has no colour."
Ramakrishna Mission Ashrama, Narendrapur, has been celebrating Christmas Eve for over four decades, said Swami Sarvalokananda, the secretary of the ashrama.
"We keep having inter-faith dialogue at our Ashrama in Narendrapur and also other centres. We uphold the harmony of religions and we have Christians, Muslims, Hindu students studying and staying together," Swami Sarvalokananda told The Telegraph.
"Christmas should not only be a day for cake cutting and lighting of candles, but we should follow the teachings of Jesus Christ," the monk said in his address at the Christmas Eve programme.
Father Borneo said in his address: "My request to all of you is that we should not speak wrongly of any religion. If religion is bad, that is not religion. Religion means love, religion means forgiveness, religion means mercy."
"Peace to people of goodwill. Goodwill means good for both you and me," he said.
Father Borneo also reminded the audience of 2018, when as a Christian priest he felt at home in the same temple where the Christmas Eve programme was being held. "The pandemic has not been able to change that."
Swami Sandarshanananda spoke on the relationship between the ideologies of Sri Ramakrishna and Jesus Christ.
Swami Shastrajnananda, principal, Ramakrishna Mission Residential College (Autonomous) Narendrapur, delivered the vote of thanks.