Teacher's turn to help the needy
Sanatan Jana has so far helped 135 families and will reach out to 50 more this week in East Midnapore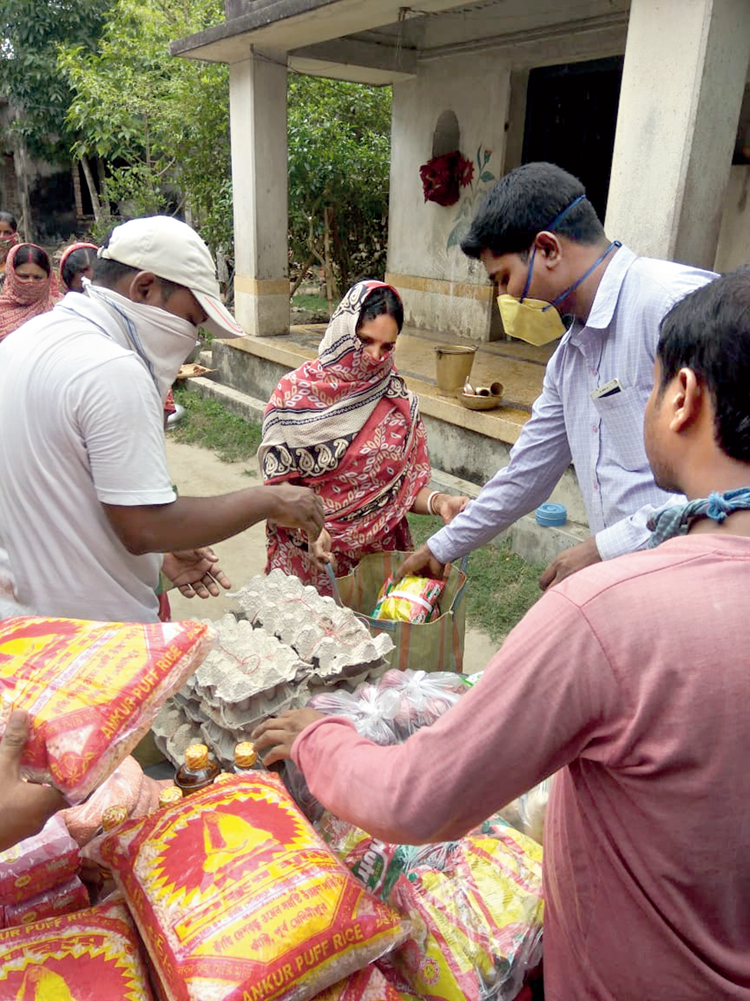 ---
|
Calcutta
|
Published 10.05.20, 10:00 PM
---
A farmer's son who could complete his education and go on to become a primary school teacher in East Midnapore with help from others is now going door to door, distributing ration to the poor and the hungry.
Sanatan Jana, 31, who is on the verge of completing PhD in applied mathematics from Jadavpur University, has been collecting funds with the help of friends, acquaintances and organisations and reaching out to people in villages around Contai, Ramnagar and Digha in East Midnapore.
The teacher of Petua Junior High School has so far helped 135 families and will reach out to 50 more this week. He tries to focus on families who are receiving little or no help.
Among those who Jana has distributed ration to are 15-odd families in Digha who had come from Jharkhand for the construction of a road and got stuck because of the lockdown.
Jana and fellow teacher Teheran Hossain tour the villages on their bikes, taking essentials to the needy.
"They do not have any income and with no money or food, domestic fights are on the rise. Many among these families had been going without food for days," said Jana.
Even before the lockdown, Jana had started Fairfield Excellence, an organisation that provides monthly scholarships to students whose families cannot afford their education.
"Wherever I am today, it is largely because of the help I have received at different stages of my life to continue my education. Our father was a farmer and the Rs 2,000 that he would earn was barely enough to meet our daily and monthly expenses with three schoolgoing children. It was not possible for us to pay Rs 5,000 or 6,000 for college admission," Jana recalled.
From his school teachers to family friends, Jana had been helped by many. He is also indebted to Ramakrishna Mission Residential College, Narendrapur, where he did graduation in mathematics, and Ramakrishna Mission Vidyamandira, Belur, where he did his master's.
"In the first year of college, I had to pay Rs 1,000 as fees and hostel charges. The fees was halved after the results of my first-year exams. For master's, I received a scholarship from a college fund that took care of all my expenses," Jana said.
Jana now sets aside a portion of his salary every month to help poor but meritorious students.
Jana has been receiving donations from former students of Ramakrishna Mission Residential College, Narendrapur, and Ramakrishna Mission Vidyamandira, Belur, to reach out to the needy.