Take people along in fight against coronavirus: Doctor
Covid task force member favours combat-and-care approach to policing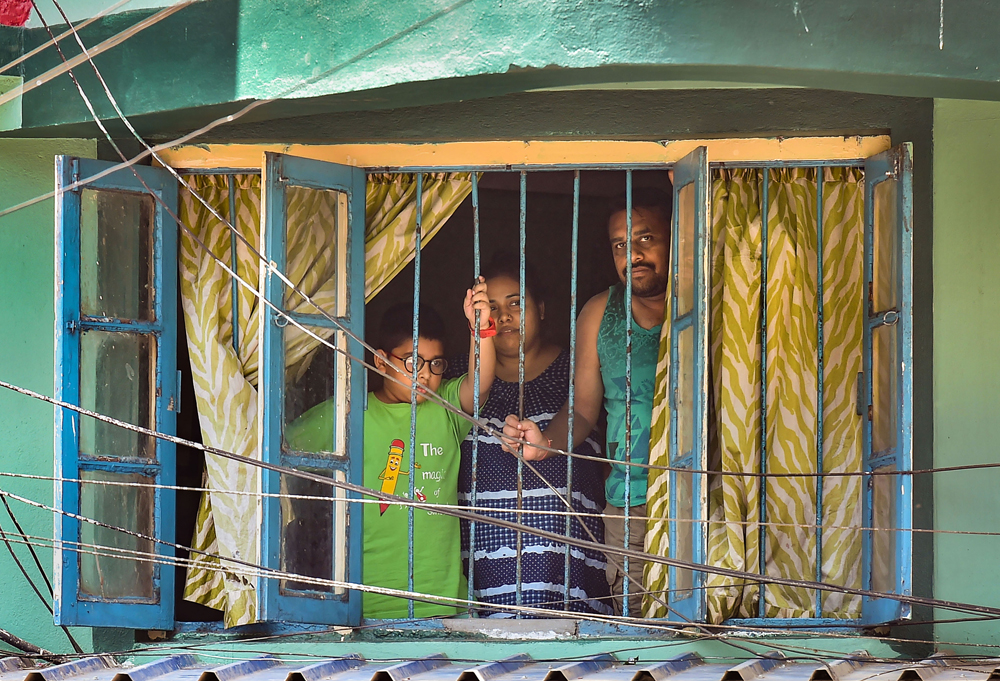 A family looks from the window of a house during the nationwide lockdown imposed to contain the coronavirus pandemic, in Calcutta, Tuesday, March 31, 2020.
(PTI)
---
Calcutta
|
Published 02.04.20, 10:22 PM
|
--- A bottom-up strategy, not a top-down approach by governments using force, is needed to carry people along and ensure the success of a long lockdown like the 21-day exercise now underway, said a doctor who is part of chief minister Mamata Banerjee's task force on Covid-19.
"The fight against Covid-19 is going to be a long battle and not a short-term one. So, it's very important to take people along when governments all across are trying to enforce a lockdown. Otherwise, a time might come when desperation will prevail over medical science," said Abhijit Chowdhury, Calcutta-based gastro-enterologist and a member of the task force.
In several parts of India, people have been coming out of their homes, and there have been allegations of police excesses. Mamata had advised the police to be humane.
"It has to be combat and care. Care being a very important element, which is missing in the current national approach. Now, it seems more like policing," Chowdhury said.
A participatory and collective effort is needed, and governments have to be the point of convergence of a widely carpeted programme that imbibes involvement of everybody possible into the network.
He said forcing people to stay indoors could make many feel that the lockdown was meant for the safety of the privileged class.
"There were similar problems during the polio eradication drive. The underprivileged section of society had thought their infants were forced to have anti-polio vaccines in order to keep people of the privileged class safe," Chowdhury said.
"In order to ensure people's participation and make the lockdown effective, each locality could form a coronavirus control team with self-help groups, school teachers, panchayat members and others," Chowdhury said. This can be done through groups of two or by using telephone connections.
The community groups should make people aware of how lockdown can prevent the spread of the disease and ensure that those whose incomes have become uncertain are assured of food and other basic necessities.
One has to be scientifically aligned, lay stress on the importance of personal hygiene such as washing hands with soaps, social distancing, not spitting in the open and the need to cover the face with the elbow while coughing.
"People locked indoors and being fed a lot of unscientific as well as fear-generating information may get anxious. They can react to such false information and get depressed. If we make them aware through community participation, they will listen to the authorities," Chowdhury said.
He said the quarantine centres, where hundreds of thousands of people are being kept, should have decent arrangements.
"People should not be forced into quarantine. It, too, should be a participatory endeavour. People who have been quarantined need to understand that they are doing so on their own volition and not through imposition. If this is a police-driven exercise, then people with fever may hide in fear and not report," said Chowdhury.
"Quarantine facilities are not cages and it is best to create an ambience there with interpersonal connections," he said.
On migrant workers who have returned from other states and countries, Chowdhury said they should be not be looked at with suspicion by the neighbours and the administration, which would result in forced quarantine. "Rather, this should be done through persuasion," he said.
He feels dedicated Covid hospitals should be identified in each sub-division because people need to be assured that sufficient arrangements have been made.
Organisations like the Indian Medical Association could be involved by the governments, which could have a rotational group for providing support to the government-led action in medical care in a particular region. That should be centrally coordinated by the administration. "It is time for convergence, and let us do that, keeping all our different hats," Chowdhury said.
"It's very important to fight the stigma, ostracisation and fear mongering," he added.