Tagore remembered
'If it wasn't for the pandemic, we would have organised Rabindrajayanti in an auditorium'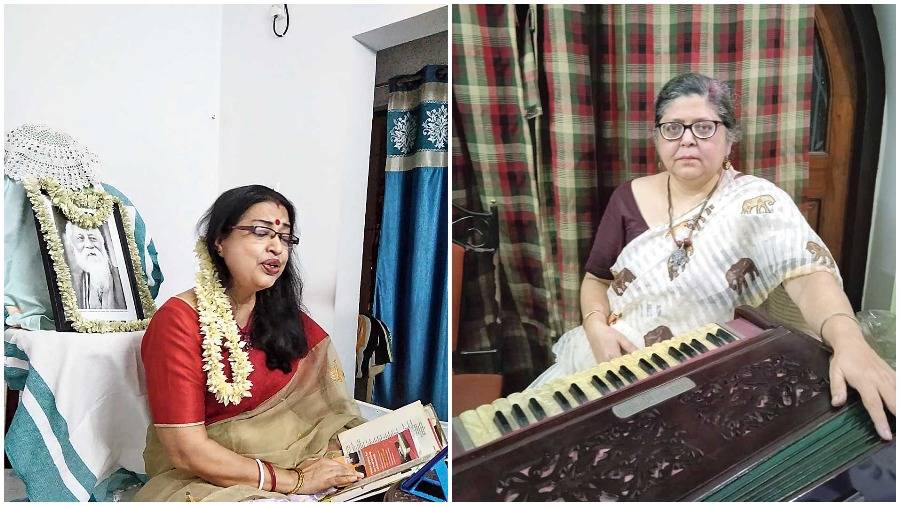 Participants perform from home for the Newtown Citizens Welfare Fraternity event
Sourced by the correspondent
---
Salt Lake
|
Published 02.07.21, 01:43 AM
|
---
"I cannot see you, I cannot hear you, why is this live teleceast not showing on Facebook?"
And so the celebration of Rabindrajayantis continued online for yet another year. Newtown Citizens Welfare Fraternity held their event recently and around 35 participants logged in. The evening began with Lutful Alam, president of the group, garlanding Rabindranath Tagore's picture on behalf of all members. 
Taposhree Pramanik was the first to perform. The six-year-old sang Jagorone jaye bibhabori. Mousumi Bhoumick recited Duhsomoy, Sonali Chakraborty Ghosh sang Dui hate kaler mondira je.
Anchor Kakali Majumder kept asking viewers to mute their microphones so the performers could be heard. The search for Pradeep Kumar Ghosh went on for long time and it was only after an hour that he could join. Even then there was an issue with the video. "We cannot see you dada, we can only hear your voice," said Kakali. Eventually the CA Block resident sang Jodi tor dak shune keu na ase and was both visible and audible.
Sreeja Basu and Ishani Basu danced to Prothom adi tobo and Angira Dutta danced to Gahana kusuma.
"Online events have become a part of our lives now. The only problem is network — the audio often isn't clear," said Gargi Chatterjee, before singing Nai rosho nai.
"If it wasn't for the pandemic, we would have organised Rabindrajayanti in an auditorium but could have only entertained a limited audience. On the online platform, there can be unlimited participation. Friends and family living out of town can join too," said Samir Gupta, secretary of the group. "People are locked at home for almost a year now and these events, even if for a short while, refresh our minds," he added.
Tribute to bards
Residents of New Town CD Block came together and dedicated an evening to Tagore and Nazrul Islam in a show titled "Hridoye Rabindranath, chetonay Nazrul".
Amalabha Dutta made a special request to anchor Purba Kar to be allowed to perform early as he had a meeting to attend and began the show with the Nazrulgeeti Antore tumi achho chirodin.
Sumi Pal recited Tagore's Bhul swargo, Sithi Kana Ghatak recited Tagore's Khadanaki and Chandrani Sanyal sang Nazrul's Kon kule aaj bhirlo tari. When Gouri Sanyal was struggling with her video, others suggested that she log out and log in again. "Absolutely not!" she snapped. "I took great pains in logging in the first time. You don't have to see me. I'll be singing and so it's enough if you hear me," she laughed before crooning Ami ki gaan gabo je  bhebe na pai.
When they realised they had some extra time at hand, Sathi Bairagi was requested to sing two songs. She obliged with Tagore's Ganer surey and Khelichho e bishwa loye. A search for Rita Basu ensued, after which she concluded the show singing Ami bonophul go.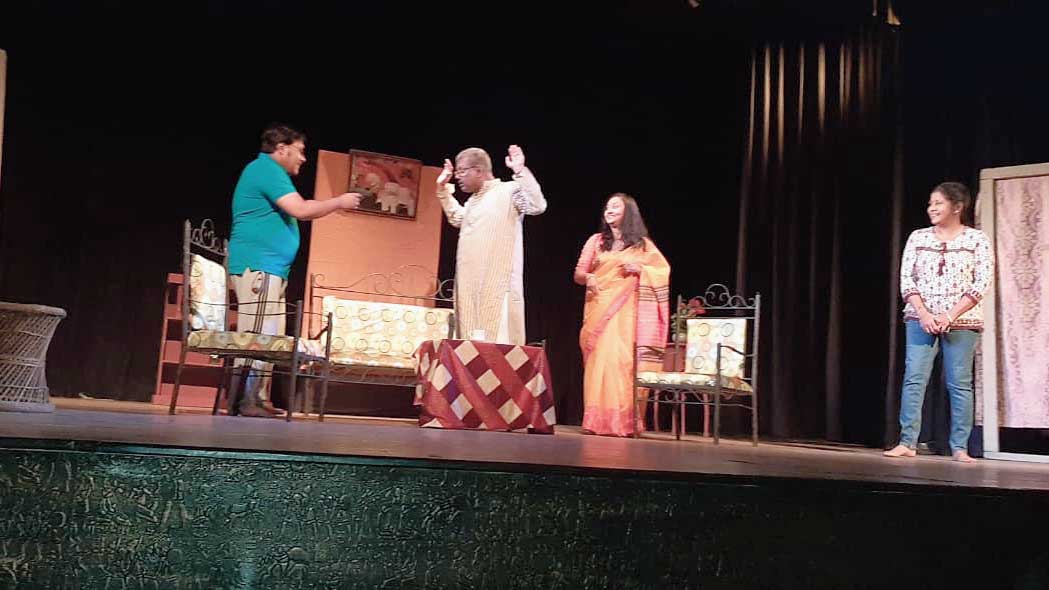 Play time
Township-based theatre group Britya put up three plays based on social issues, and no, they were not online. The event took place before the current restrictions and so was held at Rabindra Okakura Bhavan.
"Our booking was actually for spring 2020 so the hall offered us a slot to conduct it this year in lieu. We had thought the seats would go empty but we got a decent audience," said secretary Bijan Ghosh, who directed the plays along with Arup Ghosh.
The first play Porichoy, scripted by Arup Ghosh, was about a failing businessman (played by Arijit Roy) about to commit suicide. A stranger (played by Arup Ghosh) stopped him and made him change his mind.
In the comedy Hay Kopal, an elderly man and his wife (played by Soumitra Maity and Nibedita Dhar) were so desperate to settle down their unemployed son that they contemplated committing suicide so the son (played by Supantha Ghosh) got his father's job on compensatory grounds. Se Esechilo, by Chandan Sen, was about marital discord between a couple played by Arup and Nandita Chatterjee. Their younger selves were played by Sanjay and Gargee Maitra.
"Our group shall complete 35 years in December and if the situation normalises, we want to host a theatre festival," said Bijan Ghosh.
If you want to get a programme, even an online one, featured in this column, write in to The Telegraph Salt Lake, 6, Prafulla Sarkar Street, Calcutta - 700001 or e-mail to saltlake@abp.in