Switched off: phones of some international fliers
Public health experts fear many of the international passengers would spread the virus to people who came in contact with them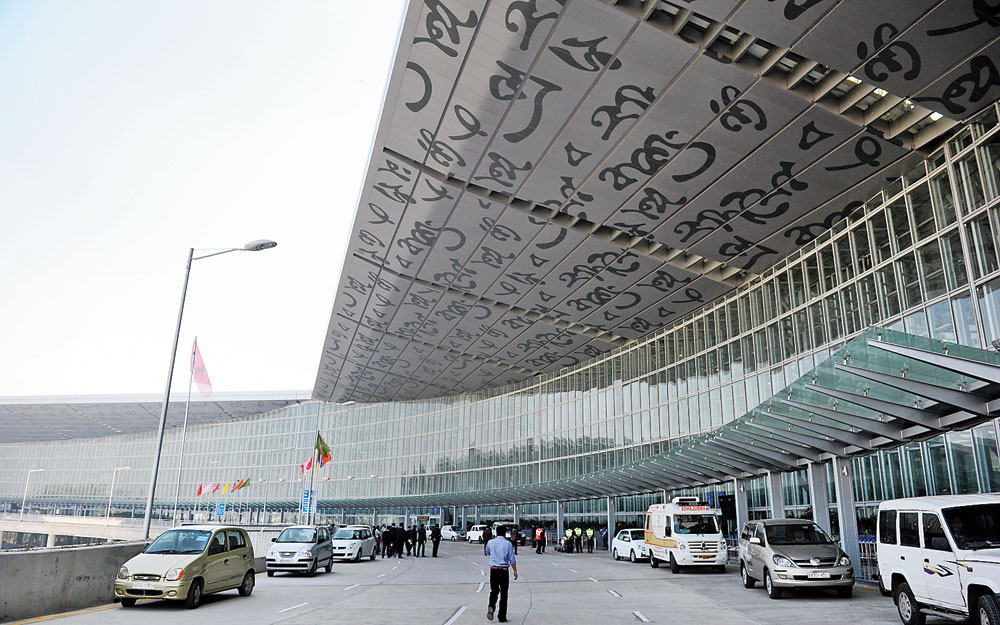 Calcutta airport
Telegraph file picture
---
Calcutta
|
Published 31.03.20, 08:53 PM
|
---
Around 11,000 international passengers have arrived in the city between March 9 and March 26, and tracking a number of them has turned out to be impossible, sources in the state government said on Tuesday.
The state health department and various municipal corporations and municipalities have remained in touch with a majority of them over the phone, seeking details about their health and trying to find out whether they have developed any symptom of Covid-19. But many others have remained unreachable.
An official of the Calcutta Municipal Corporation said: "There are some non-Indian passengers who we could not contact because their phone numbers provided by the airlines are switched off. It seems they have taken new SIM cards after arriving in India. We don't know where and how they are. We do not even know whether they have returned to their countries."
The tracking involves calling up the passengers every day and asking whether they are running a temperature or facing any respiratory problems, and also whether they have quarantined themselves for the mandatory 14-day period.
"There is no way to cross-check. We have to believe what the people are saying. But it could well be that some of them have jumped the quarantine and left," said an official of the Calcutta Municipal Corporation.
The civic body is in charge of keeping track of the people who have arrived in the city from abroad and find out whether they have developed any symptoms of coronavirus infection.
While arrival of international flights in India was stopped on March 22, ships have arrived at the Calcutta port between March 24 and March 26, the government sources said.
"The state health department has prepared a list of passengers who arrived at the Calcutta airport between March 9 and 22, and a few people who arrived by ship between March 24 and 26. Together, the figure stands at 11,000-odd," said a state government official. "The ships had only crew members."
Till the middle of March, there were restrictions on arrival of passengers from only a few countries. Entry of passengers "from member countries of the European Union, the European Free Trade Association, Turkey and United Kingdom to India" was "prohibited with effect from March 18".
An advisory published on March 16 said "no airline shall board a passenger from these nations to India with effect from 1200 GMT on 18th March, 2020".
Entry of passengers from Afghanistan, the Philippines and Malaysia, too, was temporarily banned.
There was, however, no bar on travellers from many countries that were affected by Covid-19, such as the US.
Officials of the Bengal government said tracking of international passengers by the state health department started way back in the last week of January. An official said the first three people from Kerala to test positive for Covid-19 had returned home from China's Wuhan province, where the Covid-19 pandemic had started, in the last week of January.
"They had returned on the same flight via Calcutta. Some of the co-passengers of the three were Calcuttans and the state health department had to track them down and asked them to stay in home quarantine," said a health department official.
"We tracked down four or five passengers from Calcutta and Bengal. One of them was from Ramgarh, near Garia, and another from Naihati in North 24-Parganas," the official said.
But tracking became very irregular over the next month and a half. "Many passengers arrived then and we have not even tried to track them," said an official.
Tracking international passengers arriving at Dum Dum airport became strict again from around the middle of March.
Public health experts fear many of the international passengers would spread the virus to people who came in contact with them. "They may be asymptomatic now but they can develop symptoms after a few days," an expert said.
Chief minister Mamata Banerjee had expressed her displeasure at the alleged delay by the Union government in preventing international flights from landing in the country. During a video conference between the Prime Minister and the chief ministers of all states earlier in March, Mamata had raised the point and asked Narendra Modi to stop international flight arrivals in the country.