Swamiji did not exhort us to arise, awake and stop not blaring music till eardrums of those in distress burst
At least 100 rallies were brought out in the city, according to police sources. Many of these eventually turned into a political slugfest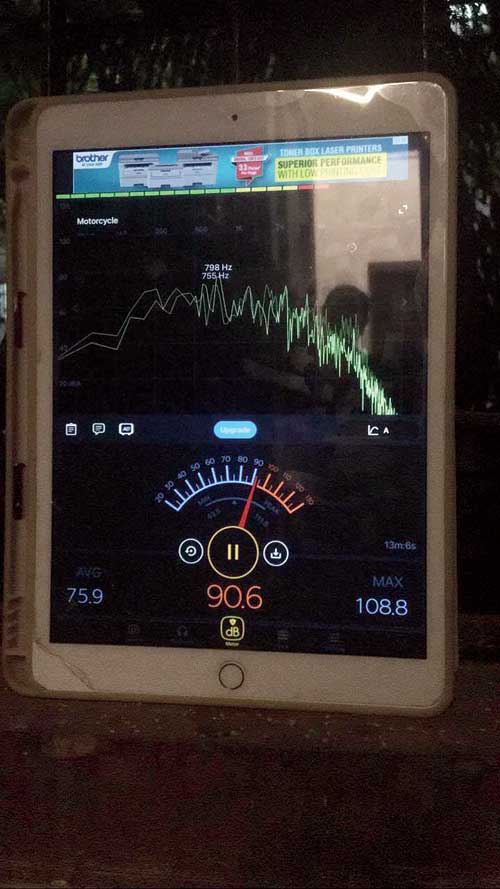 The decibel level on the balcony of the writer's Ballygunge house on Tuesday evening touched 90.6 and kept moving up. The permissible limit is 55 in a residential area
Telegraph picture
---
Calcutta
|
Published 13.01.21, 05:42 AM
|
---
The message of Swami Vivekananda is more relevant now than ever before.
On Swamiji's 158th birth anniversary on Tuesday, what used to be a solemn celebration was transformed into a show of competitive political power in many places in the city. At least 100 rallies were brought out in the city, according to police sources. Many of these eventually turned into a political slugfest.
Not all tributes were reduced to vote-catching affairs. Three instances of how the annual milestone can be celebrated in an inspiring manner are featured on Page 8.
Metro shares one account on how a  Ballygunge home suffered on Tuesday.
I was woken up on Tuesday morning by two assaulting streams of sound converging in my mother's room, where I had taken shelter the previous night as I had feared something like this. I had expected the noise to hit only my room, though. But now it was everywhere.
Swami Vivekananda, on his birth anniversary, was being paid tributes to on two different spots in my para in Ballygunge Place.
My 74-year-old mother is in very poor health. She suffered a cerebral stroke 11 years ago and did not recover. Now she is really ill.
She shuddered while two mighty songs were delivered simultaneously and deafeningly into her ears: the Rabindrasangeet 'Ami tomaro songe bendhechhi amaro pran' from one direction and the folk song 'Boli o nonodi' from another. My brain felt damaged. In another room my niece was trying to study. She is visiting from Mumbai where Vivekananda is yet to be as popular as he is here. She had an online exam at noon. It was impossible to make even a phone call.
At first, I thought that the events were being organised by the Trinamul Congress and the BJP: both parties have claimed Vivekananda for themselves. I found out that both events were being organised by the Trinamul. Actually one event, meeting diagonally through sound waves in our house.
A stage had been set up next to the Vivekananda statue in front of our house.
A street had been blocked. Rows of green plastic chairs faced the dais. A crowd had accumulated. Was the virus gone?
Noise and power — and if I may add, the virus — transmit in the same ways, invisibly, inexorably. But noise is power, espec-ially when it's being delivered by the authorities.
Both demand unquestioning submission. I had felt a similar helplessness when my mother fell severely ill one month ago and I was frantically looking for an oxygen cylinder. The neighbourhood did not yield a single one. She was eventually hospitalised.
I tried my bit to block the present noise. I messaged the councillor. I went out and spoke to other organisers. They listened to me and turned the volume down. The other loudspeaker had been muted by then.
Two of the organisers came over to my house, apologised for the inconvenience caused, and promised that this would not happen again. But they also informed us that there would be a "cultural programme" of baul gaan in the evening, and on the same stage, right in front of my house, and would we kindly bear with it?
The loudspeaker was also turned away from our house.
In the afternoon, police sources had said sound limiters had not been used and the permission for the event had been obtained verbally.
Late afternoon, however, the muted loudspeaker on the other side of the house began to sputter again, now in the form of eardrum-shattering Shyamasangeet. It went on for an hour almost.
Meanwhile, the state pollution control board had been informed, and I was told that it had taken action.
The cultural event started, not at 6pm, as informed earlier, but at 7.30. At that time, the decibel level in a room in my house, which had one door open but windows closed, measured 80.4 decibels.  The reading on the balcony was 90.6 decibels.
The legally permitted limit of ambient noise in a residential area in India is 55 decibels. And with every increase of three decibels, sound intensity doubles. Which is why sound hurts so much.
Vivekananda had borrowed the famous words from Katha Upanishada to ask us to arise, awake and not rest till our goals were achieved. Did he also say that loudspeakers should be used in his name to pulp our brains?
I went up to his statue to ask. His gaze was averted.
Additional reporting by Jayanta Basu and Debraj Mitra