He who found God in all things
Swami Agnivesh believed 'the world is one family'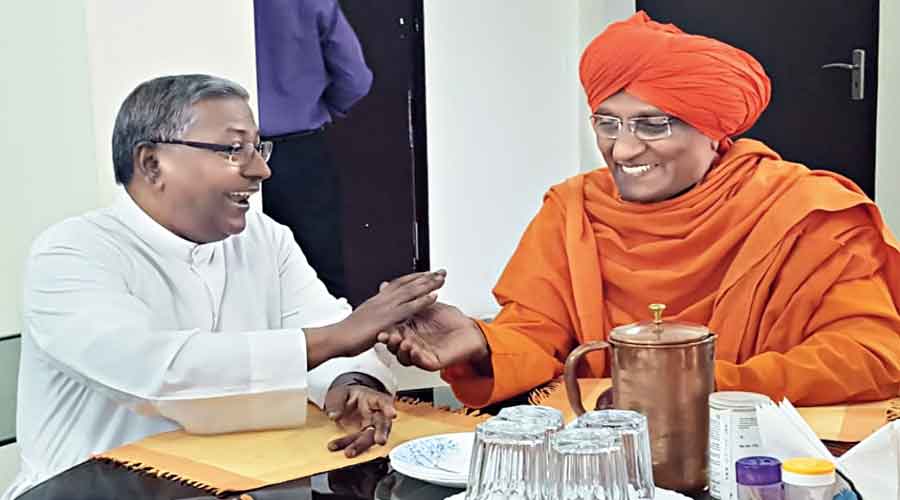 Fr. J. Felix Raj with Swami Agnivesh
Telegraph picture
---
Published 12.09.20, 03:02 AM
|
---
Swami Agnivesh, who was hospitalised due to liver cirrhosis at the Institute of Liver and Billary Sciences (ILBS) in Delhi, passed away on Friday evening. I had spoken to him on Tuesday.
The 80-year-old former professor of St Xavier's College (1963-69) and friend of St. Xavier's University, Calcutta, and a social activist was an advocate for dialogue between religions. He was involved in various areas of social activism, including campaigns against female feticide and the emancipation of women. He was a prominent associate of Anna Hazare during the India Against Corruption campaign in 2011 to implement the Jan Lokpal Bill.
Swami Agnivesh was truly "a man for others"….
A sanyasi in the Arya Samaj order, he stood tall, both on the national and international stage, as an educationist, a philanthropist, a philosopher, a spiritualist, most of all as a humanist. The sublime words of Saint Ignatius of Loyola, founder of the Jesuit Order, applies to him perfectly… "He was contemplative in action, finding God in all things". And also important to me, Swamiji and I were close associates and friends.
I met Swami Agnivesh 34 years ago in Delhi, although I had heard of him three years prior to that, while I was a lecturer at St Xavier's College. He was known for his revolutionary ideas, oratory skills and the bold stand he often took for the liberation of the disadvantaged people.
A 14-year-old Sri Lankan girl had been arrested for unlawfully entering India. She was housed in Tihar jail in 1987. My Sri Lankan friends had requested my help for the child. I met Swami Agnivesh seeking his guidance and advice.
Both Swamiji and I were at the court when the case came up, we modestly sat in the last row.
When the judge entered, he happened to notice Swamiji and questioned his presence. Swamiji explained the context and that he hoped for the smooth release of the minor.
Since then our friendship blossomed. We worked on several issues, social and religious.
Thereafter I often invited him to visit Xavier institutions, be it the Jesuit College of theology in Delhi, Vidyajothi, St Xavier's College or St Xavier's University, Kolkata. He also figures amongst one of the most notable and prominent former faculty members of St Xavier's College.
Vepa Syam Rao was born into a Brahmin Telegu family. He completed his Masters from Calcutta University. He taught at St Xavier's College from 1963 to 1969. At 24, young Rao was inquisitive and curious to know the inner workings of the Belgian Jesuits. One day he sneaked into the Jesuit residence known as cloister and peeped in. The austerity and simplicity of the Jesuit living quarters astounded him... only a table, two chairs, a bed and a wooden almirah.
It was unbelievable…. "The Jesuits lived a life of high thinking and simple living," this made a deep impact on him. While coming out of the Jesuit cloister, Rao met a senior Belgian Jesuit in the corridor. He asked the priest as to what had motivated him to come to the distant shores of India leaving behind his home and the comforts he had had there.
The Jesuit answered him: "I am here like my fellow Jesuit Fathers. Our mission is to serve the people of India, particularly of Bengal, mainly to impart quality education to Indian students; this is the humble contribution we hope to make."
Swamiji was deeply impressed and he has often reiterated that this response by the Jesuit priest had an influence on his future life and missionary zeal. He said: "It made me ponder. What is MY mission for India?"
Swamiji has always stressed his strong faith in spirituality. He insists that spirituality ought to be social spirituality. This spirituality should not be an individualistic or escapist type. He insists that it should be one that would keep the interest of the society intact; which would depend on the respect for individual interest. These are inextricably linked. They are complimentary… religion must be a thrust for social awakening and revolution.
Swamji has written a number of books on this subject to promote and share his views and ideas. He was a bridge between religions, respecting the differences.... "Do unto others as you would have others do unto you," was his golden rule. He further advocated, if we want life, let us give life to others; if we want opportunities, let us provide these opportunities to others. God's love is the same for all, no matter what one's religion or nationality is.
He was against the throwaway culture, where people not only throw junk but also the poor, the refugees and the downtrodden. He promoted through his work an education in fraternity for real solidarity. This in fact was the essence of Swamiji's conviction and work.
Swamiji was termed an anti-national, Christian sympathiser. It is forgotten that he believes the world is one family: "Vasudhaiva Kutumbakam". God enjoins us to stay united as one family. Swamiji was a messenger of God. He was a giant among men. India is blessed to have him.
He was a relentless fighter for the downtrodden, not caring for personal attacks or even results… just fight till something positive emerges was his firm belief. As Shakespeare said, reiterated by Justice V.R Krishna Iyer: "What a piece of work is a man, how noble in reason, how infinite in faculty, in form and moving how express and admirable, in action how like an angel, in apprehension how like a god, never at rest but ever in meditative communication with God."
Swamiji was diamond hard in his convictions, honeybee in his sweet collectivism for all suffering humans, a defender of the Constitution and a humanist, aware of the religious pluralism of Bharat. Anything that might destroy the fabric of this country or threaten its development was the recipient of his ire.
Swami Agnivesh was indeed a man among men…. A prophet for all seasons on the side of truth and justice with a deep-seated spiritual perspective. A true inspiration. A Karma Yogi.
Champion of the socially challenged... A true Arya Samaji.
Fr. J. Felix Raj is the vice-chancellor of St Xavier's University, Calcutta