Students flag rights violations
Hathras and Kashmir in Modern High School project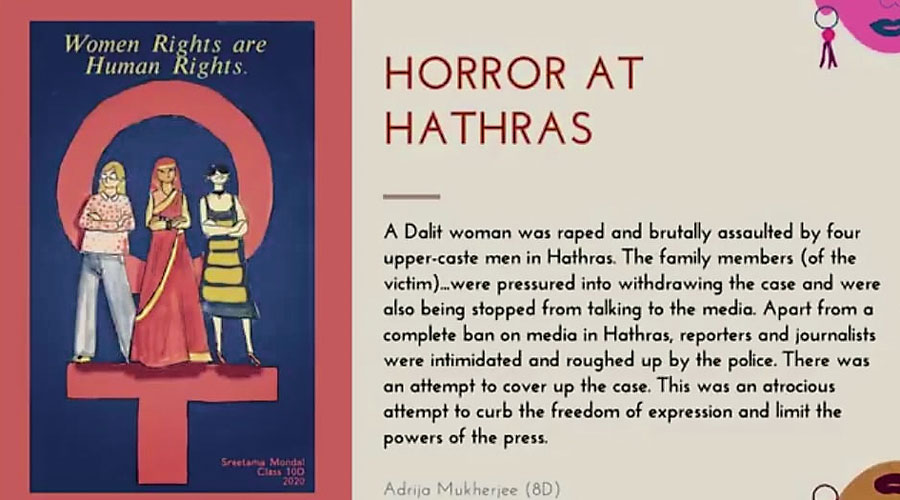 ---
|
Calcutta
|
Published 12.01.21, 01:49 AM
---
"How can police use it (tear gas and water cannon) against citizens of our own country?" wrote one student about the farmers' protest at the Delhi border.
Calling Internet shutdowns in Kashmir an "affront to the right to free speech", another student wrote: "When the Internet is off, people's ability to express themselves freely is limited, the economy suffers, students are cut off from lessons and those needing health care cannot get consistent access."
Students of Modern High School for Girls did a project on human rights where the teenagers wrote about violations in India and the world.
Class VIII girls raised the issues in letters that they wrote "to whom it may concern", all of which have been posted on the school's website.
Some of the letters are accompanied by artwork by Class X students who have pictorially represented what their juniors have written.
The Rohingya genocide in Myanmar, mob lynchings in India, disability rights, human trafficking, workplace discrimination, LGBTQ rights and ill-treatment of transgender prison inmates are some of the issues the Class VIII students researched and wrote about in their letters.
The school said it wanted the students to "think, explore and look beyond the text and curriculum".
"It is important for children to think and reflect and not only work out answers to problems. Education should give them that tool," said Devi Kar, the director of Modern High school.
"They have to learn and find out for themselves and it is not right for the school or teachers to impose their ideas on the students," she said.
The girls were given a month to research issues that they thought were related to violations of human rights.
"We have to sensitise students to what is happening around us. By the time they are in Classes IX and X, they are aware of rights issues and we can understand that from their tone," said Sunita Biswas, who teaches history and guided the students in the project.
"Some of them had read and researched thoroughly but it hadn't come out in their writing. Then we asked them to explain in more detail. Though they had read from various sources, the written work had to be original," said Biswas.
"We are living in a world where violations are increasing every day and as the next generation, we have to step up and know and talk about it," said Vaibhavi Gupta, who wrote about the Bru refugees.
Some of the students chose issues that they said made them "angry and sad", like Ishana Kandhari, who wrote about the farmers' protest. "I was following the farmers' protest and I was angry, sad and hurt at how the farmers' lives are getting impacted. When this opportunity came up, I wanted to write about it," she said.
The gang rape and murder of a Dalit woman in Hathras unnerved 13-year-old Adrija Mukherjee. "I am a girl and it is scary that something like this can happen," she said.
"Human rights are basic rights that belong to all of us simply because we are human. Human rights are the articulation of the need for justice, tolerance, mutual respect and human dignity," Adrija wrote.
Vrinda Sarda wrote about Internet shutdowns in Kashmir.
Krittika Mahipal raised the issue of human trafficking. "Not only does it (human trafficking) work on exploiting the vulnerable, but its foundations also lie in seeing humans as objects we can own and sell," she wrote.