Street for pedestrians only
The stretch under the elevated carriageway connecting Central to Axis malls would be New Town's first plaza for community activities where motorised vehicles would be restricted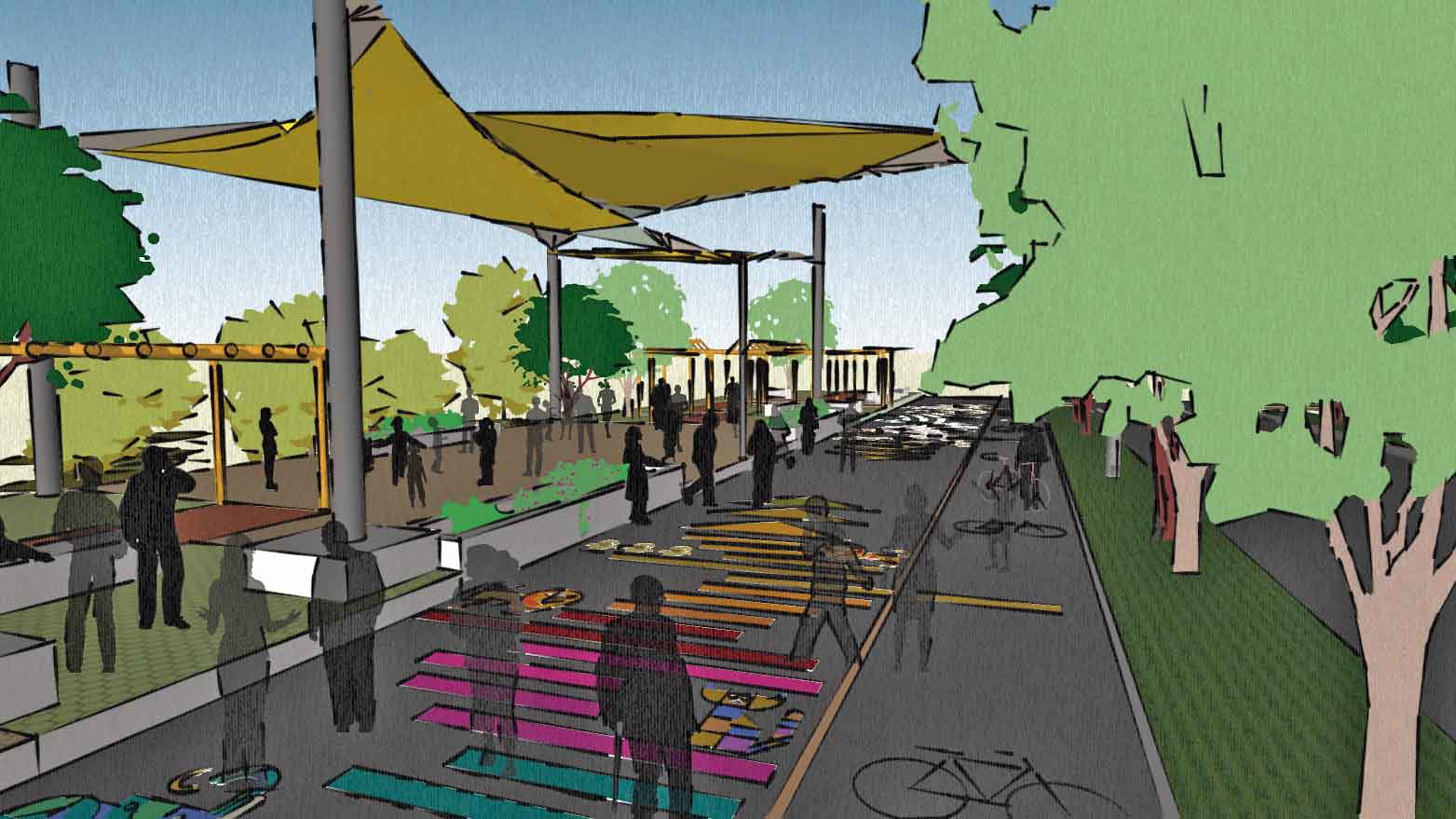 A graphic impression of the plan that won the design contest
---
Salt Lake
|
Published 05.02.21, 12:51 AM
|
---
Two streets in New Town are being planned as pedestrian plazas where cars will be barred. "These will be stretches where pedestrians and non-motorised vehicles, like cycles, will be given priority. Such practices would be both environment-friendly and health-friendly. The road will be safe for children to play, their mothers to chat and senior citizens to walk," said an official of the New Town Kolkata Green Smart City Project, which is planning and funding the project.
One of the chosen streets runs by the Clock Tower, stretching from Central Mall up to Axis Mall on the other side of the Major Arterial Road. The other street is in front of Eco Urban Village.
Explaining the concept, Hidco chairman cum managing director Debashis Sen referred to the Mall of Darjeeling. "Kids ride ponies, people sit on benches and soak in sunrays or shop. The idea is to reduce the distance between streets and the people." He spoke of how the central business district of Gangtok used to be extremely congested with vehicles but the Sikkim government had now made it a no-parking, no-vehicular movement zone. "It has become a tourist-friendly spot with people getting off cars at a distance and walking to shops," he said.
The first stretch, he pointed out, was already there in the masterplan. "Overbridges are usually built over a rail track or a river. But this Clock Tower-elevated carriageway does not have any impediment below. Nor is it an extremely busy road that runs underneath. Yet, the bridge was built 10-15 years ago as the planners had kept such a provision."
As for the road in front of Eco Urban Village, Hidco is seeking corporate social responsibility funds from private firms and create a space for the community free of motorised vehicles in partnership with them. Search for best design
A design contest had been launched with the aim of participative planning to seek ideas for the pedestrian plaza and the winner was announced on January 23 at a programme held on purpose on the streetside, near Biswa Bangla Gate.
Architects Malabi Makur and Parna Ghosh, who won a prize of Rs 10,000 for their winning submission, said they had envisioned the activities on the plaza in accordance with the time of the day and the season. "The early morning, for instance, will have morning walkers and joggers. A semi-shaded and semi-covered walkway under a bamboo pergola with climbing creepers will not only reduce heat radiation but also make walking a pleasant experience by enhancing the ambience," they said. After 9am, it will be about office-goers and their requirements. "A streetfood zone with stalls and sitting arrangement under the elevated carriageway will help accommodate hawkers in a structured manner and also provide office-goers and workers from the neighbourhood with economic lunch options," Makur added.
A multipurpose plaza with tensile fabric support will serve as yoga and aerobics area in the morning and hawking zone later in the day. New Town's cycling track should be extended to this stretch also, they suggest. The bigger story
The design contest was a part of the Streets for People Challenge that again is under the Smart Cities Mission of the ministry of housing and urban affairs. The aim, according to the Smart City website https://smartnet.niua.org/indiastreetchallenge/, is "to inspire cities to create walking-friendly streets through quick measures, in response to Covid-19".
It explains how Covid-19 has presented the need for physical distancing while moving through the city and accessing essential services. "Cities around the world, such as Bogota, Berlin and Milan have responded by transforming streets for walking and cycling, to ensure safe mobility during Covid-19.
The pandemic has also highlighted the importance of open public urban spaces for recreation, mental health, and to enhance the liveability of a city. By placing health and economic recovery at the core of their interventions, cities have re-allocated streets for pedestrians, while also allowing local businesses to re-open safely," it says.
It has cited examples of two cities — New York and London — how this approach has helped the economy. "In New York, the Open Streets: Restaurants program has saved 80,000 jobs by allowing establishments to expand into sidewalks. A Transport for London report shows that improving streets for walking and cycling can increase retail sales by up to a staggering 30 per cent."
There have been 113 applicants to the challenge, with both Calcutta and New Town having applied separately.
The Smart Cities Mission will shortlist 11 cities, which would move to Stage 2 of the Challenge. The evaluation will be based on the pilots and conceptual city-wide scale-up proposals submitted by the registered cities. The shortlisted cities will receive an award, a citation and guidance from national and international experts to further develop and commence their plans.