Stew to steak, icons' picks served at museum café
The menu has eight dishes named after personalities whose statues are housed at MWM
MWM Cafe at Mother's Wax Museum
Sudeshna Banerjee
---
Salt Lake
|
Published 19.02.21, 04:21 AM
|
---
Some of the icons whose statues are housed at Mother's Wax Museum have lent their names to dishes being served at a newly opened cafe on the ground floor.
"Just as we have gathered the best sweets of Calcutta at Misti Hub, we are serving streetfood which are famous across Calcutta here. Be it Chicken Stew from Dacres Lane or Chilli Chicken of Tangra, we have tried to bring it all. Those who come to Eco Park do so after lunch and have dinner after going home. What they needed was a place to have snacks. This cafe will serve that purpose," said Hidco chairman cum managing director Debashis Sen.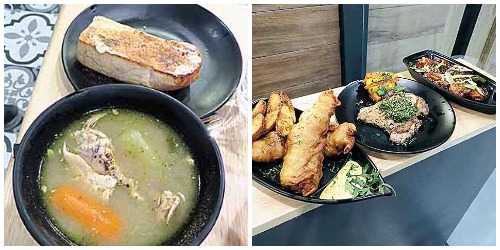 The menu has a section called Icons' Favourites where eight dishes have been highlighted, with names linked to personalities from Calcutta and abroad. The humble piyazi is described as a Netaji favourite and costs Rs 79 a plate. Bhuna Khichudi, at Rs 169, is linked to Sheikh Mujibur Rahaman of Bangladesh in what happens to be Bangabandhu's centenary year. An Argentine favourite, Steak with Chimichurri Sauce, at Rs 229, is the tribute to Maradona, who has visited the city twice and stayed in a New Town hotel in 2017. The Chicken Stew, which is served with Toasted Quarter Bread for Rs 169, is linked to Sourav Ganguly. An English staple, Fish and Chips, costing Rs 159, is named after the British sitcom character Mr Bean, immortalised by Rowan Atkinson. Sweet teeth are attributed to Mother Teresa, after whom the wax museum is named, and Michael Jackson, with Date Walnut Kheer (at Rs 89) and Monte Carlo (at Rs 119) respectively connected to them.
Though MWM Cafe opened on February 2, an informal opening programme was held on January 31, where live music was organised by the platform Gaanpeon. A young trio of Samuel Halder, Ankita Mitra and Suman Ruj presented refreshing songs, ranging from Anjan Dutt hits like Mary Ann to the classic Hoyto tomari jonyo to Bollywood numbers like Main koi aisa geet.