Sold-out stall at I-Day show
Underprivileged hands trained by NGOs make rakhis in New Town & Salt Lake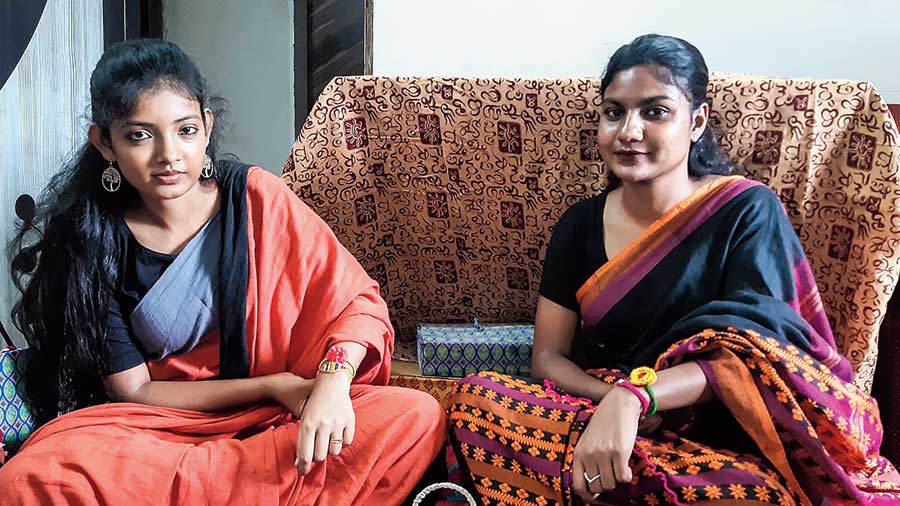 Rupa Biswas of Mahisbathan and Sangita Das of Duttabad display the rakhis they have made on their own wrists.
---
Salt Lake
|
Published 20.08.21, 08:06 AM
|
---
At an Independence Day plantation programme in Action Area IIB, a counter at a side of the stage manned by teenagers saw a lot of footfall early in the day but soon wore a deserted look. The reason was simple: all the products were sold out.
Children from underprivileged families, who are being tutored by volunteers from the New Town Forum and News, a social welfare group comprising local residents, made rakhis which were put on sale at the event at Rs 30 a piece. "We got the children to man the counter alongside us so that the interactions with visitors would boost their confidence. With a few rakhis left unsold, they had gone to watch tree plantation taking place. When they came back and found the table empty, they were thrilled to bits," smiled Susmita Dasgupta, co-convenor of the NTFN education tower.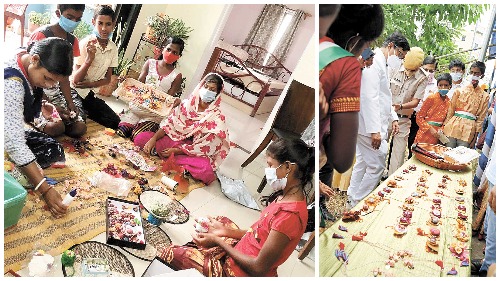 The children started getting tutored from the start of the year. "They are the children of our domestic helps, washermen, caretakers etc for whom schooling has stopped as most do not have smart phones. We teach them basic lessons in a fun way without conforming to a syllabus," said Dasgupta, a resident of Alaktika.
The idea of making rakhis came to Tultul Banerji, a retired teacher of Bharatiya Vidya Bhavan. "I love to make craft items out of discarded stuff and used to gift them penstands, bookmarks etc as prize when they did well in lessons. They expressed interest to learn. The first thing I got the girls to make was dupattas for their own use by cutting a sari of mine. They did such nice stitchwork. Two weeks before rakhi, I thought of getting them to make some," Banerji said.
The seven children who stepped up are mostly from Muslim families. "So I told them about Tagore's rakhibandhan initiative to stop the Partition of Bengal in 1905. So rakhi can be tied on anyone as a mark of friendship or communal harmony, and is not just an occasion for brother and sister," Banerji added.
Manjura Khatun, 14, and Mamtana Parveen, 15, are two of the seven who created the 67 rakhis sold on Sunday. "Wish we had made more. One person did not have cash and asked if we took digital payment. When we said no, he borrowed money and paid!" said Manjura excitedly. Both walk to Banerji's Greenfield Ambition apartment from Dashadrone, in Rajarhat, half an hour away on foot. While Mamtana's father drives a toto, Manjura's father plies a van rickshaw and her grandmother is a cook. "We sold the rakhis instead of gifting them to guests to show the kids that they can contribute to the family if they pick up such skills," said Banerji.
The work had been divided. Some cut cloth to size, some stitched, some pasted stones, some created strings while some made paper bags to pack the rakhis in. "After (Banerji) aunty showed us, we took the work home. My sister and mother helped with my share of work," Manjura said. Mamtana's brothers, two and four years younger to her, too now want to learn the work.
The seven have their hands full. "We had to return several customers empty-handed on Sunday. We plan to make more rakhis by Saturday for them," Mamtana said.
Ask them if they took the money home and they respond in the negative. "We will use the cash to buy materials for more such craft items," they say.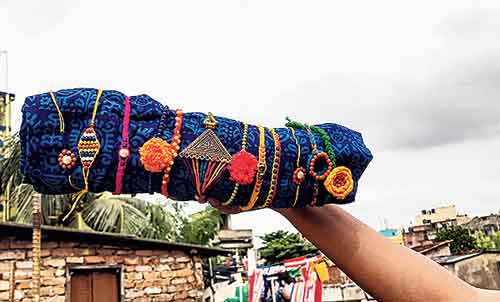 Kenya designs on bands
Designs from Kenya are on offer on Rakhi this year, thanks to the initiative of two young women — one from Mahisbathan and another from Duttabad. They run an used-clothes upcycling programme of Prayasam, a CG-Block based NGO.
"I used to make bands ever since I came back from an exchange programme in Kenya in 2019. These were used to tie on hands of colleagues in office and in our community on Rakhi. This year, we decided to sell them for Rs 25 apiece," said Rupa Biswas, who is now employed at Prayasam as a junior research associate.
Beads and wool are used to make colourful bands in Kenya. "These are unisex. So they can be tied on anyone's hands," says the Mahisbathan girl, who has taught rakhi-making to Sangita Das of Duttabad.
The two run the Duoranir Sansar shop in Nehru Colony, Dakshindari where Prayasam has rented a house. "We are there from 10am to 5pm. About 150 rakhis have been sold. Many orders are coming over Facebook," says Rupa. Another 100 are being sent pasted on cards to regular patrons in Salt Lake who gift used clothes round the year to upcycle and sell at the shop for Rs 10 apiece.
"We had created and uploaded a video of them crafting rakhis which found good response. This is a part of our earn-while-you-learn initiative," said Amlan Ganguly, founder, Prayasam.
Pictures by Aman Mukhiya