A solar power plant was inaugurated on May 1 next to the Biswa Bangla Convention Centre. This is one of two plants that have been commissioned to come up over the Bagjola Canal, one on each side of the Major Arterial Road.
NKDA chairman Debashis Sen said: "Urban land is scarce and costly. Such a plant addresses the problem of availability of landspace for renewable energy. Placing solar panels on canal top also lessens evaporation from the canal and prevents dust and litter from falling in the water. It also prevents mosquito breeding. So it has multiple functions. Above all, it is a great contributor in reduction of global warming by consequent reduction of conventional power use."
A traditional 500 kWp solar power plant requires about two acres of land. It generates about 73,0000 units of solar electricity a year. A thermal power plant emits 6,57,000 kg of carbon di-oxide to generate that amount of electricity.
The plant was built before time. "Our timeline was to finish by September. But in early April, we were asked if we could finish one of the plants by April 30. Work was done on war footing," said Aban Saha, director of Agni Power and Electronics, which is in charge of the construction. The electricity generated will be used at the convention centre. Any additional production would be directed back to the power grid, connected through net metering.
Saha claims this would be the widest canal top solar power project so far in the country. The 100m long plant is 41m wide.
NKDA already has built a solar plant between Gate 5 and 6 of Eco Park since 2015. "It is of the same generation capacity as this one. Thanks to the plant, we have saved Rs 92 lakh in electricity bills over three years," Sen said.
The plant on the other side of the road will take time, sources said. Though half the construction is done, industrial oxygen would be needed for any kind of cutting. With the state government harnessing all industrial oxygen for use as medical oxygen, that has been stalled.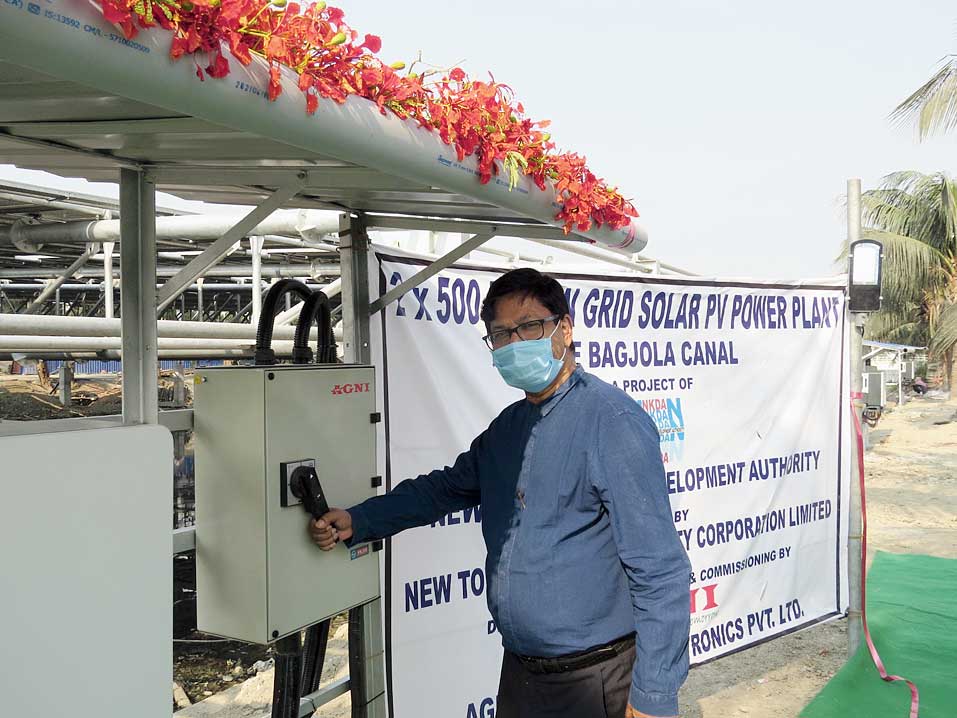 NKDA chairman Debashis Sen switches on the solar plant on May 1. The light affixed to the pole to the right uses solar power produced in it. Sudeshna Banerjee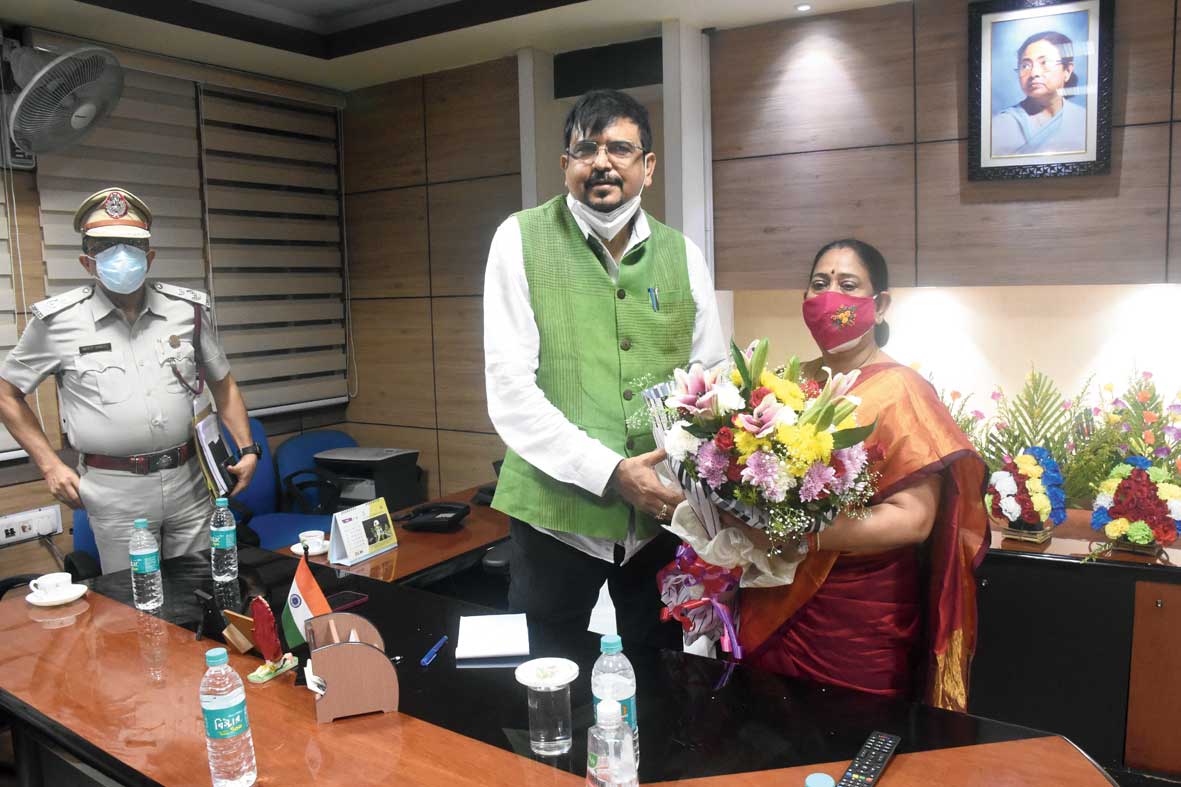 Bidhannagar MLA Sujit Bose being greeted on his first day in office on Tuesday after swearing in as minister of fire and emergency services by Krishna Chakraborty, the recently reinstated chairperson of the Board of Administrators, Bidhannagar Municipal Corporation. Picture by Mayukh Sengupta