Siblings weigh Covid risk in Salt Lake
With most brothers wary of a visit to the sister's house, Bhai Phonta is likely to bring little cheer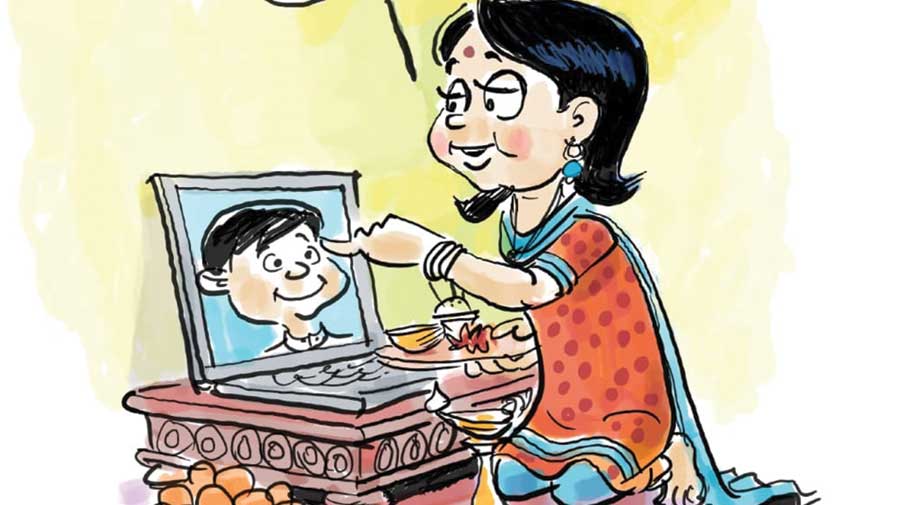 ---
---
It's Kali puja tomorrow but pandals are no-entry zones. The day is Diwali also but the high court has banned fire crackers. Monday is Bhai Phonta but, again, how many sisters would be willing to meet their brothers and pray for their longevity while risking their lives at the same time?
Like most other festivals this year, the three upcoming ones are set to be eclipsed by coronavirus. The Telegraph Salt Lake spoke to residents across the twin townships to learn how they are planning to spend the extended weekend.
Covid-positive brother
Debalay Gonchowdhury will be spending most of Bhai Phonta asleep in his New Town apartment, recuperating. He has tested positive and is in quarantine with his wife.
"My sister, who lives in Budge Budge, will still come to our family home in Salt Lake's GD Block to apply phonta to our dog, Dodo. She will cook something for me and send through the driver and I on my part, will send her some money over Paytm so she can buy something for herself," says the 30-something man living behind Central mall. "It will be a Bhai Phonta like never before."
Sorely missing sisters
For octogenarian Samaresh Bandopadhyay, Bhai Phonta is sacrosanct. "I remember the festival of 1945 when my grandmother's freedom fighter brother hoodwinked the police and came to take phonta from his sister. That's how important the day is in my family," reminisces the DL Block resident.
His sister in Garia now holds a gala feast on the day with over 200 members of the extended family dining and taking part in stage events like mimicry of one another. "Three years ago, I was in Shilong on work but upon her insistence, took a flight and went over straight from the airport for phonta. This year, too, she is pleading with us to go meet her but it wouldn't be right. How can she apply phonta from 2m away? Which brother would she leave out to reduce the crowd?"
Just as deep is the grief in Somnath Banerjee's heart. "Didi lives all alone in Chandernagore and waits the whole year to meet her three brothers," says the senior citizen of AJ Block. "In a year that she has barely been able to socialise with neighbours, it would have meant the world to her if we could have gone over. But my brothers are against the idea. This will be the first time we will miss Bhai Phonta and I'm feeling worse as the day draws nearer."
Sankalan Datta recalls visiting his ancestral home in Behrampore every Bhai Phonta. "We bathe in the Ganga, visit the Charak mela nearby and have an awesome time with the extended family. It'll all be virtual this time and it won't be any fun," says the resident of Karunamoyee F Block.
Risking it to go
Many adults, up to their 40s, however, don't mind visiting one another for phonta, especially if the siblings live within Salt Lake and New Town.
"The brother-sister relationship is created by God himself and I cannot miss meeting my sister at any cost," says Soumen Goswami of CB Block. "And if people are visiting markets and restaurants without a worry why are they compromising on meeting siblings?"
Tarasankar Chatterjee of HA Block, too, said he would fasten his mask, smear the sanitiser and visit his sisters in Ballygunge at any cost.
"This time of the year is usually filled with fun and games," says Sonali Sen of CK Block. During Kali puja she is involved with hosting antakshari under the Spectrum banner in neighbouring BL Block; for Diwali she and her family go to the park to watch fireworks display and on Bhai Phonta she and her brother go over to their sister's apartment in Baranagar for a picnic of sorts.
"This year, none of these will happen," she sighs. "My brother, Basabbijay Sarkar, is a doctor in charge of 90 Covid patients at a time and obviously cannot seek leave now. Maybe my didi will come to Salt Lake to apply phonta and I shall tag along," Sonali says.
Cleaning spree
In other years, BE Block's Jyoti Agarwal hires at least two pairs of helping hands to clean her home thoroughly over five or six days. "This time it is unsafe to call outsiders so we family members are slogging it out ourselves. Cleaning is a vital part of the festival as we believe Lakshmi may refuse to enter a home that is unkempt," she says.
Diwali shopping from Burrabazar has got replaced by online purchases but small scale pujas for the home and office are still on the cards. "Usually we visit the elders in the family the day after Diwali to seek blessings but this time we shall have have to do this over video call," she says.
If Jyoti wishes the court ruling allowed at least fuljhuris for the sake of tradition, Manish Kumar Hissaria is delighted the whole lot is banned. "My grandmother had asthma and I've seen how she suffered on Diwali nights," says the BE Block resident whose family seldom bursts crackers anyway.
"We shall clean up, perform puja, decorate the house with diyas and spend time chatting with one another," says the entrepreneur. "Four or five of our relatives are down with Covid so we are neither inviting anyone over nor going over. We'll miss full-fledged Diwali but there is no choice."
Come what may
Despite the ban, Karunamoyee residents claimed they saw and heard fire crackers in the sky last Friday, from the FE Block side and at least one resident confessed that he is making plans to burst them on Saturday.
"My friends and I usually spend about Rs 20,000 on fire crackers and burst them all night. This time the ban will make it difficult but my sources can still get me Rs 5,000 worth. I won't buy the noisy ones and will burst the crackers alone without meeting friends as it's unsafe," said the Sector III resident in his 30s.
Diwali with a difference
Then again, some residents have stopped moping and are trying to do something for the needy this season.
"Since our friends won't be able to come over, we are collecting clothes and sweets from neighbours in AJ Block and shall distribute them with slum dwellers behind our block," says Namitha R. Dalmia. "This will give me more happiness and satisfaction than bursting crackers."
Kakoli Das Mandal will be sharing food with inamtes of Prabortak, a home for the specially-abled in CL Block this weekend. "It will be an opportunity to teach compassion to my six-year-old too," says the BL Block resident.
Jyoti of BE Block felt the Lakshmi puja was more imporant than any fanfare. "And that we can do at home without a crowd. As for the fun and happiness, if it isn't inside you, you'll never derive it by busting crackers. Everyone is suffering due to the pandemic so we might as well grin and bear it this one year."