She nurtures life, instils values & makes a mark
The Telegraph Young Metro | Schools in and around Calcutta celebrate International Women's Day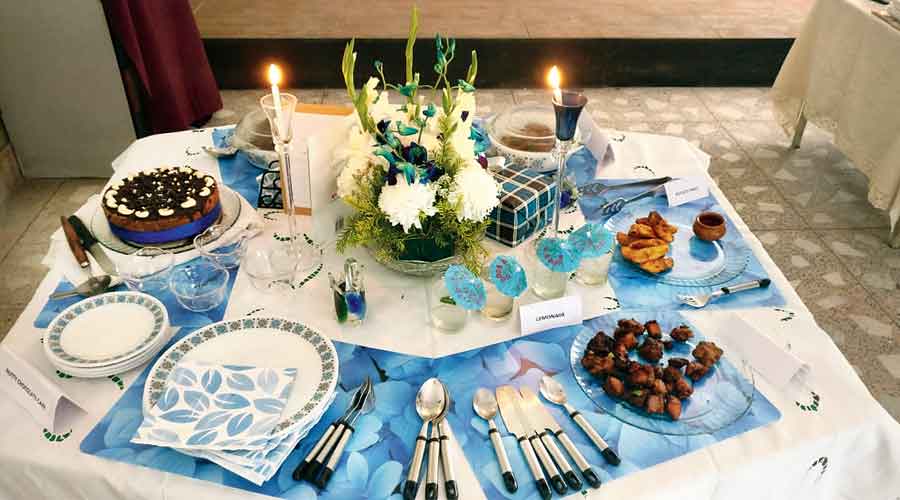 ---
Calcutta
|
Published 04.04.21, 12:49 AM
|
---
Akshar School
The most common attribute that has been associated with women is that they have to cook for their male counterparts. But, the male teachers of Akshar School thought of a role reversal as a way of celebrating International Women's Day recently. Some of them donned the chef's hat and cooked for the female teachers on the occasion. "Women are the best in multitasking. No man can take her place. Many of us are very fortunate that we are pursuing our dreams. However, we have to evolve as a society where we respect each other's abilities," said principal Kavneet Khullar.
HM Education Centre HM Education Centre celebrated International Women's Day with the patients of the female ward of Uttarpara State General Hospital. The female teachers from the school visited the hospital to spend time with the patients and distributed food packets, sanitisers and masks among them. The motive was to spread the message of women empowerment, create a sense of belonging and urge all to abide by the protocols of the pandemic. "Oppression and inequality compelled women to be more vocal and active. Hence today, our school's women faculty members went to the female ward of a government hospital to show solidarity with the patients and make them feel special. Since the students could not be involved because of the pandemic situation, they sent greetings through their teachers," said principal Ratna Kundu.
Shri Shikshayatan School Both junior and senior sections of Shri Shikshayatan School recently celebrated International Women's Day with online and offline events. Th senior school students recited poetry. Leadership, gender equality, inclusivity, women as symbols of shakti and motherhood were the major themes of the events. Shikshayatan Foundation's secretary-general Bratati Bhattacharyya delivered a speech on Women in Leadership Role and said: "There has to be sustainable livelihood, and we must work towards reducing economic disparity."
Principal Sangeeta Tandon emphasised on the role of a mother. She said: "We want our teachers to feel empowered. Society needs to stop judging today's woman. She is capable of multitasking and can strike the right balance between her home and work."
The junior section took part in a talk show on the concept of women empowerment. Other online programmes were organised to make the kids aware of the event's importance.
Headmistress Poushali Mukherjee said: "I feel that Women's Day is also a celebration of gender equality. Our founders had built a girls' school a century ago, and my head bows down with deep regards to those visionaries. I feel proud as a woman to be a part of their journey in nurturing young minds towards emancipation."
Birla High School, Mukundapur Students of Birla High School, Mukundapur, celebrated the Women's Day by showing their gratitude towards the teachers of the school. The male members of the administrative department, too, marked the occasion by presenting cakes and flowers to their women colleagues. A presentation was uploaded on the social media page of the school through which the students' mothers were paid homage. "I feel behind every successful woman is the woman herself. She nurtures life, instils values, teaches life skills and empowers herself to sail smoothly across turbulent waters," said headmistress Hira Prasad. Principal Minnie Sengupta said: "It is always a pleasure to be made to feel special. We tried to do just that through a special presentation for the mothers of our students. We were humbled by the way the male colleagues of the school greeted us."
Apex Academy The male teachers of Apex Academy surprised their female colleagues by organising a Women's Day celebration recently on the school premises. The celebrations began by greeting the school's female teachers with flowers and gifts. There were speeches that stressed on the importance of equal opportunities being given to women, considering that they were no less than men in any respect. "We felt honoured after being greeted in this way by the male teachers of the school. We, women, are capable of doing everything. Every woman needs to be respected," said principal Nayantara Roy.
CR Gasper Memorial Institute for Girls CR Gasper Memorial Institute for Girls, an evening school run by St Augustine Education Society for the less privileged girls, recently celebrated Women's Day with a theme, My voice. An English extempore, as part of the programme, was conducted online to encourage the students to communicate for the first time to a large audience. A series of events followed and the girls played games, won prizes and received report cards. "It was surprising to know that most households had a smartphone. So, we called the girls and their parents to school in batches and taught them how to access video classes and assignments on a digital platform. This Women's Day celebration was a happy moment for them as they had not come to school all the year," said St Augustine Education Society president Janet Gasper Chowdhury.
Krishnagar Public School Krishnagar Public School recognised the achievements of women by celebrating International Women's Day recently. The male members among teachers, staff members and the management gathered on the school premises to organise a programme on the day. 
Nabanita Guha, one of the trustees of the school, said: "These small gestures bring so much positivity in our lives and also give us the confidence to keep going despite all odds."
The programme began with the recital of a poem, followed by song and dance performances. There were interactive games which involved both male and female teachers and other staff members to show that no work was specific to any particular gender. "We always keep acknowledging the role of a woman behind the success of a man, but it is time to start acknowledging women for their own successes. It is this change in the outlook that would lead to the formation of a utopian world that would be inclusive and equal in terms of opportunities and rights," said principal Sankar Prasad Dutta.