Shankha Ghosh: Tireless writer, never shy of protest
His politics was of a redemptive nature, and thereby it crossed the suspicious limits of petty politics and realpolitik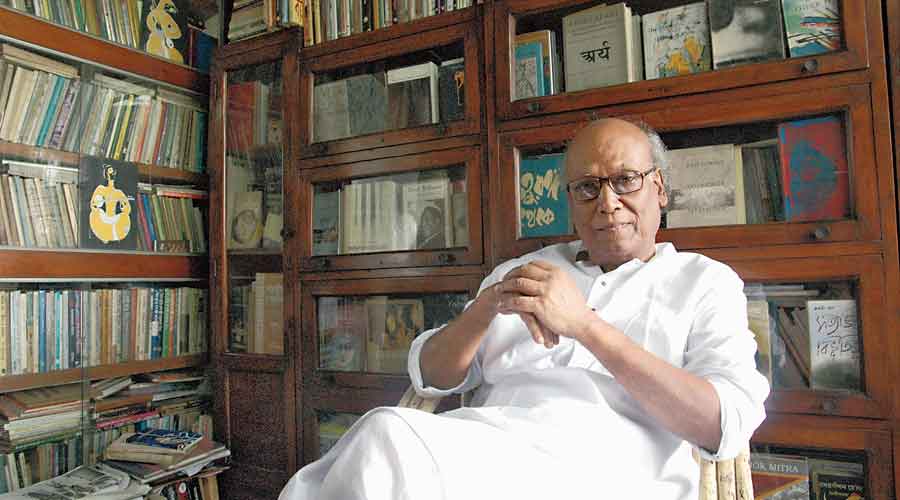 Shankha Ghosh (February 5, 1933 to April 21, 2021)
Sourced by The Telegraph
---
Calcutta
|
Published 22.04.21, 02:16 AM
|
---
Which particular scene should I recall at this melancholic moment?
Scene one: In a capacious room filled with admirers, Sankha Ghosh is reciting his poems from Dinguli Raatguli, published in 1956, to his Gandharva Kabita Guccho, published in 1993. His voice is almost inaudible and the listeners are straining their ears to catch the fascinating words.
Scene two: Sankha Ghosh is leading a vibrant protest march from College Street, adjacent to Presidency College, to the Dharmatala crossing which is condemning the Gujarat massacre.
Scene three: In spite of his ever busy schedule he is listening meticulously to what the danseuse Surangama Lala Dasgupta is saying on her future project based on the dance dramas of Tagore, and then recommending the most appropriate title for the production which is Etodine Taar Ahobaan.
I am most reluctant to choose one from the above three because all three together constitute the personality of the great poet who expired on Wednesday.
In fact, I need to add a fourth scene which depicts the poet alone in his study writing inimitable prose which will lead to masterpieces of creative critical writing like Nirman o Srishti or Kaaler Matra o Rabindra Natok. While the former is undoubtedly the most brilliant work on poetics and aesthetics written after Abanindranath's treatise on the same subject Bageshwari Shilpa Prabandhaboli; the latter forcefully negates the verdict that Rabindranath was a second grade dramatist whose poetic dramas are unfit for stage production.
Yet why should I limit myself only to his high-grade work? He has written for children as well. His Sakalbelar Alo, for instance, is a must read for juniors who would like to know more about the partition of Bengal and the exodus which followed it. This text is full of love for the village the Ghosh family left behind and the arduous journey thereafter is described in such a humane and heartfelt manner that even a fragment of rancour does not find a place in it.
Sankha Ghosh was a dutiful teacher and indefatigable writer. But still he could scoop up the time required to protest and demonstrate. This fighting aspect of his personality was revealed after the Gujarat massacre when he, veritably, led the agitation against the communal holocaust that raged in Gujarat.
We all looked up to him respectfully in that phase and he led the movement, quietly and firmly, in his own splendid style. The same story was repeated after the mayhem in Nandigram. Supporters and sympathisers of the CPM earnestly requested him not to come out on the streets but he remained adamant. His politics was of a redemptive nature, and thereby it crossed the suspicious limits of petty politics and realpolitik. When we read his political poem Jamunaboti, included in his first book of poems Dinguli Raatguli, we realise what constituted his political self — courage, fearlessness, stubborn idealism and an aspiration for redemption.
Like the famous neo Marxian aesthetes he practised nothing short of what we may term "redemptive politics". Only a stirring, redemptive passion can write the following lines —  "Jamunaboti Saraswati Kaal Jamunar Biye, Jamuna Taar Basor Roche Barud Buke Diye (Jamunaboti Saraswati tomorrow is Jamuna's marriage / Jamuna prepares her bridal chamber by placing gunpowder in her breast)".
Still he was not a pre-dominantly political poet like Subhash Mukhopadhyay and Birendra Chattopadhyay. He was more like Pablo Neruda who remained steadfast to the kindred points of Home and Heaven.
With masterly fluency he could write romantic poems as well which could be burning and impassioned in character. To cite one specific instance, the title poem Dinguli Raatguli rolls out like volcanic lava inspiring the poet to write lines such as: "Akankha Unmotto Hoy, Premer Nishaane Tara Chhute Chhute Matha Kute Kute Morey, Bhoy Knaape Door Durantor (Desire turns mad, inflamed by the calls of love they run amok and crush their heads. The distant and far away trembles in fright)."
I have deliberately used these lines to prove that Sankha Ghosh, who excelled in formal versification, could turn severely passionate when the theme so demanded.
Indeed his restless and turbulent dedication which was couched within a very soft-spoken exterior, drew him close to the Naxalites. When I questioned him deliberately on this issue, he said: "We endorsed the idealism, desire and aspiration of the Naxalite youths — with that we did not have any problem. But we questioned their method, course of action and violent programme. We were dead against the ruthless state oppression that was launched against them."
When his favourite student and Naxalite Timir Baran Singha was shot dead in Behrampore jail, he wrote a moving elegy that still haunts, "the Maidan drops heavy in the midst of fog/ route march melts towards the horizon/ I sit low and pick up with my hands/ your cutout head Timir."
Sankha Ghosh's best friend Alokeranjan Dasgupta, a remarkable poet himself, predeceased him five months ago. He was also deeply attached to Timir Baran Singha, his student, on whom he also wrote an elegy. Perhaps the two — Sankha and Alokeranjan —are together now in some other realm and conversing animatedly with each other planning a joint production, as they did once in Saptasindhu Dash Diganta. The latter is a selection of world poetry translated into Bengali, which they edited.
There is no point in counting the number of books Sankha Ghosh wrote. His collected prose and poetry are being compiled and published. What is more important are the words and lines written by him, which have become a part and parcel of our spoken language. Lines such as, "Bhikhari Banao Kintu Tumi Toh Temon Gauri Noyo (Turned me into a beggar but you are not like that Gauri)", "Mukh Dheke Jaye Bigyapone (the face is covered with ads)", "Nibhonto ei Chulli te Maa Ektu Agun De (Light up the fire of the ebbing oven, Maa)", are now an indispensable part of the language we speak. Sankha Ghosh has enriched our lives and language in the very basic sense of the term.