September school wish with August condition
Govt might reopen them on alternate days, says CM Mamata Banerjee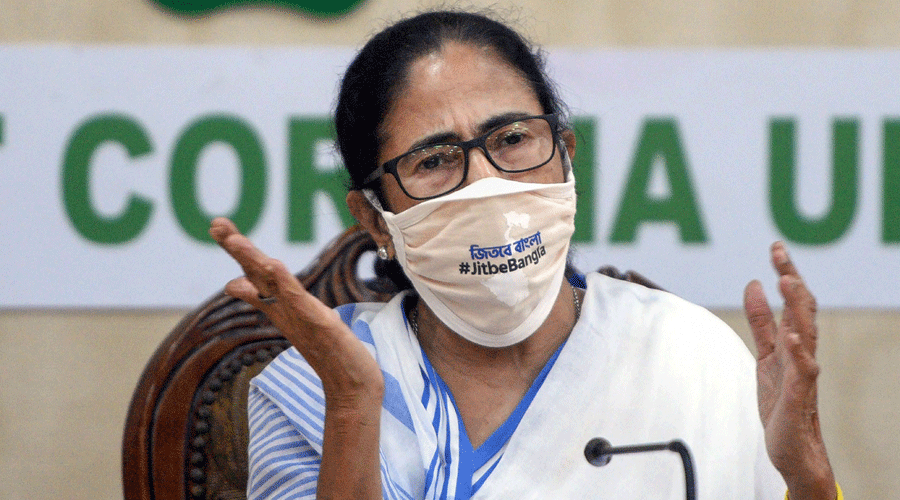 ---
|
Calcutta
|
Published 29.07.20, 04:46 PM
---
Schools and colleges in Bengal will remain closed at least until August 31 and, "if the situation improves in August", the state government might reopen them on alternate days in September, chief minister Mamata Banerjee said on Tuesday.
"Schools and colleges will remain closed now. There is no question of reopening the institutions in August. Coronavirus is at its peak now," Mamata said at Nabanna.
"We have a target to reopen the institutions from September 5 — that happens to be the birthday of Sarvepalli Radhakrishnan and is observed as Teachers' Day — if the situation permits, on alternate days for the next one month till Durga Puja. We might allow that only if the situation improves in August. But nothing can be done till August 31," she added.
The directive applies to all state-aided and private schools, madrasas, colleges and universities, an official of the higher education department said.
The chief minister said an announcement about the possibility of reopening the institutions on alternate days was likely to be made by August 31.
The state has around 59,000 primary schools and 18,000 secondary schools, close to 550 colleges and more than 30 universities.
On May 30, the government had announced that all colleges, universities and private educational institutions would remain closed till June 30. "In continuation of that order, it has now been decided that closure will be extended till August 31," said an official of the education department.
A college principal said extending the closure till Aug-ust 31 was inevitable, considering that education minister Partha Chatterjee had earlier said it would not be pos-sible to start the academic session in the middle of a pandemic.
In Bengal, the academic session in colleges and uni-versities starts in mid-July after the publication of the plus-II board exam results in June.
"Though the colleges have been asked to start receiving online applications for admission to first-year classes from August 10, the department has not been able to say when classes will start," the principal said.
Mamata referred to the July 6 UGC circular that had asked colleges and universities to "compulsorily" hold their final semester exams by September.
"We cannot hold exams now…. Whatever they said in April has to be maintained," said Mamata.
In its advisory on April 29, the UGC had given the institutions the required flexibility to decide on evaluations.