Scores of injured birds at Salt Lake rescue centre
Kite strings are responsible for close to 50 animals ending up at the facility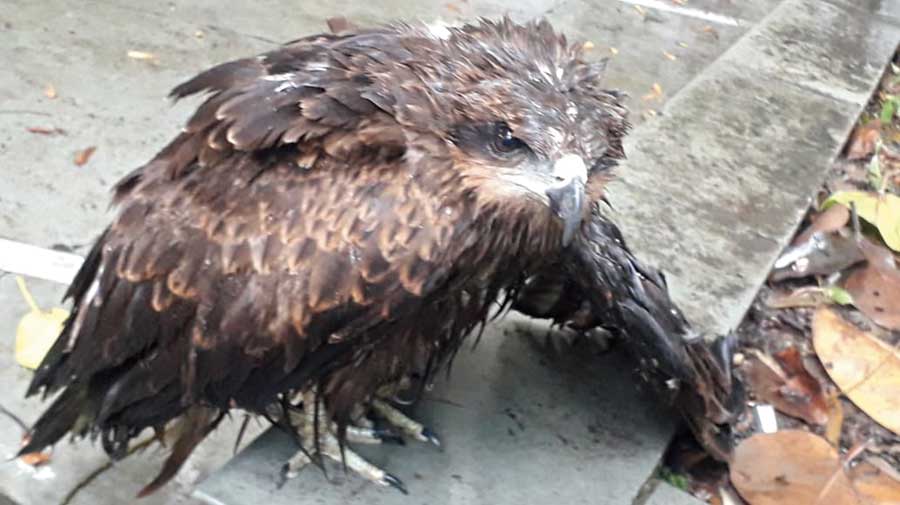 ---
|
Calcutta
|
Published 10.09.20, 03:19 AM
---
Kite strings are proving to be risky not only for two-wheeler riders but also for birds who are getting injured after getting entangled in them.
Once they get entangled, they struggle to free themselves and in the process injure their wings, legs or talons. Some even die.
Scores of birds, including black kites, owls, pigeons and kingfishers, were injured by kite strings in the past couple of days. Many Calcuttans as well as forest department officials have rescued innumerable injured birds, an official at the forest department's Wildlife Rescue Centre in Salt Lake said.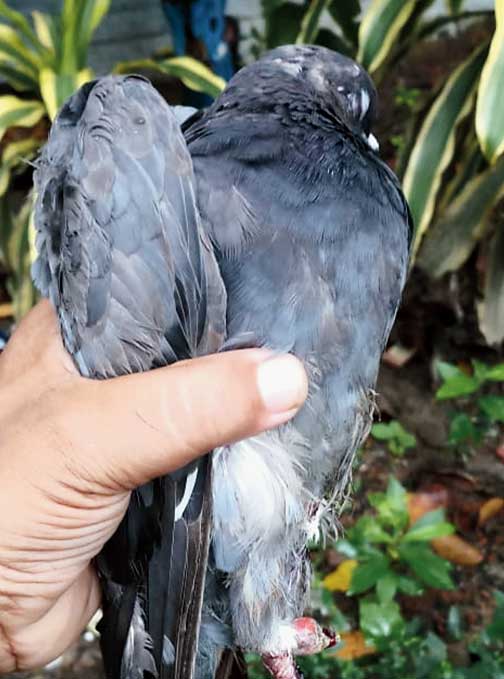 Close to 50 birds have been rescued and the rescue centre has released many after they recovered from their injuries, the official said.
The centre has been receiving calls from across the city. People call up to say they spotted injured birds entangled in kite strings or struggling on the ground.
Many have taken to flying kites in the city during the lockdown.
Several two-wheeler riders on flyovers have been critically injured by kite strings. Some have died of injuries.
Manja (a mixture of glass and glue) helps kites soar but also adds to the string's sharpness. Such strings do not snap and leave birds entangled in them severely injured.
The nylon ones are known as Chinese manja — they are almost unbreakable and are extremely sharp.
"We often hear of such injuries to birds, especially black kites. Birds cannot see the string while flying and they get entangled in them," Shubhankar Patra, a veteran birdwatcher, said.
Black kites, common in the city, are large, slow-flying birds. Being scavengers, they keep hovering in the sky in search of food. Owls, too, cannot spot strings until it is too late.
A few days ago, an injured Indian Kite was spotted dangling from the branch of a tree at the Park Street and Camac Street crossing. Passers-by alerted cops. Traffic sergeants Diptimoy Ghosh and Awasim Bari of the South traffic guard climbed on top of a boundary wall adjacent to the tree and rescued the bird.
They then alerted the forest department, which sent a rescue team to the area. The bird was taken to the rescue centre in Salt Lake where it was treated.
An official at the centre said more than 26 birds with injuries from kite strings had been rescued in the past week. "Most have injuries on their wings or legs… they struggle to free themselves once they get entangled in kite strings. We try our best but many cannot fly after getting slashed or entangled in these strings," the official said.
Forest officials and various NGOs are worried about a spike in the number of injured birds during Vishwakarma Puja, which is round the corner, when sparring with kites is common in the city.
Calcutta High Court had in July directed cops to strictly enforce the ban on Chinese manja and nylon and synthetic strings used to fly kites.