School resumption: Hostel shut, class inaccessible
Special institutions for differently-abled students, too, are likely to remain open just on paper unless the hostels are reopened, said teachers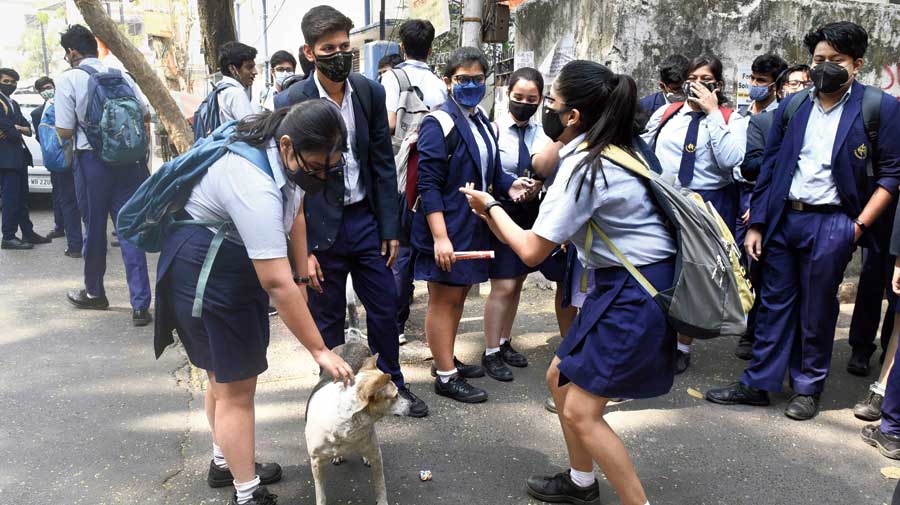 Students after classes ended on Day 1 of resumption of in-person classes on Friday.
Sanat Kr Sinha
---
Calcutta
|
Published 13.02.21, 02:54 AM
|
---
In-person classes resumed at schools across the city on Friday but many students who depend on government hostel accommodation do not know when they can get back to schools.
The state government's decision to keep hostels shut has cast a cloud on the future of thousands of marginalised students, many of them with special needs.
Education is almost synonymous with hostels for these students, most of whom are from very poor families. They do not have a fixed home and Internet connection is a distant dream. A shelter and food are incentives for these pupils.
Several government schools in and around Calcutta have hostels for students from financially disadvantaged families.
Special schools for differently-abled students, too, are likely to remain open just on paper unless the hostels are reopened, said teachers. At most schools for the blind, the bulk of the pupils are from districts.
"If hostels are not re-opened, most of these students are likely to drift away from education. I fear some of them already have. The order to reopen such schools without reopening hostels means nothing," said an official of the school education department.
Haranath High School in Bagbazar has a hostel that can accommodate around 100 students, a third of them in Classes IX and X. But as the hostel has not been reopened, none of these students can attend in-person classes.
Light House for the Blind, a special co-ed school for the visually impaired near Tollygunge police station, has 118 residential students, 48 of them in Classes IX to XII. "The students who are to appear in Madhyamik are the worst sufferers. If the hostels do not reopen, some of them will not be able to continue studies. Many girls are likely to be married off," said principal Amiya Satpati.
There are over 70 special schools in the state for the differently abled, most of them residential. The department of mass education runs these schools. Following the school education department's nod to reopen schools for students of Classes IX to XII, the department of mass education has issued a notice to reopen the special schools.
The state government has decided against the reopening of hostels because it fears the physical distancing norm, a key precautionary measure against Covid-19, could not be followed in hostels, where each room is shared by multiple students.
"But the government has to realise that the needs of all students are not identical. Shutting the hostel doors means shutting the door of education on many students," said the principal of another special school.
As hostels are still closed, some institutions are arranging accommodations for students.
Jadavpur University has recently provided funds to 22 of its visually impaired students so they can stay at rented places that have good Internet connectivity and attend online classes.
But most government residential schools lack the resources to extend similar help to the students.
"Maintaining physical distancing inside hostels would be difficult. But we are sensitive to the needs of the students of special schools. We are looking into this," said Roshni Sen, the secretary in the mass education department.
An official in the school education department said: "If students of residential schools face genuine problems, if we get enough representation from them, we will look into it."