'School' on JU campus for disadvantaged children
The university students, who last year had run community kitchen for the destitute, launched the initiative so that the learners don't lose touch with books for want of smartphones or tabs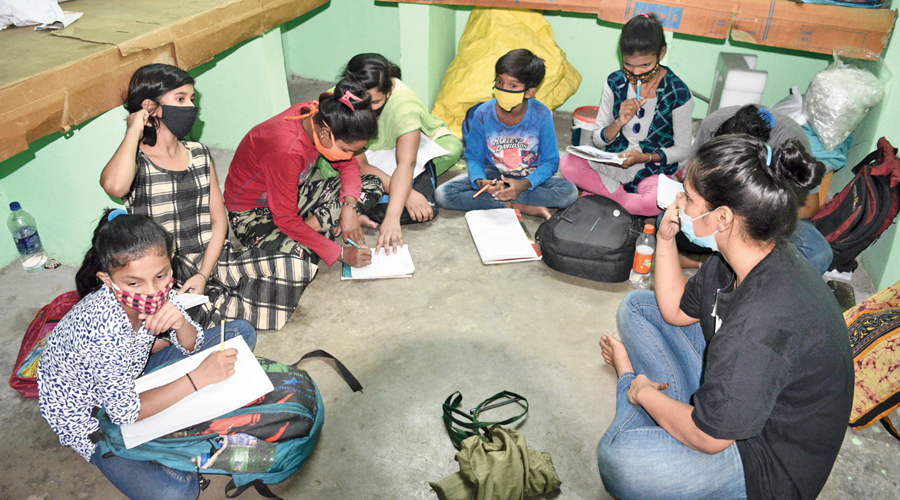 ---
|
Jadavpur
|
Published 27.04.21, 02:24 AM
---
Jadavpur University campus has a fresh batch of students.
They are not university students, but little children who had no other means of carrying on their education amid the pandemic.
A group of university students — present and former — has organised classes over the weekend for around 12 children on a campus that is otherwise shorn of people.
The JU students, who last year had run community kitchen for the destitute, have launched an initiative so that these first generation learners don't lose touch with books for want of smartphones or tabs.
On Sunday evening, Pritam Nashkar, Joy Halder, Priya Sardar, Payel Sardar, Jyoti Gupta and others were walking in a group on the concrete driveway of the campus that overlooks Aurobindo Bhavan, the administrative headquarters of JU. They reside in slums around Jadavpur railway station.
With small bags, containing textbooks, held in their hands, they entered through gate number 1 and were headed to the "school" set up within a fenced enclosure that faces Aurobindo Bhavan.
A room that used to be accessed by the university's gardeners has been turned into a school, named after Ashu and Timir — Ashu Majumder and Timir Baran Singha, the two former JU students who were killed by police during the crackdown on Naxals in early 70s.
Two of the four teachers Soumyajyoti, a postgraduate student of sociology, and Debjan Sengupta, who graduated in comparative literature in 2019, were waiting for their pupils.
Debjan asked the children: "Kar Kar mukhe mask ney?" (Is there anyone who is not wearing a mask?" They responded: "Sabbai er ache". (All of us are wearing).
They sanitised their hands and entered the school.
"It is important that they also get a lesson on how to keep themselves clean and take it back to their homes," said Debjan.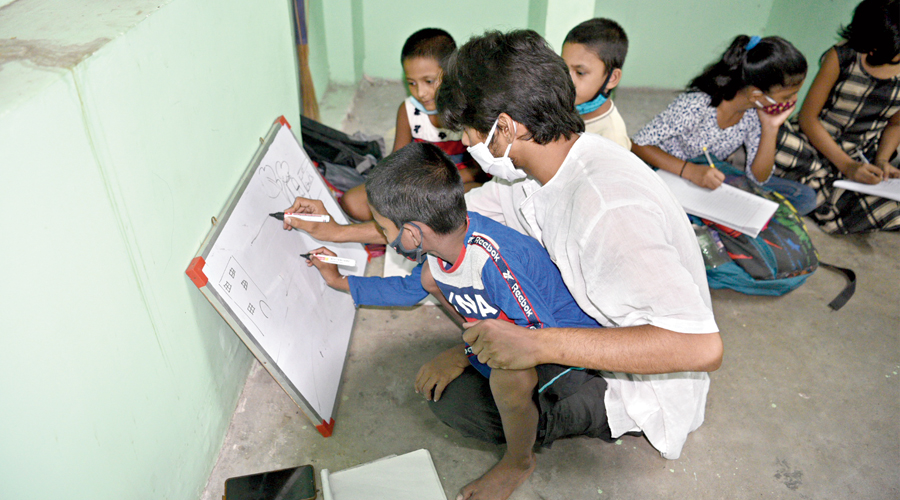 The Sunday's class started with the birthday celebration of Pritam Nashkar. Small slices of cake were placed on the mattress and a candle was lit to celebrate.
These children, whose parents are masons, attendants and drivers, don't have smartphones for attending classes on the digital platforms and are gradually losing touch with education — a void that the students of the university are trying to bridge.
Sunday's birthday boy offered a case study.
"I don't have a smartphone. Over the past one year I have not been able to attend any classes," said Pritam, a Class-VII student of Jadavpur Rishi Aurobindo Vidyapaith.
His father works as a mason whose earnings have dropped amid the pandemic following a slump in construction works.
Joy Halder, a Class IX student of the same school, too could not attend any classes following lack of smartphone. "My mother works in a mall and could not buy me a smartphone," said Joy.
The schools affiliated to the state board had reopened for students of Classes IX to XII from February 12.
But the renewed surge of Covid-19 forced the government to announce summer vacation from April 20 till further notice.
Schools are free to hold classes on the digital platforms, but for likes of Joy and Pritam this does not make any sense.
What made the JU students, associated with the JU Commune, think of starting the school?
Arijit Saha, an MTech student of power engineering said, they felt the need while they used to visit the slums for distributing food.
"The parents told us about the plight of kids following the closure of schools and absence of devices. This led to the launch of school from March 9, that marks the death anniversary of Ashu Majumder," said Arijit.
Taishi Nandi, a postgraduate student of comparative literature said, lack of touch with the school was weakening the base of these students.
"This will create a situation where in they will fail to cope up when promoted to higher classes," said Taishi.
Since the university has been closed till May 3 following a rising number of cases, the organisers are not sure whether the classes could be held this weekend.
A notice was issued on Saturday. "As we came to know about closure very late, the classes were held. But we have told our students the classes could be suspended for some days only. We will soon resume," said Debjan.