Saviour recounts tale of horror
'I realised that as a mother, I had to help someone not much older than my daughter'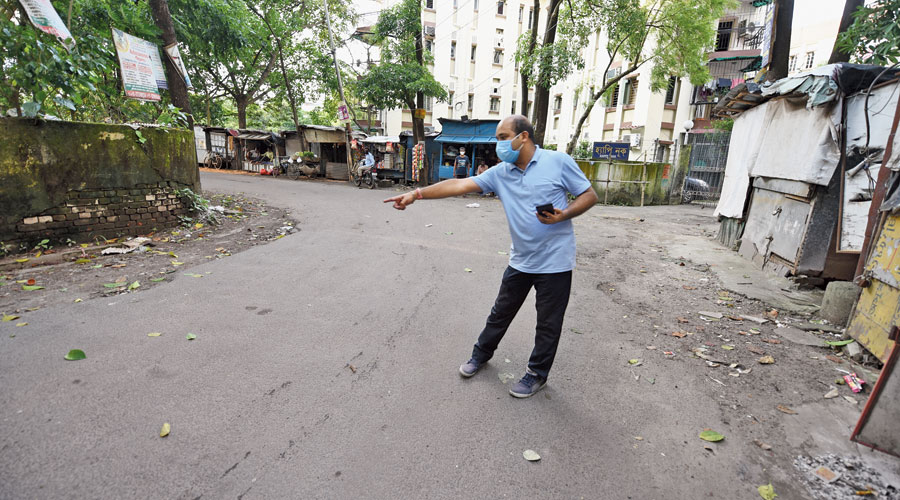 Deep Satpati points at the spot where the woman was thrown out of the Honda City near Abhyudoy Housing Complex at Anandapur, off EM Bypass, past Saturday midnight.
Gautam Bose
---
Calcutta
|
Published 07.09.20, 03:30 AM
|
---
Deep Satpati, a private firm employee, his wife Nilanjana Chatterjee and their daughter were returning to their home in a residential complex on the EM Bypass near the Prince Anwar Shah Road connector crossing on Saturday night when they heard a woman screaming from inside a Honda City car. Deep stopped his Maruti Suzuki Alto car, blocking the way of the Honda City, while Nilanjana got down to see what had happened. 
Nilanjana, who is in hospital with a fractured shin bone,  and Deep narrated their experience to Metro on Sunday:
Nilanjana Chatterjee
When I heard a shrill voice crying for help at that hour of the night, I realised it was a woman. It immediately made me think of my daughter, seated with us in the car. She is 23 years old and we have brought her up with lots of love and care. I realised that as a mother, I had to help someone who is not much older than my daughter.
I asked Deep to stop the car at any cost. It was coming from behind us. At that hour, Anandapur didn't have too many people on the road. The headlights seemed to blaze through the darkness and as the car caught up, the screams of help became more loud. It was a Honda City and a woman was shouting from inside the car.
Deep pulled back and parked the Alto across the road. The Honda City stopped and one of the front doors was flung open. A woman was pushed out and she fell on the road.
When I reached her, she held me. The woman was weeping and she  kept saying "amake baachaan". I realised I had to protect her as a mother.
I think I will be back on my feet again. But at least I have been able to save the dignity of someone who is almost like my daughter. That is the only solace for me despite the excruciating pain in my leg. Deep Satpati
After dumping the woman, the driver suddenly pulled back and took a U-turn. The left front wheel struck my wife's shin bone and the car's bonnet hit her head. Nilanjana slumped on the road. Her head had a deep gash and it was bleeding.
By the time I could gather myself and I was about take down the car's number, the Honda City had sped away.
Both the women were crying in pain. I dialled 100 and was connected to Anandapur police station. A police team reached. I realised I had to carry my wife and the woman to a hospital. So I ran to Ruby General Hospital, the one that was nearest to me at that hour.
At the hospital gates, the guards said they did not have any ambulance to help me. I re-dialled 100 and broke down. I told the officer, crying, that my wife and another woman needed to be admitted to a hospital and there was no ambulance in sight.
The officer then connected to a sergeant of Kasba Traffic Guard. He arranged for an ambulance — KARMA (Kolkata Accident Rescue and Medical Attention) — from Parama Island. I admitted the two to Ruby Hospital.
The shin bone has suffered a compound fracture and Nilanjana has received stitches on her head.
Late on Sunday evening, doctors told me she has tested negative for Covid and her operation is slated around 11 on Monday morning.
The woman told me she worked in a private bank in Calcutta. She said: "Aami aapnake shob rokom sahajjyo korbyo. Kintu amar identity ta reveal korben na, please (I will help you in every way). Please don't reveal my identity)."
Even as I tried pacifying her, I realised that it could have been my daughter. If, as a daughter's father, I don't come forward to help another woman, who will?
Nilanjana and I have this habit of reaching out. Around four years ago, we had gone out for a drive at night. While driving down near VIP Bazar opposite Calcutta International School, we found a car stuck on the divider on the Bypass. We stopped and reached the driver. The man said he was chased by a car and his car smashed into the divider.
Even as he was stuck there, some miscreants snatched his bracelet and other valuables. We reached the man to his house in Triangular Park. The next morning, he called up and said: "Please forget the incident. Nothing had happened to me."