Saved at airport: birds as costly as BMW 3
2 held with smuggled consignment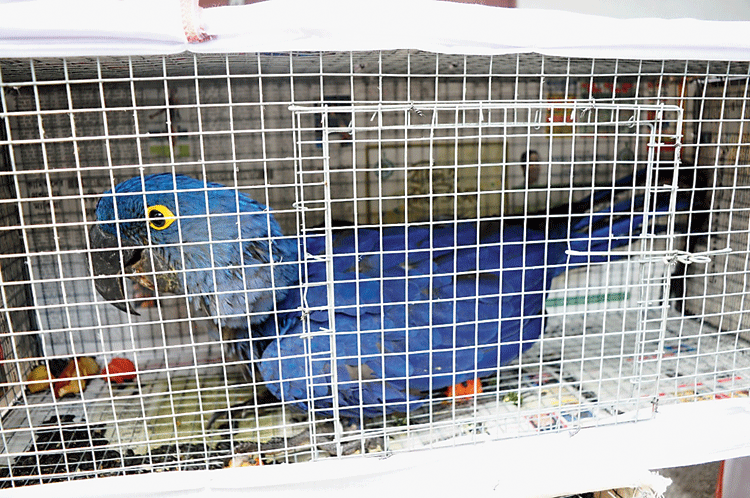 Some of the rescued birds
Telegraph pictures
---
Calcutta
|
Published 23.06.20, 03:36 AM
|
---
A Hyacinth macaw, 11 Hahn's macaws, nine Severe macaws and one Pesquet's Parrot, which were on their way to Bangalore, were rescued from the airport on Sunday.

The Directorate of Revenue Intelligence and the Wildlife Crime Control Bureau seized the birds in a joint operation and arrested two men in their late 20s the moment they stepped inside, a DRI official said.
The 22 macaws crammed inside small cages were headed to a receiver in Bangalore, the official said.
They had been smuggled in from Bangladesh, which is a popular transit point for wildlife smugglers bringing in birds and animals from Africa and South America as well as Southeast Asian countries via Myanmar.
The Hyacinth macaw is brilliant blue in colour and is the largest macaw species that is native to South America. A pair costs upwards of Rs 40 lakh — a little less than a BMW 3 Series — in the exotic bird market, a forest official said. These birds cannot fly.
Pesquet's parrot is found in New Guinea and commands a price tag of close to Rs 10 lakh while the Hahn's macaw and Severe macaw, too, are priced "quite high", the official said.
Forest department officials failed to remember the last time they had seized a Hyacinth Macaw.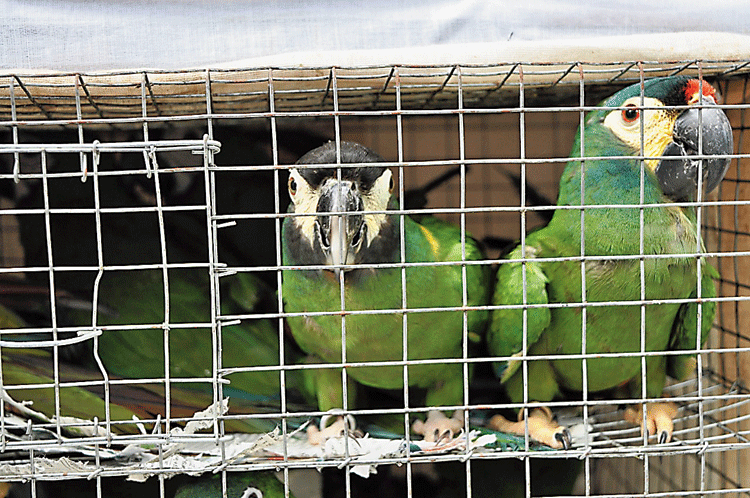 The bureau had received information that a consignment of exotic macaws had been smuggled into the city from Bangladesh through the Bongaon border, an official said.
"We had information that they would be sent to Bangalore and we shared the information with the DRI… we caught them in a joint operation," the official said.
The men who were arrested have been identified as Kamalesh Saha and Shayan Acharya.
These birds are protected under the Convention on International Trade in Endangered Species of Wild Fauna and Flora with the Hyacinth macaw being accorded the highest protection.
Birder Bapai Sen, who is a member of the All Bengal Birds Lover Organisation that organises bird fairs across the city, said there was a demand for these birds as pets. "Macaws are native to Central America, Mexico and South America and make excellent pets."
Endangered animals and exotic birds are smuggled because they have a ready market among the affluent who like to build "mini zoos" in farmhouses on the outskirts of cities like Mumbai, Bangalore, Pune and Ahmedabad, a forest official said.
All the birds have been handed over to the Alipore zoo hospital for quarantine. Ashis Kumar Samanta, the director of the zoo, said the birds had been checked by doctors and were "healthy but traumatised".