Quarantined away from city
'My quarantine period will end on April 4, after which I will be tested'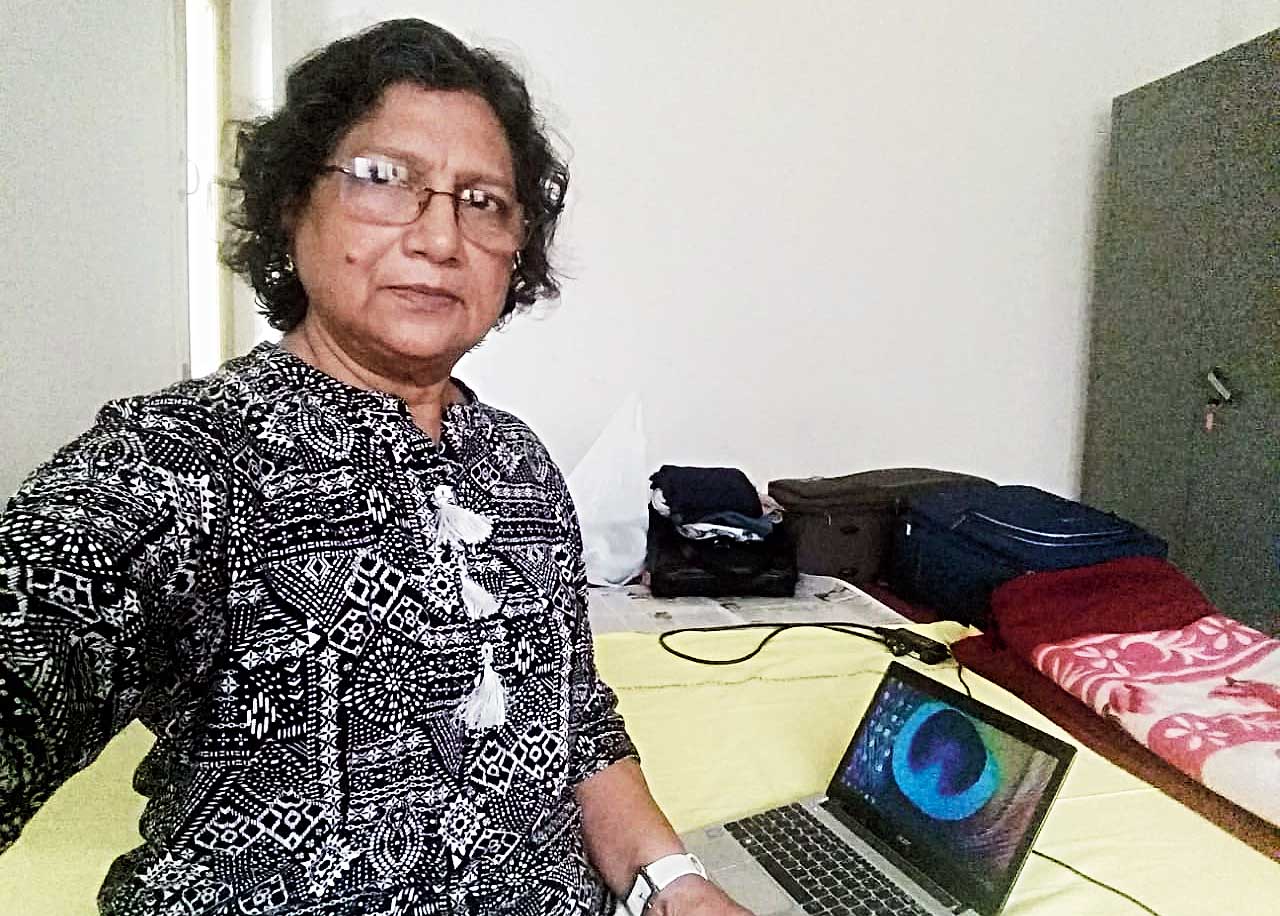 Ketaki Bagchi clicks a selfie in isolation in Delhi
---
Salt Lake
|
Published 04.04.20, 12:52 PM
|
---
Ketaki Bagchi of New Town's BA Block has been in quarantine in Delhi for a week now. She does not have the dreaded virus but the government is taking no chances as she is just back from the Middle East. Bagchi, who retired as head of the ophthalmology department of Calcutta National Medical College, shares her experience —
My daughter is pursuing research in Israel and I had gone to visit her in early March. But the Covid-19 count rose so fast and high that I felt it prudent to return home. The Indian government declared March 22 as the last day it would allow international flights to land and my flight landed in Delhi airport at 7.30am March 22.
The airport was crowded like nobody's business. People rushed about, shouted and no one maintained the meter-long distance. I pointed this out to the security guards at my immigration queue but they didn't take it seriously.
My connecting flight to Calcutta was at 4.15pm and after immigration I was asked to get going. Suddenly the officers stopped me and called me back. They said I would be screened and that I should claim my baggage first. The baggage section was teeming with people, all fresh off the boat.
At the screening I thought we would be tested but were just interviewed. "How old are you? Do you have any symptoms?" That was the gist of it. Since I'm 67 years old, they decided to quarantine me. I argued that I neither have symptoms nor was I coming from a high-risk country. Moreover I'm a doctor so I would know! But all my protests were met by the same answer: "We are only following orders."
The system was neither scientific nor fool-proof. I don't know how they screened the youth and how far the youths went on to observe self-quarantine. As a rule the youth are more disobedient. It's the elderly who are less mobile and so more comfortable staying home.
Life in solitude
They gave us two choices to stay during the 14-day quarantine period — a free-of-cost government accommodation or a private hotel for which we would be charged Rs 3,500 a day plus meals. I went for the former.
Outside the airport were tens of buses dispersing quarantine patients like me. I hopped into one and found a man, in his 40s, sitting next to me. I asked him why he was on the bus and he said he had a cough a week ago. I looked away without another word. I didn't even ask him where he had come from.
The journey was an ordeal. The bus would drive into a private hotel, some passengers would step out but soon return when they learnt the rooms were full. This went on for so long that I dozed off. When I woke up we were still hotel-hopping. I lost it and screamed at the authorities. It was nearly midnight and we were exhausted! Think of the diabetics on the bus who hadn't eaten all day.
I finally checked into a dharmashala at 11pm. Thank God they could give us a meal to eat at that hour.
I am now living my days in solitude. There are some few issues with the food and service but I have no choice. My room has no TV or WiFi so I'm using my mobile data sparingly. My son is topping-up my mobile balance from Bangalore. There is a balcony attached to my room and I look out to see everything deserted outside. Once in a while I see a fellow quarantined guest of another room and we exchange pleasantries. But I have my laptop and am spending time writing.
I am, however, worried about my husband Santi Ranjan Bagchi, who is home alone in New Town. He's 71.
Looking ahead
My quarantine period will end on April 4, after which I will be tested. But even if the results are negative, I'm not sure how I would return to Calcutta as the lockdown is underway.
Come to think of it, being home — or in my case dharmashala-bound is not so bad. Make the most of it. Don't we complain the rest of the year that we don't have time to pursue our hobbies? Plus, unlike me, others have unlimited internet.