Blocks left, right and centre are tying up with private hospitals to conduct Covid vaccination camps at community halls. Thus far the jabs were priced between Rs 950 and 1,200 per head but the Prime Minister's announcement of the Centre supplying free vaccines to states earlier this week tilted the balance somewhat.
Come June 21, private centres will have to cap theirs prices at Rs 780 for Covishield, Rs 1,410 for Covaxin and Rs 1,145 for Sputnik V jabs. This will include the Rs 150 service charge hospitals can charge. At government hospitals, jabs will continue to be free.
Techno India Dama hospital, that has been conducting numerous camps, including those in Salt Lake, say they have been getting call from organisers. "Many want to postpone their camps to after June 21 to avail of this discount," said Sujoy Biswas, director and CEO of Techno India University and Techno India Group. "But vials cannot be stored till then and we are utilising them as and when we are getting bookings."
Biswas added that it would be a challenge to cover their cost of nurses, syringes, transport and other expenses within Rs 150. "We shall toe the government's line as this is a matter of saving lives but it will be difficult."
Goutam Bandyopadhyay, general manager, AMRI Hospitals said they were yet to receive a formal notice from the government. The Salt Lake branch of AMRI is inoculating about 500 people a day at outdoor camps and they have bookings till June 15. "Thereafter we shall take a call on how to proceed. If costs cannot be covered we may have to discontinue camps," he said.
Price advantage
EC Block has postponed its camp for now. "There are many homes in our block where four or five members would be needing jabs and Rs 1,000 for each of them is too much too ask for in the middle of an economic slump. We have postponed our camp till after June 21," said Mouli Nath Maji, secretary of EC Block.
AE (Part 2) got a call to cancel a booking at their camp too. "It was a BK Block lady and it seemed like she wanted to wait to avail the price cut," says secretary of AE Block Samaj Kalyan Sangha, Tapas Sengupta.
"I explained to her that our block was offering the jab at Rs 900, perhaps the cheapest in the township. The PM's announcement lacked clarity and will take time to get implemented. But she cancelled her enrolment nonetheless," Sengupta says.
Other blocks want to wait and watch. "We are thinking of holding a second camp soon but would people come if they have the option of getting the jab free of cost after June 21?" asks president of BJ Block Umashankar Ghosh Dastidar.
Rajesh Chirimar, co-ordinator of ward 39, conducted a camp for some 800 people at CB Block last week. It was organised jointly by two associations he is part of — Siddhartha Shankar Ray Foundation and Nandlal Chirimar Memorial Trust. They provided about 300 free jabs to the needy of Duttabad. "If the new move really materialises, I shall hold a free camp for 500 people in Duttabad. They are the most vulnerable as they are moving about as auto drivers or visiting homes as domestic helps," Chirimar said.
The camp also inoculated teachers of Hariyana Vidya Mandir. "There were eight vaccination tables, of which one was allotted to us. Twelve of us were on the list for the post-lunch slot I was in," said Papia Das, a teacher who stays in Highland Woods Maple.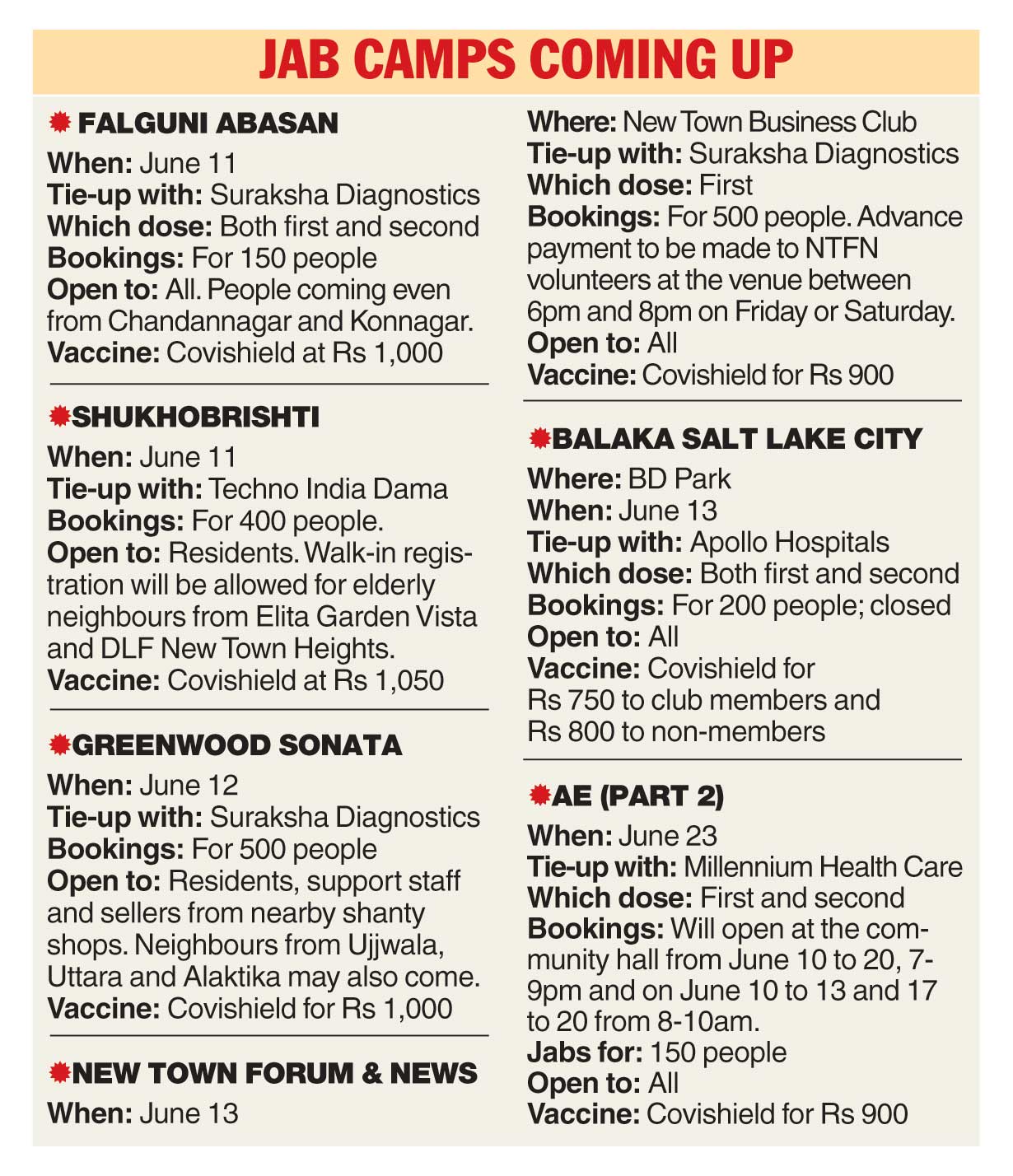 Sooner the better
Most blocks said they would not wait for the price cut and would go ahead with their camps before that. "We had a walk-in registration on Monday and even after Modi's announcement, got 100 more calls," said Tapesh Majumder of AC Block. Their camp was on June 9 with nearly 300 people. "Salt Lake residents aren't that price sensitive. They just want their jab as soon as possible."
Mainak Datta, president of the BH Block association, agrees. "In posh areas like Salt Lake and New Town people will not wait till June 21," he said after holding their first camp on Sunday. "We want to hold a camp for those needing second jabs in end-June or early July but the price will have nothing to do with it."
Partha Chakraborty of AA Block said the price meant little to residents. "Some people who had paid in advance didn't show up for our camp last weekend. When we called them up they said they had got a chance to get the jab sooner elsewhere and took it. We gave them a refund with no hard feelings as we realise how desperate times are. Rs 1,000 is a small price to pay for a jab in a world where money cannot buy oxygen anymore."
Similar was the case at CK-CL Block, that held their camp Monday. "Let alone residents, even the man who cuts grass in our park paid Rs 950 from his own pocket for a jab. I told him I would arrange him a free jab at the government hospital later but he wouldn't wait," said secretary Shanti Ranjan Paul.
Paul said they got 40 more calls on Monday even after the PM's announcement. "People will forgo a meal at a restaurant if it means paying for a jab they get instantly. And free vaccines could invite crowds large enough to usher in the third wave. No one wants to jostle through that crowd when they can get a jab in minutes in a spacious air-conditioned community hall," Paul said.
Greenwood Sonata in New Town will not allow in support staff from next month unless they are vaccinated. "Our vaccine camp is open to them as also local hawkers. Those who cannot afford it may approach us," said Sudipto Mukherjee, the complex president.