Puja amid a pandemic
Going virtual with anjali or streaming cultural programmes on social media platforms, organisers are harnessing technology to work around restrictions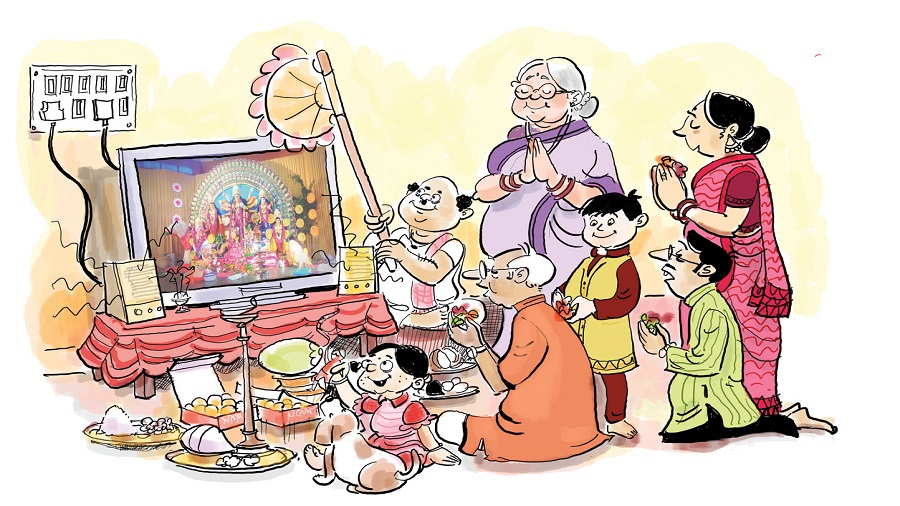 Durga Puja 2020 will be like no other. The festival will be one where despite making ample arrangements, organisers will pray that you stay safe by staying home.  
Illustration courtesy Pratik Chakrabarti
---
Published 16.10.20, 02:50 PM
|
---
It may not feel like it, but Monday is Tritiya. The big ticket Pujas will be opening on the day and the rest of the week, well, you can hear the priest chanting mantras over the loudspeaker, see your block's idol over Facebook and shower flowers on the computer screen in the name of pushpanjali.
Durga Puja 2020 will be like no other. The festival will be one where despite making ample arrangements, organisers will pray that you stay safe by staying home.  
"For several years now our puja has been featuring on the list of top five crowd-pullers of The Telegraph Salt Lake and our attempt every year is to reach the number one spot. But this year we have taken a U-turn," says Moinak Dutta, an organiser from AJ Block. "Never thought I would say this but this year, the less the crowd the better." Themes come calling
Like AJ, most blocks are performing no-frill pujas. But a few are keeping alive their tradition of presenting themes.
The FD Block pandal will be decorated in a Jungle Book-like setting but they have reduced their budget by more than half, to Rs 40 lakh.
Visitors will have to watch the idol from a distance of 30 feet.
"At AE (Part 1) our theme is on how the lockdown has brought people together. "Our budget and pandal are a quarter of last year's but it will still live up to our reputation," says block secretary Supriyo Chakraborty. "If people decide to go pandal-hopping they will not miss our block."
For this, there will be fogging machines in the pandal, sanitisers at the gate and those in queue will be asked to stand far apart.
New Town's Balaka Abasan predicts high footfall too. "Most other big pujas have scaled down so people are sure to flock to us," says secretary Prasanna Kumar Roy. "Even with a meagre budget we are building a spectacular Ram temple but we have ensured that visitors can see the idol without entering the pandal."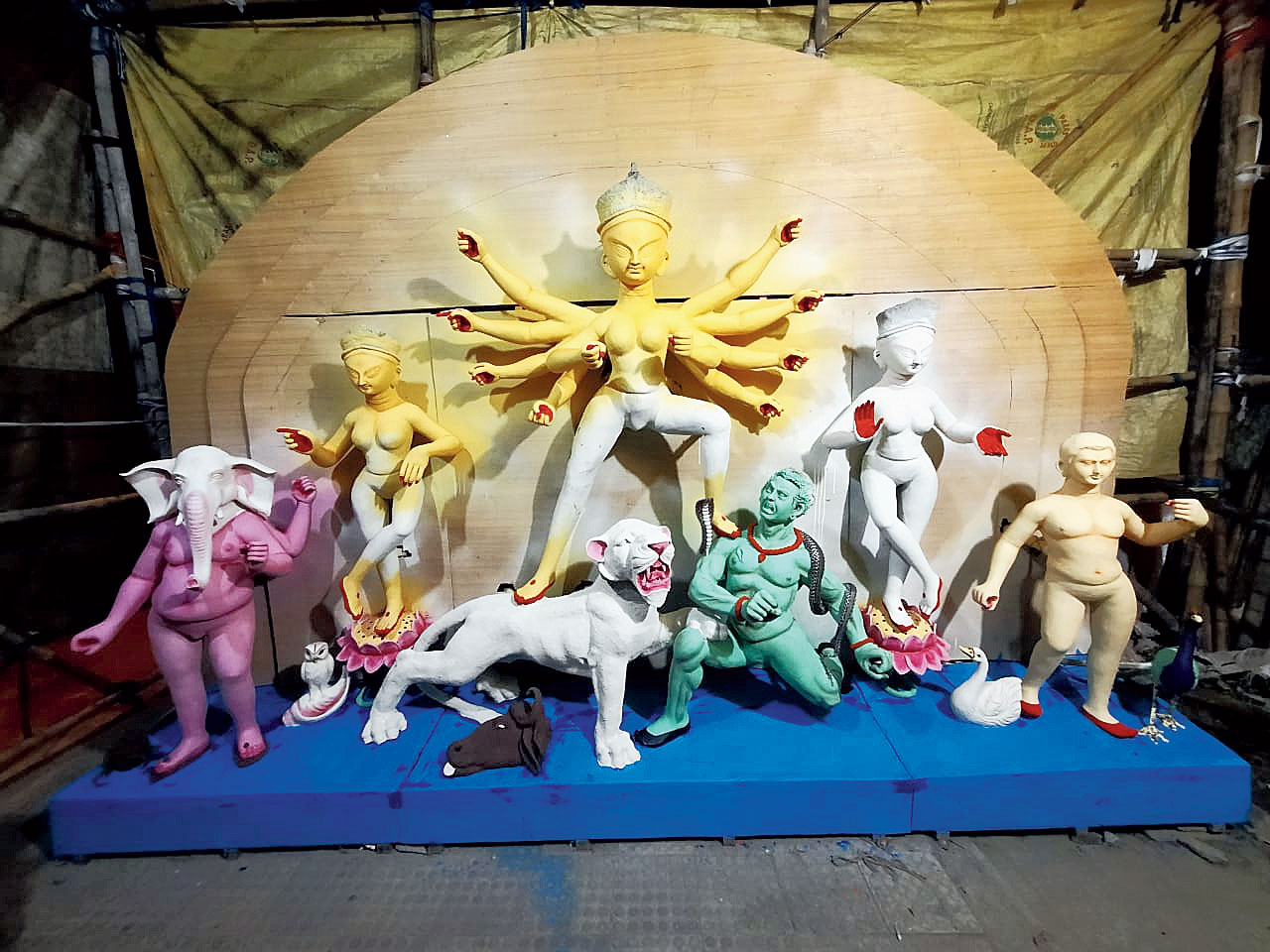 Venue change
The pandemic has caused some pujas to change the venue, either to curb costs or to make the pandal roomy. Both AE (Part 2) and Purbachal 2R have shifted their pujas outside the community hall.
"This year our idol will only be 5ft tall so we had thought of shifting it out of the park and into the community hall," says Mouli Nath Maji, EC Block secretary. "But the government directive asked for the pandal to be open on three sides and so we let it remain in the park after all.
Minus committee
Since social distancing made it unsafe to hold meetings, some blocks did not even form puja committees. "Our block committee is organising the puja this year. It wasn't possible to create a puja sub-committee," says Parthasarathi Upadhaya of HB Block.
At several blocks, the tenure of the block committees has expired but elections were out of the question this summer. "Being a lawyer, I realise the gravity of such a situation and so we could not take any major decisions. We members of the old committee are carrying on as there is no choice," says Chandra Sekhar Bag of BK Block.
Then again, the pandemic has given young blood a chance. "I am usually busy with theatre round the year but this time there are no shows and so I decided to help organise the puja," says Snehashis Mukherjee of CA Block. The young entrepreneur is the "acting" secretary of the puja committee since elections for the post could not be held. "It is a blessing in disguise actually, since those who usually organise the pujas are senior citizens who cannot roam now."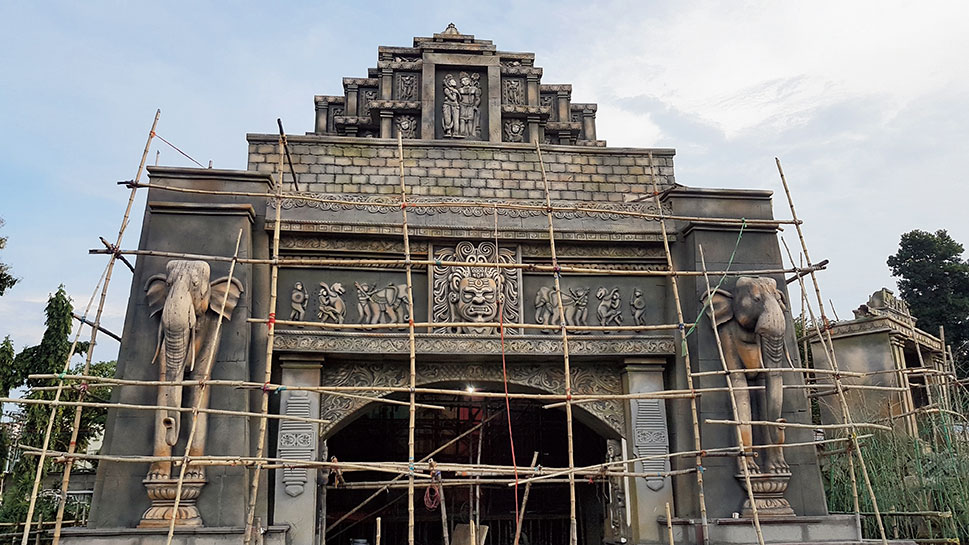 Priests in quarantine
Some blocks have priests coming in from different districts and so organisers, like Purbachal 2R, will have their priest, his helper and the cook check into their community hall a few days in advance and stay put in quarantine.
"Our priest hails from Katwa, where Covid isn't a major issue. So he was planning to saunter in on Panchami by bus and with a gamcha tossed over his nose," says a shocked Arunabha Hazra of CD Block. "I've told him I shall be pick him and his assistant up tomorrow. They'll live in quarantine on the first floor of our community hall till Lakshmi puja. Their transport, lodging and sanitising fees have driven up our budget but better safe than sorry."
Cultural programmes online
"Of all the sacrifices this puja, the cancellation of cultural programmes hurts most," sighs Upadhaya, better known "natok jethu" in HB Block. "For two months preceding the pujas I coach children and their parents for plays and audio dramas. This year I'm missing it all. We had thought of presenting the plays online but even for that the actors would have to mingle for practise."
At places like New Town's Greenwood Park, residents will record performances at home and the compiled videos will be uploaded on Puja days on the complex's Facebook page and the website DurgaFest.com. Major rituals like inauguration and anjali will be streamed live too.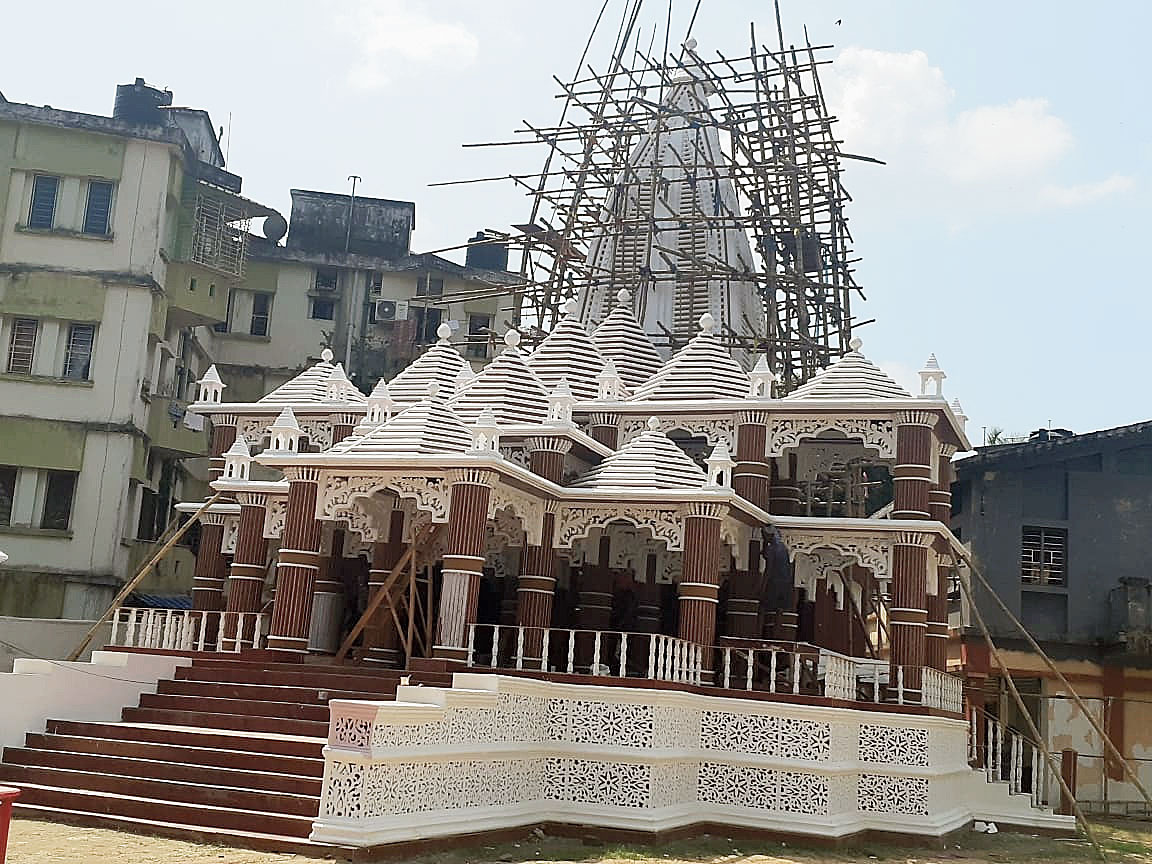 CA Block will WhatsApp a PDF document and video to residents with timings and special guideliness for this year.  Their puja will be inaugurated by garbage collectors and night guards — Covid warriors — and will be streamed online.  
Blocks that haven't opted for online shows say residents — many of whom are elderly — would struggle with the technology. So they will be airing Chandipath and Mahalaya songs on the loudspeaker as a substitute for live shows.

Dhaak on DJ console
The one department Purbachal 2R is not compromising on is dhaakis. "Nothing will feel like the pujas this year but at least residents can shut their eyes and relish the rhythm of the dhaak beating outside their homes," says joint treasurer Kinshuk Das. Again, the dhakis from
Murshidabad will be in quarantine at their hall from beforehand.  
CD Block is not taking the chance. "We have cancelled the dhaakis but there will be a DJ console next to the idol belting out dhaaki beats," promises Arunabha, an achor and DJ who will play the music himself.
In the CA Block budget, the lion's share has gone to the sound system so that every household can hear the goings-on at the pandal.
"Also, some block youths will be playing RJ and holding chat shows, quizes and the like over the sound system. Residents will be able to call in with their answers and interact," says Snehashis.
Labony is reducing the number of dhaakis in its famous dhaker badyi show. "Six dhakis will come in place of 10 from Murshidabad," says secretary Sumit Sarkar.

Festive meals missing
Till last year, thousands would dine at puja community lunches and choosing the recipe for these meals would be a matter of great debate. This year most blocks have called off the service. New Town's Balaka Abasan will be sending home parcels on two days, Salt Lake's AJ Block has asked residents to come pick up their parcels and take home.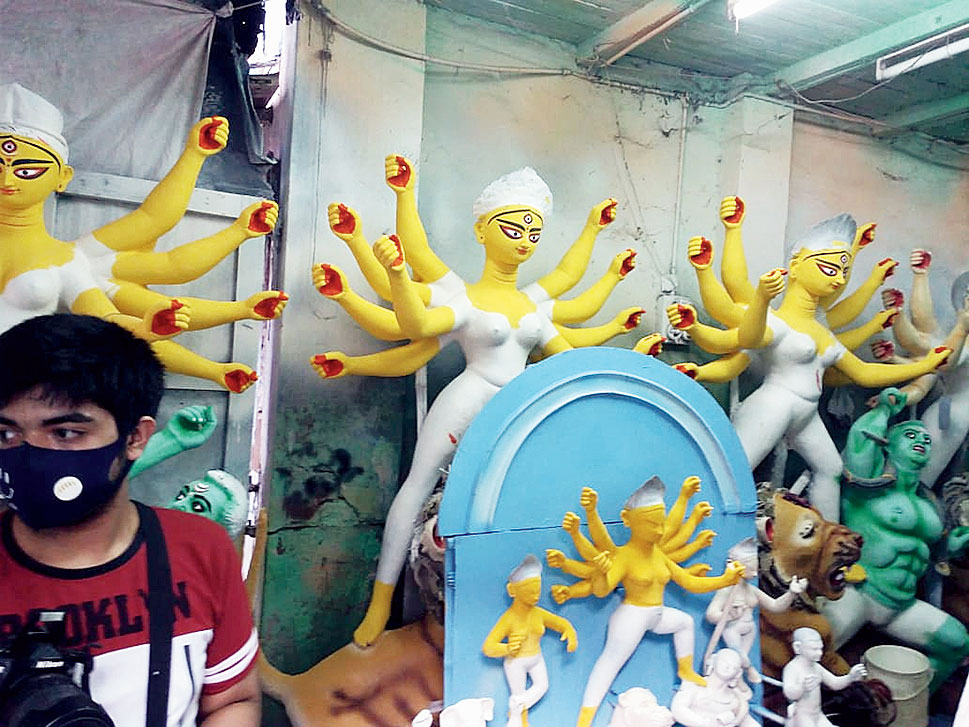 "Some residents were requesting parcels but we have refused outright," says Tapas Sengupta, AE (Part 2). "The purpose of community lunch is to eat together. No family in the block is starving and if the bonding doesn't happen there is no point in sending packets home. Someone suggested we feed the needy instead but very few would donate money for that. And besides, we would have to hire a bus and bring the needy to the block in the first place. These are impractical suggestions."
At CK-CL Block secretary Shanti Ranjan Paul was getting inundated with requests for meals. "Residents want a break from cooking these four days so we are inviting a restaurant to set up a stall and provide home deliveries. They may earn profit seling snack items but meals they have to provide at subsided rates," Pal says.
Similar is the predicament at IA Block. "IA Block is known as khaiye block," confesses secretary Sukdeb Saha, "and residents shall be missing the community lunch sorely. I have promised them a feast once the pandemic is over."

One grand offering
Most blocks have reduced the height of their idols but a few have gone for what should be spectacular-looking artwork.
"There is hardly anything to look forward to this year so we thought of presenting residents the best possible idol. This is the only department we can indulge in safely so we are getting it sculpted by the renowned Sanatan Rudra Pal," says Saha of IA Block.
AB Block will have an idol by Sanatan Pal. "This year no one is in the mood for themes but we need an idol with expressive features as people are looking for solace from the pandemic. We want an idol that evoke devotion," says secretary Gopal Dutta.
AE (Part 2) decided to get the idol sculpted in the block this year. "Kumartuli is a crowded place this season and it would be risky going there to order, follow up and bring home the idol," says Sengupta.

Puja without an idol
New Town's CD Block has done away with the idol and will be performing puja on a ghot. "Any idol, no matter how small, would attract devotees. Since many people still refuse to wear masks we thought it would get risky and have done away with the idol altogether," says Sithi Kana Ghatak, an organiser. This will be the second edition of their puja.
Another casualty this season is the puja souvenir. AE (Part 1) has only managed two or three ads and may publish a thin souvenir but IA Block has cancelled it. "The economy is so bad that we don't have the face to approach any company for a Rs 10,000 cheque," says Saha. Printing the souvenir costs them Rs 80-90,000.

Coronanjali
Anjali arrangements are giving organisers sleepless nights. Residents of FD Block are being discouraged from coming to the pandal for it. "We will send them the link to our Facebook live session where the anjali will be streamed," says secretary Saumitra Mukherjee.
The organisers are sending a packet to every home with four masks, a pen cum sanitiser, a residents' pass, car parking sticker and an empty packet. "This packet is where we are asking them to collect the flowers that they will offer virtually for anjali. After the Pujas, it will be handed to an NGO to make compost." In case a resident insists on offering anjali in person, entry will be allowed with mask and sanitisation. "We are hoping not many would step out," says Mukherjee.
CK-CL Block has tied up with a TV channel to screen their anjali live and is hoping residents will follow it from home. HB Block has erected garden umbrellas with baskets for devotees to pray under and offer their flowers in. AJ Block is requesting residents to get their own flowers.
Chakraborty of At AE (Part 1) says this is the year for —not pushpanjali but — coronanjali. "We will not allow flowers at all," he says. "If you join your hands and pray sincerely, the goddess will still hear you out."
"We had screened our anjali on Facebook last year but it more NRIs than residents tuned in. This year we expect better response," says Bidula Banerjee Ghatak, puja secretary of BL Block. "They will also have loudspeakers emitting chants and limited coupons for those who insist on coming to the venue."
CD Block will stop visitors at the entrance of the hall. "That's a good 20 feet away from the idol and the idea is that they can get a closer view on Facebook, sitting home," says Arunabha. The have issued limited coupons for anjali and sindur khela and also downloaded the
QU App which will manage crowd and inform users when to come in.
Greenwood Park shall go contactless with puja pronami. It has taken up NKDA's offer of a QR code to enable cash to be digitally deposited.
But Sengupta of AE (Part 2) calls organisers to be strict about the protocols. "People are tired of staying home and are sure to venture out, but we have to be strict, even if it means asking come to stand out during anjali. Otherwise, there's no point sanitising the community hall repeatedly," he says.
At Vedic Village whole fruits will be offered instead of chopped ones, "and to apply tika we shall use tika sticks that I've made out of earbuds and cotton and decorated with peacock feather. I had used these last year too but back then it was to avoid sindur from entering nails and the mouth. This year it's for hygeine purposes," says Bhawna Shah, one of the organsiers.
At FE Block, sweets will not be accepted as offering. "One can at best offer whole fruits and a drop box will be put up for saris," says an organiser, Basab Basak.

Fund raising trouble
Given the state of the economy, asking for "Pujor chanda" has become a touchy subject. "We have brought our budget down to Rs 2 lakh and have not quoted any figure for subsciptions. Residents are free to give whatever they can," says Bag of BK Block.
Last year DB Block had quoted Rs 2,000 as subscription but this year Rs 1,000, 500…anything is acceptable. "We are not forcing anyone. If we fall short we shall pull out of the the block's savings we have collected by renting out the community hall," says general secretary Loknath Sastri. "The Rs 50,000 aid from the chief minster will be a great help too. If we are left with any surplus we shall donate to the needy."
The idol at Greenwood Park is a good five feet shorter this year, but the tip for the Kumartuli porters who will deliver it will be no less than other years. "In place of five dhaakis, two will come this time but we will transfer the same amount that we paid last year in the accounts of the others. We believe that the state government's grant of Rs 50,000 is best spent this way," says secretary Sukanya Basu.
While CD Block appreciates the Rs 50,000, they rue that their sanitisation budget alone will touch Rs 45,000.
CA Block started off not seeking ads at all. "Had we got ads we would have to spend it on the puja and make it grand. Not this year," says Snehashis, who was still approached by a hospital and a new restaurant in their block for sponsorship.
AE (Part 1) secretary Chakraborty says many residents are taking advantage of the economy to skip paying. "These residents with rich NRI children claim they have no money for the puja but go all out to buy Rs 1,200 hilsas, which are always out of stock in our markets! This is chance pe dance."
Many residents are reluctant to pay the same sum as last year given that that community lunch has got knocked off. "This is why we are sending them a leaflet with teh budget break-up. They read it and understand that subscriptions only cover the cost of the idol and rituals.
Food is paid for by sponsors, who have vanished this year," says Sengupta of AE (Part 2).
Blocks are also requesting online payment but are having to accept cash and cheque from senior citizens. 
Additional reporting by Sudeshna Banerjee