Rs 6,000-Rs 9,200: Ambulances are making a killing
Rates are jacked up and condition is laid down for ferrying patients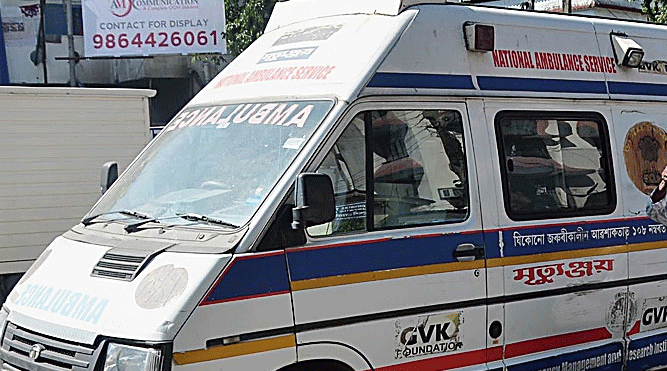 Rs 6,000-Rs 9,200: Ambulances are making a killing
File picture
---
Calcutta
|
Published 26.07.20, 02:41 AM
|
---
Ambulance services in Calcutta and adjoining areas have turned too expensive, making it difficult for relatives of Covid-19 patients to shift them to hospitals during an emergency.
Private operators are quoting prohibitively high prices at a time when the state health department and the Calcutta Municipal Corporation are short in supply compared to the demand for ambulances.
Unlike ambulances run by government agencies or private hospitals, ambulances run by private operators do not have a fixed rate.
Now that there's a surge in demand, operators are making a killing.
There are allegations that private hospitals with ambulances are reluctant to let their vehicles be used by Covid patients.
Private operators can charge Rs 9,000 for a distance of 6km if the time is around midnight and close to Rs 8,000 for 12km if it is around 7pm.
On Saturday The Telegraph spoke to several ambulance operators posing as a patient's relative. Almost all said they would ferry the patient to hospital only if a bed was confirmed. What was left unsaid was that the driver would not go around with the patient hopping from one hospital to another looking for a bed.
"Aagey bed-ta confirm korey nin. Tarpor amader dakun (Confirm a bed first before calling us)," an ambulance operator in Selimpur, Dhakuria, said. "If you need oxygen support, we have everything with us."
An operator in Maniktala demanded Rs 4,500 to ferry a patient from Sovabazar to Calcutta Medical College and Hospital, a distance of around 5km.
"Normally, we would have asked for Rs 500. But this is a Covid-19 patient you are talking of. Our men will have to wear personal protective equipment," the operator told Metro late in the evening.
Earlier in the day, relatives of a Covid-19 patient said they had to pay Rs 9,200 to get him transferred to Calcutta Medical College and Hospital from a private hospital in Salt Lake. "We paid Rs 8,000 for the fare and another Rs 1200 for the driver and his assistant's kits," one of the relatives said.
Around midnight on Friday, an ambulance driver had apparently demanded Rs 9,000 to shift two kids from the Institute of Child Health in Park Circus to Calcutta Medical College and Hospital.
Another ambulance was arranged as parents of both kids pleaded helplessness. The driver sought Rs 5,000 and one of the doctors of the institute paid Rs 2,000 to the two parents so that the kids could be shifted to Calcutta Medical College and Hospital.
"The demand for ambulances has been growing fast. We had 15 and another 15 ambulances have been added. But even then it's a tall order," Atin Ghosh, a member of the Calcutta Municipal Corporation's board of administrators, said. "We have decided to get ambulances from private operators to meet the demand."
At the state-run helpline for Covid-19 patients, the person taking the call offered Metro a number for ambulance-related queries — 40902929.
The person at this number took down all details and politely asked to first ensure a bed at hospital before seeking an ambulance.
"We are trying to ensure that someone who has made all arrangements and is unable to get an ambulance is served first," a health department official said. "We are trying to rationalise the use from our ambulance pool."
Park Circus to Calcutta Medical College and Hospital: Rs 9,000
Gariahat to Salt Lake AMRI: Rs 7,500
Salt Lake to Calcutta Medical College and Hospital: Rs 9,200
Fern Road to AMRI Salt Lake: Rs 6,000
Kasba to AMRI Dhakuria: Rs 6,000