Royal Bengal tiger sneaks out of forest
Triggers panic among tourists and villagers in the Sunderbans' Samshernagar area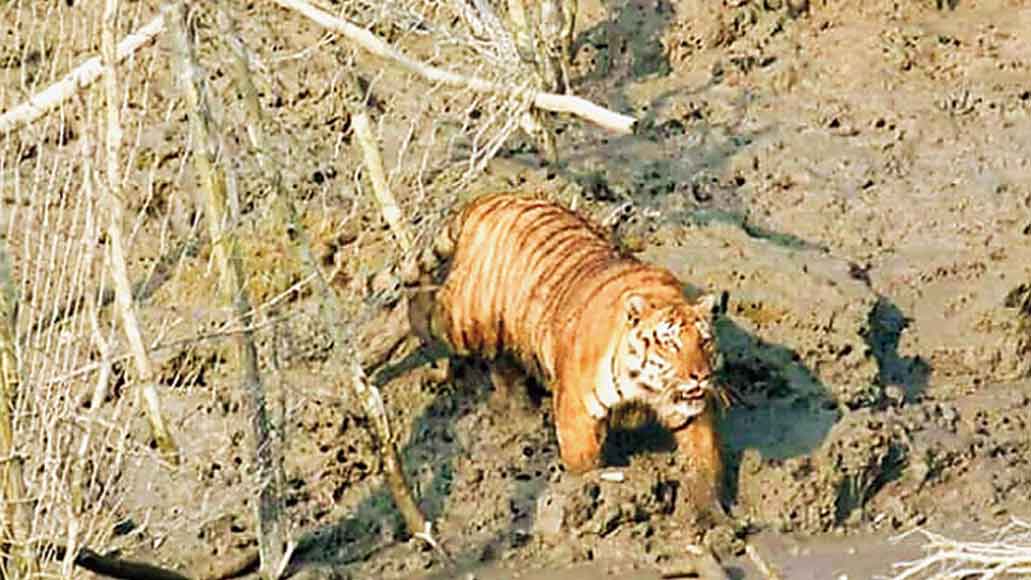 The tiger approaches a muddy bank of the Kukrekhali river in the Sunderbans on Wednesday.
Picture by Pashupati Das
---
Hingalganj
|
Published 11.02.21, 01:23 AM
|
---
A Royal Bengal tiger triggered panic among tourists and villagers in the Sunderbans' Samshernagar area early on Wednesday when it escaped through a breach in the Jhinga Khali jungle's wire fencing and tried to swim across the Kukrekhali river to enter human habitation.
Villagers armed with bamboo and iron rods succeeded in scaring the animal away when it was trying to cross a narrow stretch of the river to enter the locality where the forest department's guest house Banabibi is located. The river cuts across the Jhinga Khali forest range in Hingalganj, in North 24-Parganas.
Though the big cat could not cross the river and enter the village, residents and forest guards are unsure whether the tiger is inside the fenced jungle or hiding in the bushy embankment of the river.
Around 6.15am, residents and tourists were awestruck spotting the striped beast coming out of the forest and plunging into the muddy river.
The euphoria, however, soon changed into panic .
Villager Ajoy Pal, one of the scores of people who spotted the tiger, said: "It was trying to cross the river when we raised the alarm. There were a good number of tourists at the Banabibi guest house. We asked them to stay indoors and mobilised villagers, who gathered in large numbers with bamboo sticks and iron rods, to scare the tiger away."
Pal said some villagers had started pelting the tiger with stones, which irritated it and caused it to roar. "But it eventually turned back and ran towards the forest," he said.
Pal, however, said the tiger tried to get inside the fenced forest but couldn't. "It ran along the bank of the river and went out of sight."
A tourist said the tiger sighting was thrilling. "Frankly, we panicked when it tried to cross the river. At the same time we were lucky to see the tiger up close."
A team of forest officials later visited the area and deputed forest guards to track the tiger's movement.
A senior forest official in Calcutta said the tiger came out by breaking the wire fencing along the forest buffer zone. "We are trying to identify the damaged part so that it can be repaired immediately," he said.
Sunderbans villagers, however, said poor maintenance of the fence made the area vulnerable to tiger attacks. "The tiger may come again. The fence needs maintenance to avert man-animal conflict," a villager said.