Rooftop garden must in new New Town buildings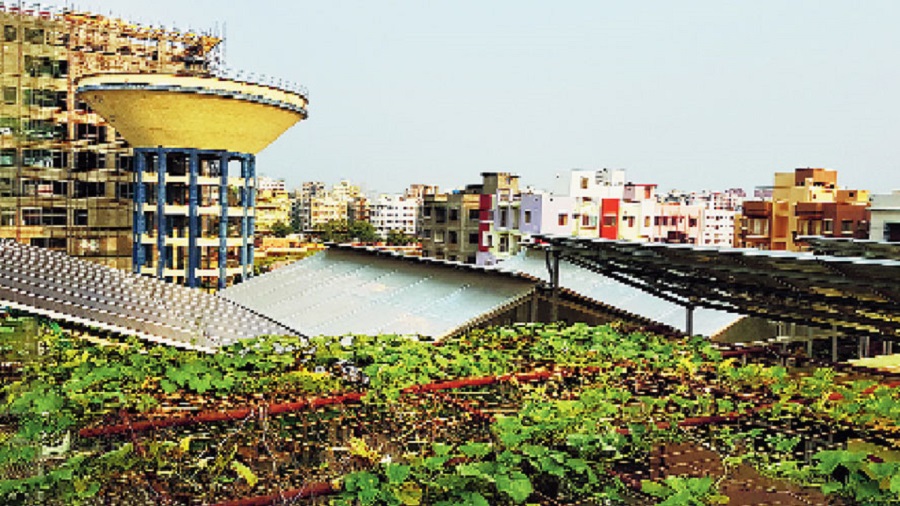 ---
---
The New Town authorities are implementing yet another suggestion offered by experts in the aftermath of cyclone Amphan. After deciding to plant on empty plots, the administrative body is proposing to make it mandatory to have gardens on rooftops of buildings.
"We have prepared a policy prescription which has been passed by the NKDA board. It has been recommended to the government and is in the process of becoming a rule once the government accepts it," said Sen.
The required area of the garden would depend on the size of the plot. If a plot is below 330sq m, the requirement will be 40 per cent of the roof area. For plots measuring over 330 sq m, it will be 30 per cent. "A formula has been devised. The higher the roof area, the less will the percentage required for gardening be," said Sen.
For new buildings, owners will get two per cent discount on plan sanction fee. It will be offered as a refund. The initial payment has to be made in full for the plan to be sanctioned. Once the house is built and the garden comes up, one needs to sustain it for three years to be eligible for the rebate. An inspection would take place after which the refund will be given.
Though roof gardens are not mandatory for existing buildings, recommendations have been made for incentives for their owners too. If existing buildings have a garden on the roof, their owners will get two per cent discount on property tax over three years.
NKDA, which built the first rooftop garden on top of its market in CB Block, has been trying to popularise rooftop gardens. "We selected agencies for empanelment who were capable of developing rooftop gardens. A list of their names was made available on the NKDA website for residents to choose from. But the practice did not pick up even in two years. Perhaps it lacked publicity," Sen reflected.
The impetus for the decision came from a webinar that Hidco hosted on the eve of World Environment Day, on 'Greening avenues: Choices post-Amphan,' where experts shared their ideas on how to replenish and rejuvenate New Town's green cover after Cyclone Amphan.
It was architect Abin Chaudhuri who advocated having gardens on every roof. "Let these roof gardens be made part of the inspection and sanction of a green building's design.
Encouragement should be offered in the form of subsidy in tax. If we can implement it, the whole town can have a green top," he had said.
"When Abin urged us to create a policy, we took up the suggestion," Sen said.