Roads being repaired, but method in question
Smoke-belching machines, fed on coal, are in action in multiple blocks, to heat up liquid bitumen and in the process, are choking residents and passers-by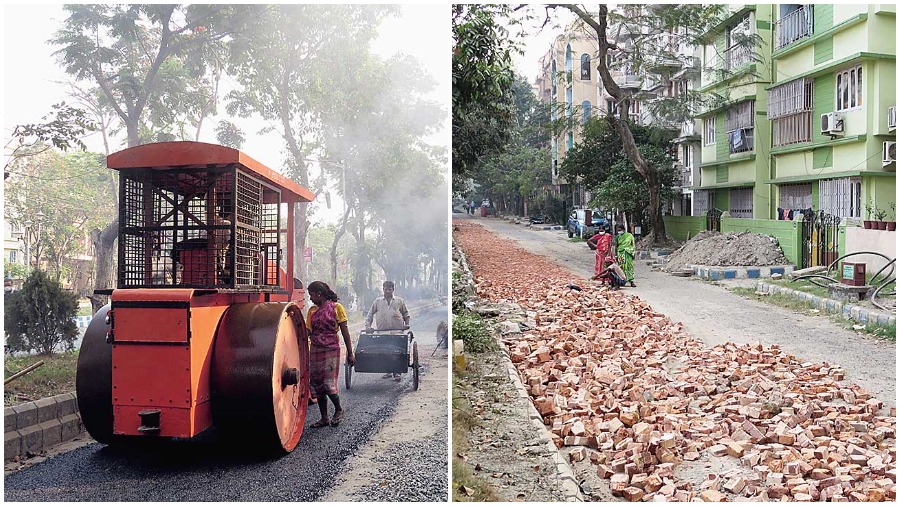 A resident covers her nose to guard against the smoke as she walks home in FD Block. (Right) The service road being laid with brickbats before it gets the coat of stone chips and bitumen.
Pictures by Sudeshna Banerjee
---
Salt Lake
|
Published 12.03.21, 01:10 AM
|
---
The Bidhannagar Municipal Corporation has finally started repairing the potholed roads of Salt Lake but their archaic road-laying methods have got both residents and engineers of other government agencies worried about their quality and longevity as well as a spike in the air pollution.
Potholes dot all major roads of the township. Some are in worse state than others. The civic body however is mostly relying on patchwork — a layer of bitumen that is laid over craters — as a quick-fix solution.
To add to this, smoke-belching machines, fed on coal, are in action in multiple blocks including DL and FD blocks, to heat up liquid bitumen and in the process, are choking residents and passers-by.
The Telegraph Salt Lake had reported in 2019 how similar smoke-spewing machines were causing breathing problems for residents of a block in Sector III. Two years down the line, the civic body has seemingly learnt no lessons and its contractors are still using this polluting method to heat up the mix.
Paritosh Ganguly, a septugenerian who stays in DL Block, said that although he was happy that the civic body had finally repaired several cratered roads in his block, he had to spend sleepless nights due to the overwhelming odour of the acrid smoke that somehow managed to enter his home even though he had shut all windows and doors. "The workers took two days to repair the stretch in front of my house. My balcony is entirely covered in soot. I suffer from asthma and the smoke that was emitted by the heating machines made life miserable," said Ganguly.
Residents on the service road flanking FD Block near the Netaji statue are keeping doors and windows shut all day as a bitumen melter is parked in front of FD 462, with jet black smoke rising up even to the third floor. "What can we do? At least the road is finally being repaired," said a man who refused to give his name.
A senior official of the Bidhannagar Municipal Corporation said that they had started repairs of roads inside blocks like FD, FE, AC, ED among others. According to him, once the block roads are repaired the main roads, including stretches of the Broadway, will be repaired as well.
Roads in other parts under the jurisdiction of the Corporation, including Baguiati, Kestopur and parts of Rajarhat, are also in a state of disrepair. Kaushik Ganguly, a resident of Baguiati, said that the stretch of road that leads from the Kestopur bazaar to Mahisbathan is in a shambles. "Multiple accidents have taken place and the entire road remains in a state of haze throughout the day as vehicle struggle to negotiate the potholes and their wheels kick up dust," he said.
Tapas Chatterjee, the former deputy mayor of the corporation who was in charge of roads and who is now a member of the board of administrators, said that they had started repairs in phases and soon all roads in Salt Lake will be repaired. "We want to finish the repairs by next month," said Chatterjee.
He said that they had no option but to use hot-mixing machines as the civic body does not have the resources to run a cold-mix plant. "This is how road repairs have been done since ages. We are aware of a new lesser polluting technology but it is expensive and we don't have any experts who build roads using that technology. However we are welcome to change and will use it if we find it cost effective," said Chatterjee.
The Calcutta Municipal Corporation has identified a plot at Sirakol in South 24-Parganas' Mograhat for a factory to manufacture the bitumen mixture needed to lay roads.  The move came after the National Green Tribunal asked the civic body in October 2018 to shut down its two hot mix plants that produced bitumen.
The Bidhannagar Municipal Corporation, however, has not taken any steps to build a cold mix plant.
Hot mix and cold mix are two ways of preparing the bituminous mixture that is used to lay asphalt roads. The bitumen used in the two technologies is different. In the hot mix technology, bitumen remains in solid state and has to be heated to turn it into a liquid state so that it can be used to lay roads. Carbon dioxide, the primary cause of global warming, fine particulate matters that can enter the deepest crevices of lungs and even cause cancer, and other toxic fumes are released when bitumen is heated. In cold mix technology, the bitumen remains in liquid state even in ambient temperature and doesn't need any heating. That means no toxic fumes are released. Many environment experts have said the civic bodies should go for cold mix technology that is less polluting.
Additional reporting by Sudeshna Banerjee