Revival plan for Indian Botanic Garden
The University of Edinburgh along with Asia Scotland Trust and the BSI is participating and funding this programme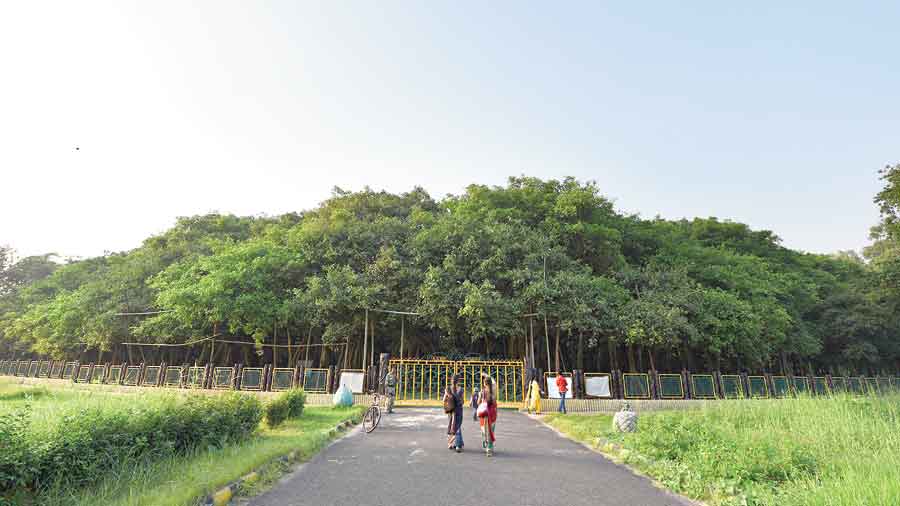 Indian Botanic Garden, Shibpur
Telegraph picture
---
Howrah
|
Published 03.07.21, 01:24 AM
|
---
A team of professionals from fields like biodiversity specialists, botanists, landscape artists and urban developers is putting together a rejuvenation programme for the Indian Botanic Garden in Shibpur, one of the earliest botanical gardens in the world.
The University of Edinburgh along with Asia Scotland Trust and the Botanical Survey of India (BSI) is participating and funding this programme. Neeta Subhrajit Das Associates (NSDA), a Calcutta-based architecture firm and Architecture Urban Design Academy (AUDA) are the local collaborators.
A community participation scoping project (CPSP) under the rejuvenation programme was taken up by 11 selected interns from institutes such as  the architecture department of Jadavpur University, BIT, Mesra, botany department of Calcutta University, CEPT, Ahmedabad and IIM, Tiruchirapalli at the botanical garden  from March 13-17, 2021.
The interns have studied and documented the existing edge conditions of the garden and presented their findings in a seminar on June 2.
"The Indian Botanic Garden was laid out in Howrah but it was designed for Calcutta by an architect from Garden Reach. The revitalisation and rejuvenation programme is to put the garden under a lens and take it apart to see how it can be relevant for the present times and have a sustainable future. We have experts from various fields looking at the garden to see what should be preserved, what should be modified," said Neeta Das, of NSDA, who is the local partner spearheading the CPSP. She along with Dorian Wiszniewski, senior academic representing the University of Edinburgh, and Jane Burridge from the Asia Scotland Trust are leading the programme.
The botanical garden in Shibpur, founded by a Scot in 1786, has maintained strong ties with Scotland. However, in recent times the 273-acre garden has been plagued by multiple issues leading to its decline as a repository of rare and endemic species.
Cyclone Amphan in 2020 has dealt a body blow to the garden and its most prized possession — the 270-year-old Great Banyan Tree — lost a considerable portion of its canopy besides a number of old and magnificent trees have also been felled.
The ongoing pandemic has played its part leading to a reduction in government funds for the garden, fewer staff and lack of qualified personnel needed to maintain it. Fungal attacks to rare species like the Double Coconut Tree and other failures have dented the garden's reputation.
Overrun by weeds and decrepit maintenance, the garden is a pale shadow of what it used to be in its hey days.
"The CPSP is a compilation of a series of academic, documentation, and sensitisation exercises that will lead to a greater understanding of what might constitute a vision to be framed as a Regeneration and Ecological Framework Plan (REFP) for the Acharya Jagadish Chandra Bose Indian Botanic Garden, Howrah. The REFP will be available to all parties who have an interest in the revitalisation of the AJC Bose Botanical Gardens Environment," said Wiszniewski.
BSI director A.A. Mao welcomed the rejuvenation study but warned that "such study will remain in documents and files for lack of funds to implement it". "Our budget in 2019-20 was Rs 76 crore, in 2020-21, it has been slashed to Rs 64 crore. About 80 per cent of the budget is spent on salaries. What development work can be undertaken in such little money," he asked.
The director stressed on involving corporates, availing CSR funds and finding other avenues of finance to rejuvenate the garden.