Restored and renovated, Rawdon Square set to reopen after 30 years
The National Green Tribunal had asked the CMC to convert the place into a park in 2017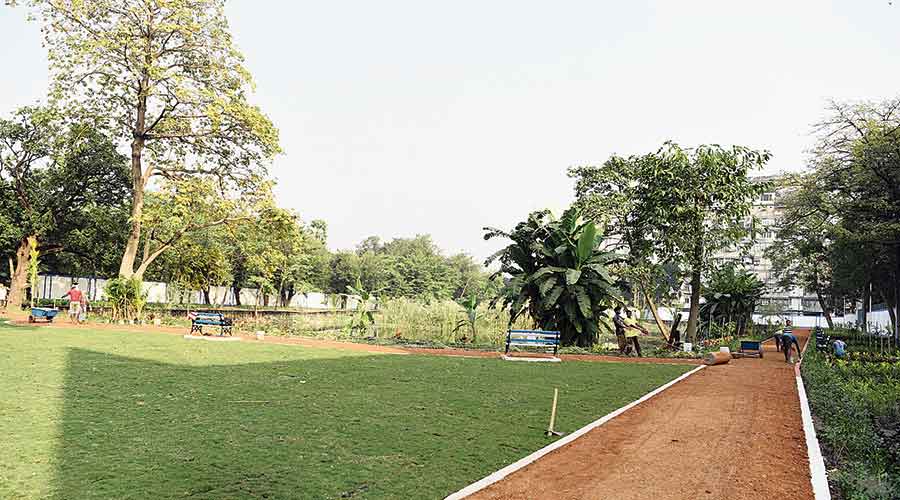 Rawdon Square being readied ahead of the inauguration on Saturday.
Pictures by Gautam Bose
---
Calcutta
|
Published 08.01.21, 02:36 AM
|
---
The 94-cottah Rawdon Square will be a park again after remaining locked up for nearly three decades. During this period, there were attempts to build an entertainment hub and a parking lot in the complex.
The newly-built park will be inaugurated on Saturday and then thrown open to people, Calcutta Municipal Corporation officials said.
The National Green Tribunal had asked the CMC to convert the place into a park in 2017, said activist Bonani Kakkar, who went to the tribunal opposing an attempt to build a parking lot there.
"It is spread across 12,000sqm (94 cottahs). There is a water body inside that spans across 8,000sqm. We have cleaned the water body, built walkways, installed benches and also kept an open-air gym," said an official of the CMC.
"The park had been under lock and key for so many years. Its reopening is a significant development," said the official. Rawdon Square, located near the intersection of Park Street and Rawdon Street, is a few metres from Parkomat, a multi-storey car park on Rawdon Street.
Debashis Kumar, a member of the CMC's board of administrators who is in charge of the parks and squares department, said the renovation and restoration cost around Rs 1 crore.
"We have not used concrete or paver blocks to build the walkways, they are murram paths. We have installed diffused lights since bright lights are not good for the avian population," said Kumar.
The Park Street cemetery, next to Rawdon Square, invites a lot of nocturnal birds, said Kakkar. "The tribunal had ordered the use of low-voltage lights and murram paths," she said.
Rawdon Square was a park where people took a stroll or went for their morning and evening walks till the Left Front government planned to build an entertainment hub there.
"In the 1990s, when Buddhadeb Bhattacharjee was information and cultural affairs minister, there was a plan to create an entertainment centre in the place," said Kumar.
Kakkar said that the plan was shelved following protests and the place remained locked up for years.
"About three years ago, I found a board outside the park saying that only cars ferrying students of the La Martiniere schools could park there. It was then that we approached the NGT to stop using the place as a parking lot," said Kakkar, who is the founder of People United for Better Living in Calcutta (PUBLIC). 
The bank of the water body inside Rawdon Square has not been concretised. Only wooden planks have been used to fortify the banks.
The civic body has also planted several trees like mango and debdaru inside the park.
"The park will remain open between 6am and 6pm every day. All parks under CMC are remaining open for 12 hours every day because of the Covid pandemic," said Kumar.