Replant fallen trees
'While nature's fury on a fateful May 20 has razed down a significant number of these green sentinels, not all is lost'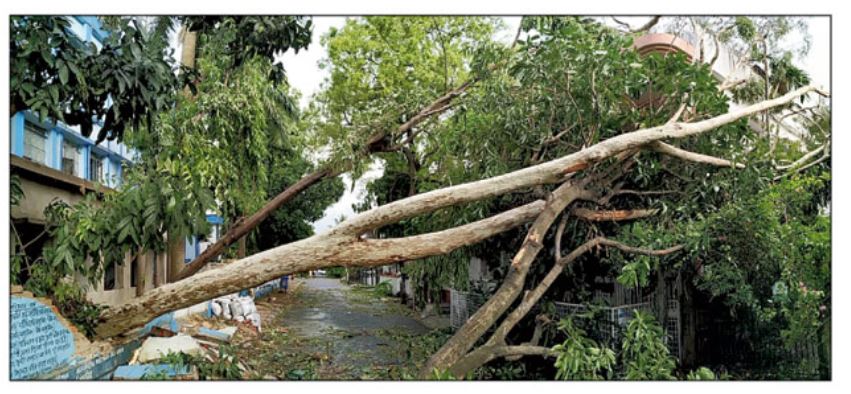 ---
---
Apropos the article "AJ Block man does fallen tree survey," published on May 29, Salt Lake is known for its lush green arboreous cover holding itself atop the sun-scorched stretches of road like a gazebo during summer. Avenues and lanes of this township are adorned by stalwarts like radhachura, krishnachura and neem that play host to a variety of birds, squirrels and other species.
Perhaps there is no resident who hasn't nurtured in their backyards mango, coconut and palm or even vegetable trees. While nature's fury on a fateful May 20 has razed down a significant number of these green sentinels, not all is lost.
The municipality staff might take a leaf out of the pages of New Town's Rosedale Garden, which has perhaps scripted history by replanting the fallen trees in their complex. It would have been an even more splendid sight if authorities and residents joined hands in helping our all-weather friends stand on their feet instead of than hewing them down and stowing them away to a dumping site.
Sharmistha Dhar,
AC Block
Entry dilemma
Apropos the article "To call or not call for help," published on May 8, the question is 'how long'. Can anyone say how long it would take for the situation to normalise? One month? Two? Three? No one knows.
We have to live with this virus and at the same time open up most sectors gradually with sufficient care and restriction. Otherwise particularly the domestic helps, cleaner and less-privileged class will start facing acute financial crisis. As it is, many households refused to pay the wages of these workers for the month of April.
Since most of the housing complexes are allowing office staff to commute and AC, fridge and water filter repairing technicians to come then why not helps?
Senior citizens and ailing residents are facing acute challenges without such support staff. Do you think we can stop Covid-19 by shutting the gate of our complex? Do you have control over who your neighbour is exposed to when he goes out of the gates? The answer is no.
So lets be pragmatic. Follow basic hygiene like using masks, gloves and sanitiser, do screening by checking body temperature if you can but leave it to the residents to allow or stop domestic helps. Sooner or later we all have to do that.
Arnab Bhowmik,
Greenwood Elements, New Town
Being part of a gated society residential complex, we have been receiving requests to allow domestic helps, but majority of residents are not in favour.
Yes, they are having to make adjustments but they believe in safety first. They are not comfortable with anyone walking through their gates coming from vulnerable zones. The presence of asymptomatic cases makes it an all-the-more challenging situation.
We are waiting for further government circulars and shall continue to restrict anyone coming from "red zones", whatever the pressure might be.
Yes, we are allowing repair technicians in but there is a difference between a domestic help coming from a containment zone and a TV mechanic coming for a job that will not expose them to elderly, vulnerable residents. If the government and health departments think we forego all concerns and normalise, lets do that. but that's an endless debate.
My personal opinion is that the government has ensured lockdown and zones with a plan to break the chain. We citizens we should ensure its success and I would even ask helps to think twice before they enter different houses.
Dhrubajyoti Basak,
President, Greenwood Elements
New year blues
Apropos the article "Bengali new year greeted on screen," published on April 17, each and every Bengali waits for Poila Baisakh every year. But this year, I didn't celebrate.
The reason was sombre. During this ongoing lockdown, media houses are constantly reporting about the agony of our fellow Indians. Despite the authorities trying their best, lakhs of people are struggling to get enough food for themselves and their family members. In such a situation, I could not get myself to celebrate.
I would also like to comment on the April 10 article titled "Lockdown heroes." In these trying times, the real heroes and heroines are those who are feeding stray animals.
Many of these animals depend on leftovers given by roadside eateries. Since these are shut now, the animals would go hungry if it wasn't for the state forest department employees, police personnel and common people who are going out of their way to feed them.
Sourish Misra,
SA Block
Flouting lockdown
It is very sad that many people did not take the lockdown seriously. Once during the early days of the lockdown I spotted a man hiding behind a car in front of my house. He was peeping from behind the car and looking ahead, just like one would in the game of hide-and-seek. He had spotted a police patrol car!
Every afternoon at about 3pm, I would find a couple of domestic helps loitering on the road of DL Block.
On the day of janta curfew, we clapped to applaud police, doctors, nurses and everyone risking their health to support us. What was the use of a one-day show of appreciation, if we cannot do our little bit to support them by simply staying home?
Smita Deb,
Address not given