Remembrance of a Sikh guru turns out to be a reminder to preserve religious harmony
A host of leaders came together in the city on Saturday to remember Guru Tegh Bahadur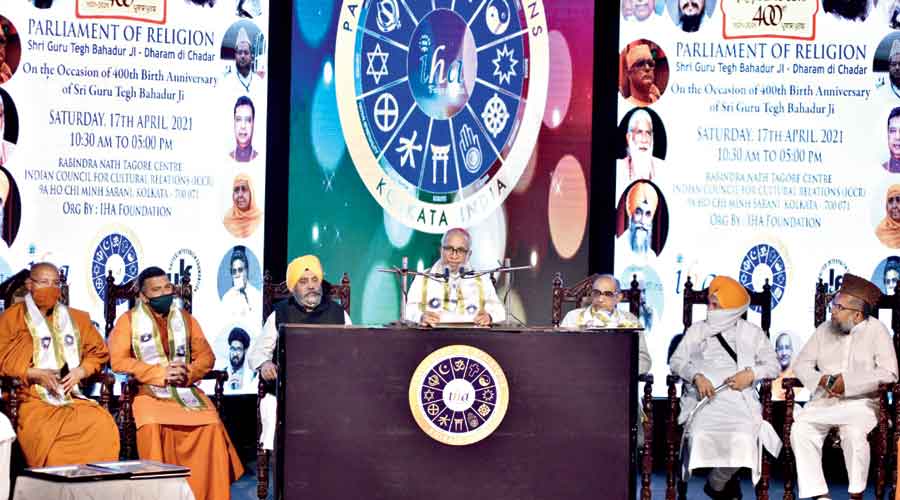 ---
|
Calcutta
|
Published 18.04.21, 01:33 AM
---
The remembrance of a Sikh guru turned out to be a reminder to preserve religious harmony.
A host of religious leaders came together in the city on Saturday to remember Guru Tegh Bahadur, the ninth of the ten gurus of Sikhism, who was "executed on the orders of Aurangzeb" in 1675 because he had opposed religious persecution.
The archbishop of Calcutta, Thomas D' Souza, called the guru a "fearless warrior, lover of freedom, protector of others and ardent lover of equality of all religions and dignity of all people".
"The eminent speakers will tell us how Guru Tegh Bahadur and his philosophy of life are relevant to the situation we are living in today. In the midst of hatred and violence, when superiority and inferiority are shaping the attitudes of people, it is this Guru (Tegh Bahadur ji) who shines like a beacon showing the way to the eternal truth, for which he laid down his life," he told the audience at ICCR.
Guru Tegh Bahadur was born on April 1, 1621. The congregation celebrated his 400th birth anniversary. Sikh leaders from Delhi and Punjab were among the participants. "Muslims or Islam did not kill Guru Tegh Bahadur. The state did. The state has used religion to suit vested interests in the past. It is doing so now and it will continue to do so in the future," said Giani Harpreet Sing of Sri Akal Takht Sahib, Amritsar.
The congregation, called Parliament of Religion, was organised by the IHA Foundation and the United Interfaith Organisation.
Giani Harpreet Singh Khalsa (head granthi, Sri Bala Sahib Gurdwara, New Delhi), Mataji Vipanpreet Kaur Ji (chairperson of Baba Kundan Singh Ji Bhalayi Trust Ludhiana), Swami Atmapriyanand (pro-chancellor Ramakrishna Mission Education), Reverend Paritosh Canning, (Bishop of Calcutta, CNI), Munni Mani Kumar Maharaj (Jain Monk), Md Shafique Qasmi (Imam of Nakhoda Masjid), Arunjyoti Bhikku (director, Tollygunge Sambodhi Buddhist Monastery), Swami Surjyagiri Maharaj (President, Gangasagar Math) were among the participants on Saturday.
"Though many are aware that Sri Guru Tegh Bahadur ji was called Dharam di Chaddar, many are still unaware of the stages of his life. But it is important for the new generation of the nation too to know and understand it. From Guru Nanak Dev to Guru Tegh Bahadur and Guru Gobind Singh — our Sikh Guru tradition is a philosophy of life in itself," said Satnam Singh Ahluwalia, chairman, IHA Foundation.