Recognition relief to small pujas
Police permission ensures eligibility for sops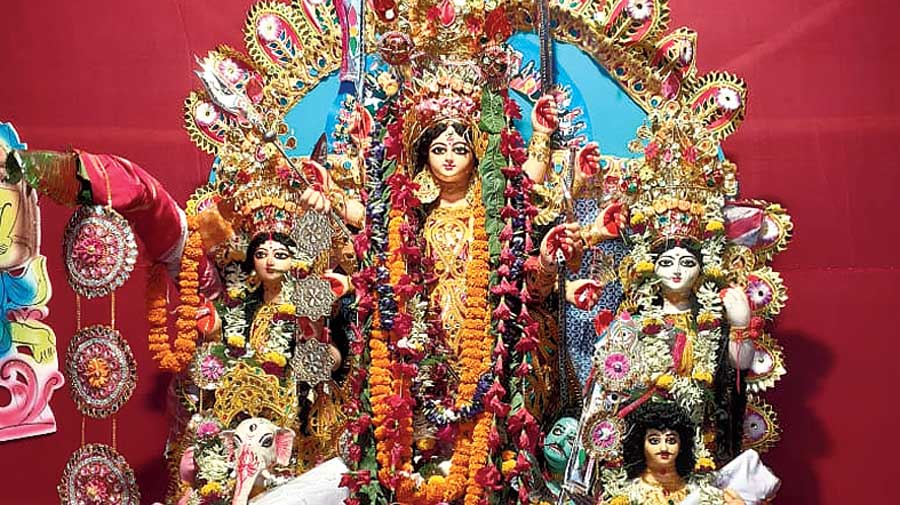 ---
Calcutta
|
Published 01.10.20, 04:32 AM
|
---
In October 2000 when some residents from a locality in New Alipore decided to organise a Durga Puja, the organisers had a trying time shuttling between police stations and court.
There was no official permission to organise a puja and holding one was termed "illegal".
Two decades later, when members of the New Alipore Sanskritik Parishad hold Durga Puja this October, it will be a legal one.
A formal police permission this time will make the puja committee eligible for the state grant of Rs 50,000, discounts on electric bills, facilities provided by the civic body, and services of the fire and emergency services department.
Not just New Alipore Sanskritik Parishad. More than 1,000 puja committees across Calcutta, who have been struggling to organise the festival on a shoestring budget without an official clearance so far, a formal permission this time will make all the difference.
Last Thursday, chief minister Mamata Banerjee had requested the police to grant permission to all committees who have been organising pujas for almost a decade. The city police have already started scanning applications.
"We won't have to take electricity connection from our para members any longer. A permission means we will be eligible for a CESC connection and even a 50 per cent discount," Indrajit Dey of New Alipore Sanskritik Parishad puja committee said. "Our electric bill used to be around Rs 20,000 for the halogen lamps inside the pandal and decorations outside and the microphone that is used during anjali."
Almost all such low-budget pujas are held in lanes and organisers keep hoping that cops don't turn up and seize all items branding them "illegal".
"In case cops arrived, we would plead with the officer in charge of Narkeldanga police station every year not to take any step and invite him to attend our puja," Sanat Halder of Pallybasi Brinda puja committee said.
Halder was among the first group of men from a locality on Canal West Road in Narkeldanga to start the Durga Puja in 2009. The puja has so far been held without permission.
"We will start erecting our pandal in next few days. For the first time, it feels nice to think we will not have to run away seeing a police van approach our puja," Halder said.
In Sonagachhi, Durga Puja organised by sex workers faced several challenges. The battle for rights reached Calcutta High Court from the streets after the police denied them permission.
The puja on Abinash Kabiraj Street will probably get an official nod for the first time this year, according to sex workers.
"When a puja committee has the police permission, it has the entire government support to help sail through the days of festivity," a puja organiser in Kasba said. "Those who don't have the police clearance know how difficult it can be organising Durga Puja."