Rancour in Calcutta apartments over rules of quarantine
A family under isolation allege that another family 'tortured them' for stepping into 'common space'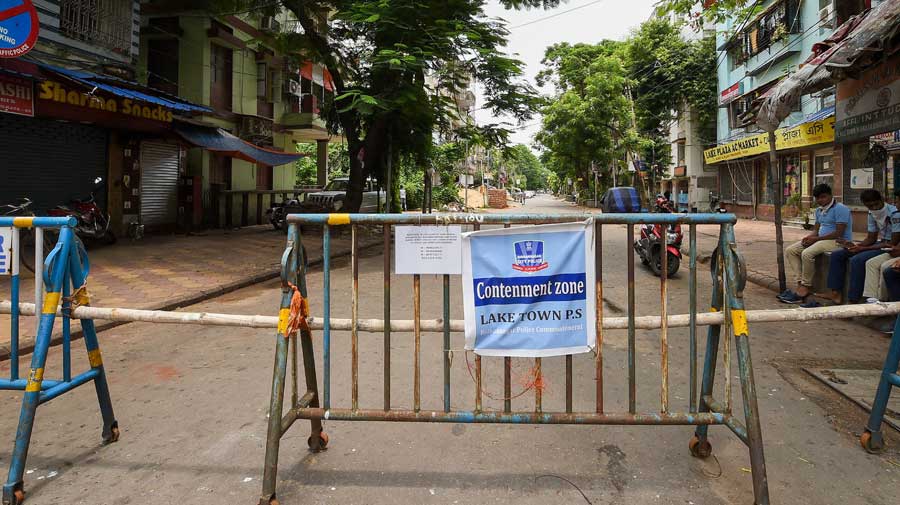 ---
|
Calcutta
|
Published 23.07.20, 05:07 AM
---
A family, one of whose members and a help have tested positive for Covid-19, has accused their neighbours of assaulting them.
The neighbours have alleged the family had been moving in the building even after being advised home quarantine.
The allegations underscore problems Covid positive people in the city and their neighbours have been facing during the pandemic, partly in the absence of awareness and partly for want of sensitivity.
The two families living on the same floor of the building in Patuli got into an argument when members of one family spotted clothes of the other family hung out on the rooftop. They alleged the other family had broken quarantine rules.
The family under quarantine (a man, his five-month pregnant wife, their four-year-old son and their help) has alleged the other family had "tortured them" for stepping into the "common space". The "mistreatment" prompted the woman to go to the police station, the family has said.
"Some of my neighbours have alleged that I drove my family to hospital for tests after I tested positive," the man who is with an IT company at Salt Lake said. "My report was pending at the time… where would I get a car to safely carry my child and pregnant wife to hospital if I don't want to put them in an ambulance that is carrying various patients?"
His wife and child have tested negative while the help has tested positive. "Two of my neighbours threatened me on phone before asking me to open the door. The moment I opened the door, they pounced on me and pushed my wife. My wife got so angry that she went to the police station to lodge a complaint."
His neighbour said all building residents had offered help on the common WhatsApp group. "When there are two Covid patients in the house, how can they step out and use the common space to dry their clothes?" he asked. "They went to police because we dared to protest."
The police asked the woman to return home and email her complaint when they got to know her husband and help had tested positive.
The woman shouldn't have stepped out of her home as she is a "primary contact", according to health department rules.
The man in Patuli told Metro that he knew his wife should not have stepped out of their home. "But please understand… she was so traumatised that despite her physical condition she decided to go to the police station. This is pure harassment."
There is a culpable offence in both cases; assault and defying the pandemic act. No case has been started, the police said.