Private ambulances spring 'help' trap to Covid patients
With no standard operating procedure in place, most operators said ambulance drivers were scared of infection and that they could not be asked to step out and help relatives of a patient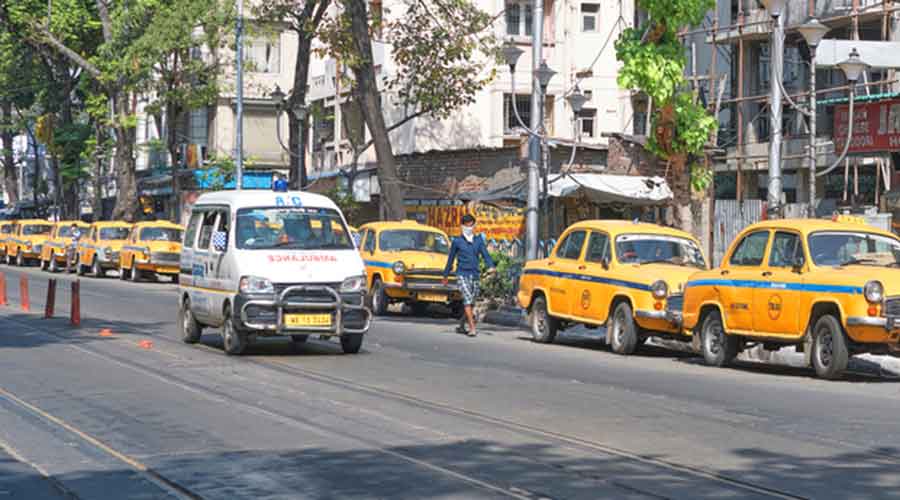 ---
|
Calcutta
|
Published 31.07.20, 05:03 AM
---
Several private ambulance operators are now allegedly asking patients' families whether the patient needs help to board the vehicle. If yes, they are rejecting the requests for an ambulance or asking for a premium.
Sources said most operators were saying at the outset that the ambulance drivers would not offer any help to the patient and might not even budge from his seat. Those who are agreeing to help are charging between Rs 500 and Rs 1,000 extra.
The state health department has clarified that ambulances that can be booked by dialling 102 — a government service — must have a helper accompanying the driver, and both are supposed to help a patient board the vehicle. Any complaint will invite immediate action, the department has warned.
No such instruction has been issued to private ambulances.
With no standard operating procedure in place, most operators said ambulance drivers were scared of contracting the coronavirus and that they could not be asked to step out and help relatives of a patient.
"Two weeks back, one of my drivers tested positive. Others have said they will not go near a Covid-19 patient or suspect," said an ambulance operator from Cossipore in north Calcutta. "I can't force them."
The Telegraph on Thursday called a private operator posing as a relative of a Covid-19 patient waiting to be taken to the Calcutta Medical College and Hospital from the Seven Tanks crossing in Cossipore.
On being told that the patient needed help to board the ambulance, the operator said: "Sorry, I can't offer my ambulance. I have been rejecting calls if the patient needs help. Take down another operator's number and call him."
Last Saturday, 65-year-old Madhab Narayan Dutta had collapsed while trying to board an ambulance in front of the emergency ward of Bongaon Sub-divisional Hospital. He died on the spot minutes later, unattended.
Dutta was only being helped by his wife to get into the ambulance. The driver allegedly did not come forward to help her and his help was on leave, in violation of norms.
Several private operators on Thursday said they were not deploying help to cut down the PPE cost. "Drivers are no longer working on the basis of an hourly contract. Instead, they are charging for every trip. An ambulance has to be sanitised after carrying every patient. Add to it the cost of PPE," said an operator from Nagerbazar.
He said a trip from Dum Dum to the Calcutta Medical College and Hos-pital, a dedicated Covid hospital, would cost Rs 6,000. That's around Rs 400 per kilometre.
Operators from parts of south Calcutta said if a patient required to be carried on a stretcher, the family would have to pay extra.
"The fare is Rs 1,500. We will charge Rs 500 for sanitisation, another Rs 2,000 for PPE kits and Rs 1,000 for a helper," said an operator from Jadavpur.
This newspaper asked him how much he would charge to transport a Covid patient from Selimpur to a private hospital in Salt Lake. "If the patient can manage to walk, it is minus Rs 1,000," he laughed.
Home secretary's plea
State home secretary Alapan Bandyopadhyay, who has been appointed as Cal-cutta's nodal officer for Covid-19 management, held a video conference with all ward coordinators on Thursday. A coordinator said Bandyopadhyay requested them to inform officials of the Calcutta Municipal Corporation (CMC) if anyone needed an ambulance but was not getting one.
"He spoke about better coordination. Since ward coordinators, who are former councillors, get to know about a problem in their wards, they should alert CMC officials. That will help reduce harassment faced by patients and their families," a coordinator said. "He said if officials got to know about a problem, they can arrange an ambulance."