Presi alumni help for booksellers
The association gave Rs 1,300 each to 300 shopkeepers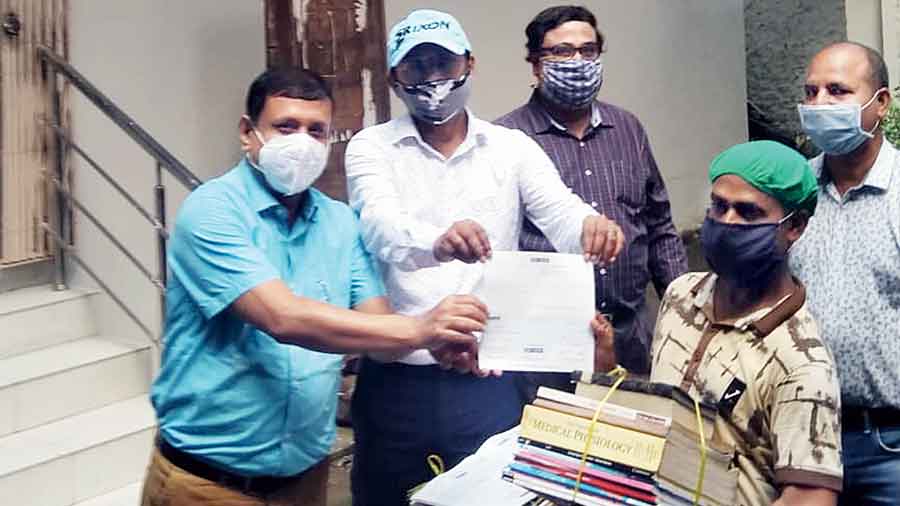 A cheque being handed over to a bookseller on Friday
Telegraph picture
---
College Street
|
Published 10.10.20, 01:33 AM
|
---
The Presidency College alumni, many of who used to frequent the bookstalls dotting the College Street footpaths during their college days, on Friday extended a helping hand to booksellers hit hard by the pandemic.
The alumni joined hands to raise money for 300 booksellers who came to the association's office on the Presidency University campus to collect cheques of Rs 1,300 each.
Friday was the first instalment of the help being extended to the booksellers ahead of Durga Puja, Bivas Chaudhury, the alumni association secretary, said.
Booksellers may have resumed business but their earnings have been hit hard because buyers are not frequenting the stalls the way they used to earlier,
Chaudhury said. "Their captive reader base vanished with the closure of the campuses that line Boipara. We are trying to help them as much as possible."
Some publishing houses have already decided to make books available on digital platforms as people have stopped visiting bookstores to avoid any sort of gathering.
The lockdown had already destroyed their lives, Cyclone Amphan in May added to their woes, an alumna said. "The cyclone devastated the bookstall heritage corridor on College Street, stretching around 1.5km around Presidency University. Stalls had been damaged and books were strewn all around on waterlogged streets."
The association has set its sight on helping 500 booksellers.
It has decided to raise Rs 24 lakh. "We will keep helping them as and when a decent sum is raised," Chaudhury said.
The association has compiled a list of bookstall owners and got it verified through the councillor and various local bodies.
Pratap Das, one of the booksellers who collected the cheque on Friday, said: "It made me feel happy that these former students have not forgotten us. This gesture touched us."
School guide The TTIS School Directory 2020, a book with information on more than 200 schools in the city and on its outskirts, was launched on Friday evening. The 14th edition of the directory was launched by Suborno Bose (centre), chief mentor, IIHM; Joyita Majumdar (right), the principal of Ruby Park Public School; and Jhuma Biswas (left), the principal of St Augustine's Day School, Barrackpore, during a show on Friends FM. The title sponsor for TTIS School Directory is IIHM, in association with St Augustine's Day School, Barrackpore and Shyamnagar, powered by Ruby Park Public School and admission partner is admissiontree.in. "We are proud to be associated with it because the directory brings to the table a lot of value for parents. The directory and admissiontree are a perfect match for parents," Bose said. The directory will be available on the stands from Saturday. P