Preschools give up premises, go online
With no in-person classes taking place and the number of new admissions going down drastically, thereby making it difficult for these schools to retain the spaces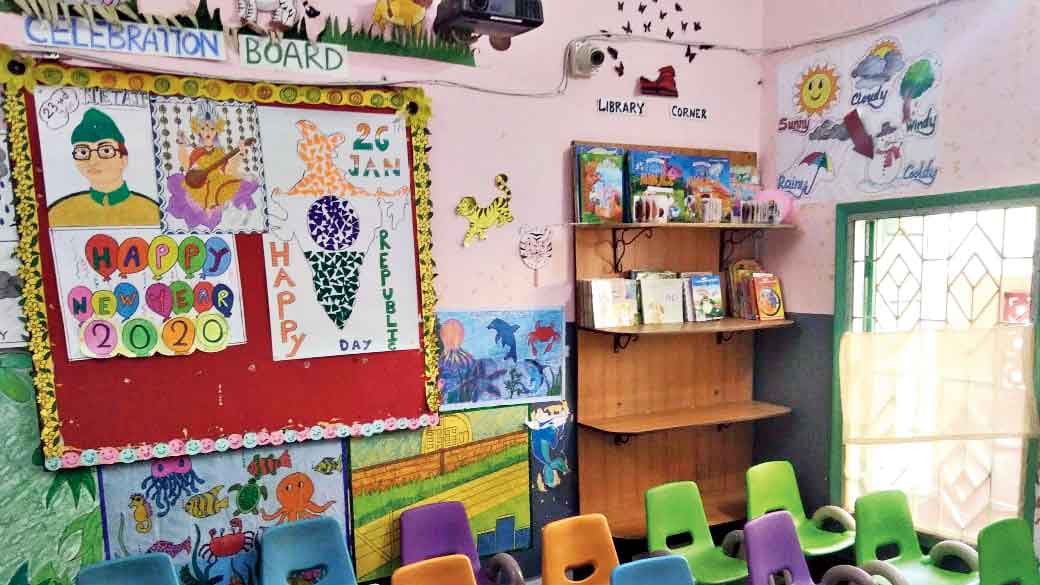 Little Laureates in Garia that has let go of its premises and is now conducting online classes
Telegraph Picture
---
Calcutta
|
Published 06.01.21, 03:02 AM
|
---
Preschools in the city are letting go of their premises that are mostly on rent and focussing more on online classes in a bid to survive the Covid pandemic.
A preschool chain in Bengal has retained only 23 of the 80-odd school properties it had before the pandemic. Another preschool chain has left one and is planning to leave another soon. A preschool with four branches in the city has already released one. Another in Salt Lake has shut down its premises and said it would start "afresh".
Most of the preschools are on rented premises. With no in-person classes taking place and the number of new admissions going down drastically, these schools are finding it difficult to retain the spaces.
The schools are concentrating on online classes but a proprietor said it was not easy to get students for "online classes". "Before the pandemic, we had 800 students across four branches, 500 left after getting admitted to high schools. Of the 300, not everyone was
willing to attend online classes. Now, after the fresh session in high schools start, more than 200 would go and we would have to get a fresh batch of students," said Neelakshi Shukla, the proprietor and principal of Beginners Montessori House, which is in its 25th year.
Beginners had to release one of its premises. Young Learners had to let go of its Salt Lake premises. "We are concentrating largely on online classes and once we get the go ahead we can start afresh from a new campus," said principal Sangeeta Sureka.
Rent is not the only expense. There are other overhead costs incured on electricity, maintenance and infrastructure. Rent, however, takes the lion's share, said one school head. Most preschools are located in areas where real estate is expensive.
"We were spending more than Rs 25 lakh on rent. After letting go of several premises we have been able to save. We have to survive," said Tamal Mukherjee, the founder-director, Little Laureates.
The chain of preschool has developed a digital platform for children in the age group of 2.6 to 6 years.The platform has separate log in for parents, teachers and students. "It has a facility where all live classes will be recorded for parents to access at their convenience," Mukherjee said.
Most of the preschools are trying to convince parents how the children can achieve milestones, all through online classes.
"Online education is here to stay and we are trying to convince parents that we are not teaching them only language or numbers, we are also trying to connect with their children socially and at an emotional level," said Nabonita Bose Mukherjee, the principal and owner of Bubble Blue Montessori.
Pooja Dugar, the director of Leap Years Preschool, said that though they had retained their space, they had shifted the focus from "physical class to online class". But they are also trying to figure out how to generate revenue from the space.
Many parents are unwilling to admit their children even to high school because of the uncertainty as to when they can attend in-person classes. "In a preschool, the class size is much smaller even in the online mode," said Bose Mukherjee.
Under the changed circumstances, the preschools have also become more flexible. They have kept multiple class timings, so that parents can choose according to their convenience.
For example Little Laureates will have four batches — 9am, 11am, 5 pm and 7pm. At Bubble Blue also there are four class timings, including one in the evening. Shukla said that they are also giving demo classes to parents.
"Children are enjoying the classes. They look forward to it. The task of teaching is much more difficult in online mode because there are that many eyes looking at you which also includes the mothers," she said.