Roman Catholic churches pay respects to Father Stan Swamy
Priests in the city on Sunday spoke about his 'fight for injustice' and to inspire tribals to believe that they should not 'lose their rights'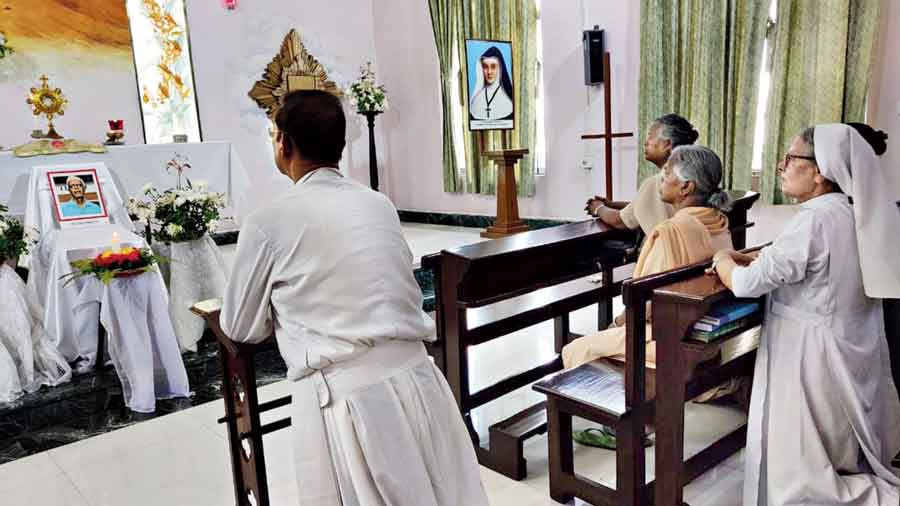 Prayers for Father Stan Swamy at St Catherine's Home Chapel in Kidderpore on Sunday
Telegraph picture
---
Calcutta
|
Published 12.07.21, 02:14 AM
|
---
The Roman Catholic churches in Calcutta paid their respects to Father Stan Swamy and spoke about the work of the ailing Jesuit priest who passed away in federal custody waiting for bail at the age of 84. 
In some of the churches, spontaneous respect was shown to the tribal rights activist during the Sunday service and in some others, prayer meetings were held remembering him and 
praying for the repose of his soul.
Priests in the city on Sunday spoke about Fr Stan's "fight against injustice" and to convince tribals that they should not "lose their rights". 
A prayer was held for Fr Stan at Archbishop's House on Sunday evening. 
The Ranchi-based Fr Stan, who had been suffering from Parkinson's disease, died on July 5 at a Mumbai hospital after being in custody for nine months. 
"...Father Stan Swamy never gave in and did not compromise to injustice. He persevered and fought for the cause of justice for the tribal people, marginalised, downtrodden, rejected and unwanted, for which he had to pay a heavy price," said Father Dominic Gomes, the vicar general of the archdiocese of Calcutta. 
On Sunday, he led the prayers at St Vincent's Home Chapel and St Catherine's Home Chapel, both in Kidderpore. The sisters of Daughters of the Cross arranged to pay tributes to Father Stan and prayed together for him. 
Father Gomes said at the prayer meeting that to be "a Christian, a Missionary in today's world is indeed a great task, a challenge and a responsibility". 
"Should one give in and not take up the challenges or make efforts to fight… today all of us should continue to fight against the injustice to the tribal and poor people… many are behind bars for no reason whatsoever," said Father Gomes.
"Are we going to dilute, compromise, be lukewarm or adopt an all-is-adjustable policy with respect to our Christian values? Or are we ready to grow and stand firm in our convictions and make efforts to live a true Christian life? 
"How many of us will take up the cause of Father Stan and be ready to follow in his footsteps, to be a martyr for their people. Is the world transforming me… or am I, as a Christain, transforming the world?" he said.
Father Gomes asked all those present to take a pledge.
"Let us pledge today to fight injustice at all levels of our society and pray for more and more Father Stan to take birth and stand for the poor and weak," he said. 
At the Church of Christ the King in Park Circus, the parish priest spoke about Father Stan in the morning as well as the evening service.
"Father Stan told the tribals that they should not lose their rights and dues and that like any other community they have to come to the mainstream," said Father Basil Mandi, parish 
priest, Church of Christ the King. 
"Many would think tribals mean backwardness,  tribals mean no-civilisation but he (Father Stan) was fighting and was like a light to the community," he said. 
The visitors,  limited because of the pandemic, prayed for Fr Stan's soul. 
"In almost all 65 churches of the Roman Catholic archdiocese of Calcutta, respect was shown to Fr Stan in different ways," Father Gomes said.