Post-Amphan, parks of Salt Lake in disrepair
At a park inside FE Block, locally called Green Verge 2, a lamppost that was broken in the cyclone still lies prostrate in the middle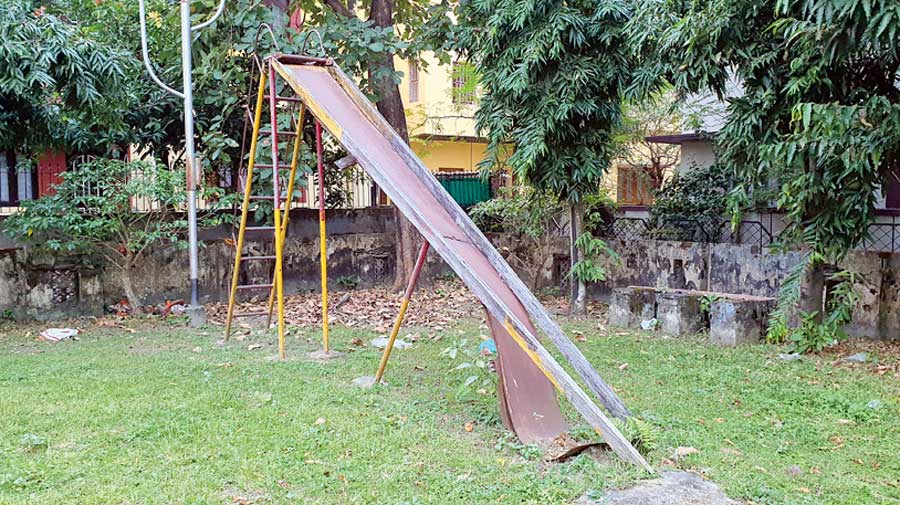 ---
---
Several parks in Salt Lake have been reduced to a shadow of their former selves with defunct lights, broken down walls, damaged playground furniture and tall weeds.
The parks were once popular hang-out zones for residents as well as visitors to the township but are now run down. Many of these were ravaged by Cyclone Amphan back in May and have been languishing in that state since then.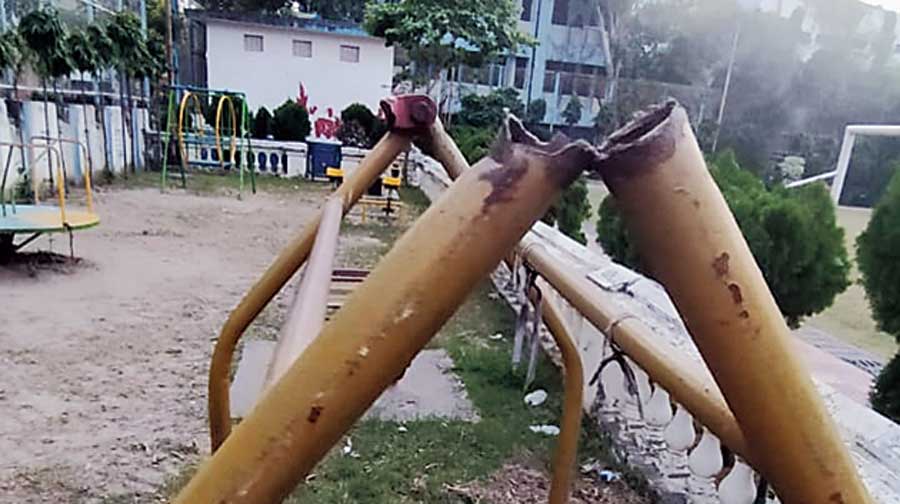 At a park inside FE Block, locally called Green Verge 2, a lamppost that was broken in the cyclone still lies prostrate in the middle. Several portions of the park's boundary walls have gaping holes and broken branches of trees lie along the periphery. The swing lacks seats and the slide has partially caved in.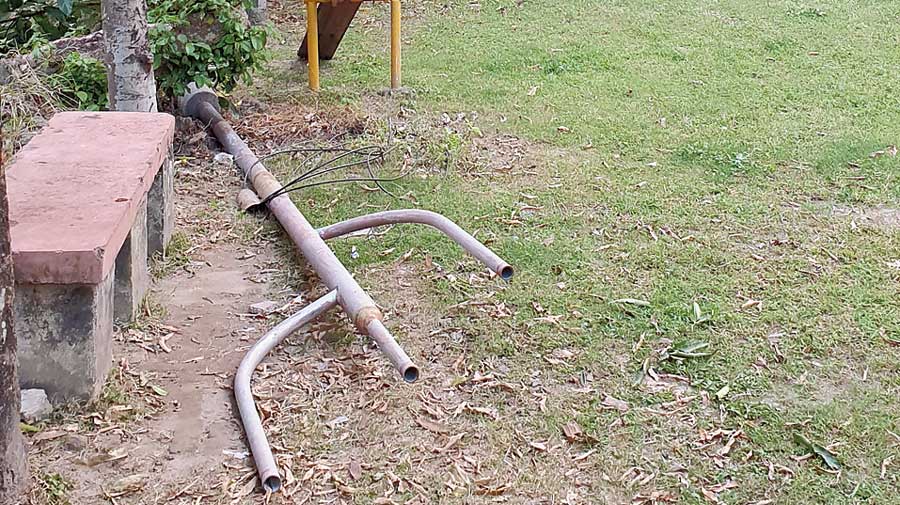 Several lights inside a nearby park, that houses the Jaideep Mukherjea Tennis Academy, have stopped working and both here and in another smaller park inside the block, lampposts have electric wires sticking out dangerously from them.
On November 11, a man had snatched a handbag from one of two girls walking home at night. After the crime, he got on his bicycle that was kept inside FE Park and pedalled away.
Basab Basak, a resident of the block, said that the civic body had not carried out repairs in the parks for a very long time and that nothing, be it lights or the benches, had been repaired or painted in a long time. "There has been absolutely no maintenance in our parks," said Basak.
At HA Park, a swing hangs lopsided as one of the chains has snapped, residents said. A rusted iron pole stands at the spot where a monkey-bar once stood.
In IA Block, the jungle cage is rusted and the swing's chains are falling off in chunks at the slightest hint of movement. However, work has finally started here as the tender for the job had been floated before the civic board's term ended in October.
FD Block resident Ayantika Chakraborty said their park plunges into darkness every evening. "Many of the lights don't work properly. We feel unsafe to take a walk in the park after sunset," she said.
Not a single child was spotted in AD Park despite the presence of colourful swings, slides and merry-go-rounds. The reason is not far to seek. Not one of them work and many of them are broken. "The children's section of the park has at least 10 rides. All of them have stopped working because of lack of maintenance," a resident said.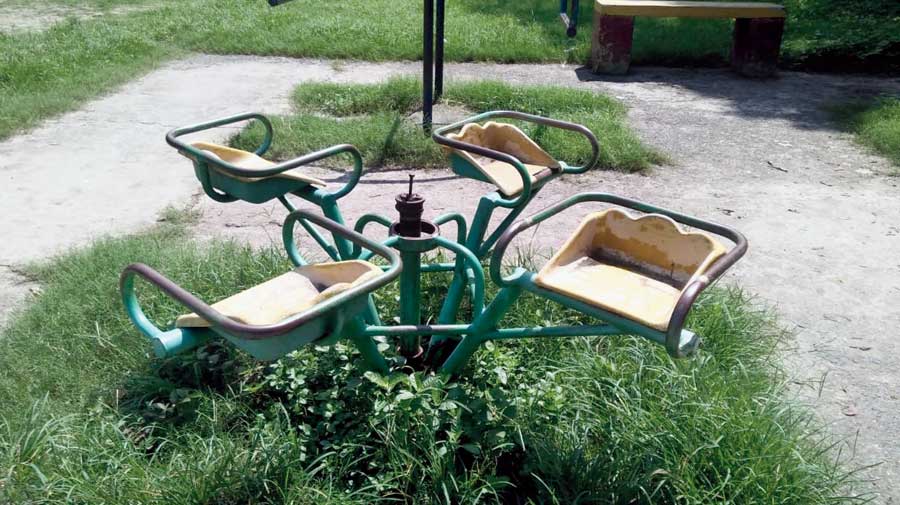 The broken base of a merry-go-round stands partially hidden from view by overgrown grass and anyone can trip over it and get injured. The merry-go-round itself lies overturned near the wall.
In AC Block, a park alongside the Kestopur Canal is so overrun with weeds that creepers have nearly masked a Rabindranath Tagore statue there. In fact, the standing statue is tough to spot unless someone goes looking for it.
The civic body had in 2015 cleaned and decked up the parks in all three sectors of the township at a cost of more than Rs 30 lakh. Just four years later, however, most of them are in such a state that residents are shunning them.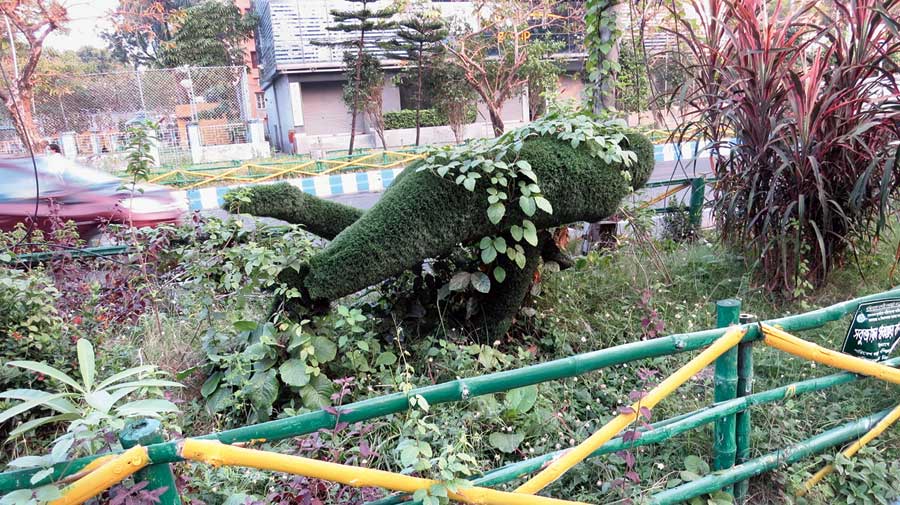 Krishna Chakraborty, chairperson of the board of administrators of the Bidhannagar Municipal Corporation, said they had started repairs. "The Bidhannagar Municipal Corporation is carrying out these repairs as emergency maintenance work. We cannot call for fresh tenders now as the term of our board has ended. However we have started the repairs and it will be done in phases," said Chakraborty.
According to her, ward co-ordinators (former councillors) that have damaged parks in their wards have sent in reports on the repair needs.