Poor sales at fair follow pandemic for artisans
Saras Mela at New Town and Banglar Tanter Haat at Central Park are a chance for artisans to earn a decent income after months of living on government doles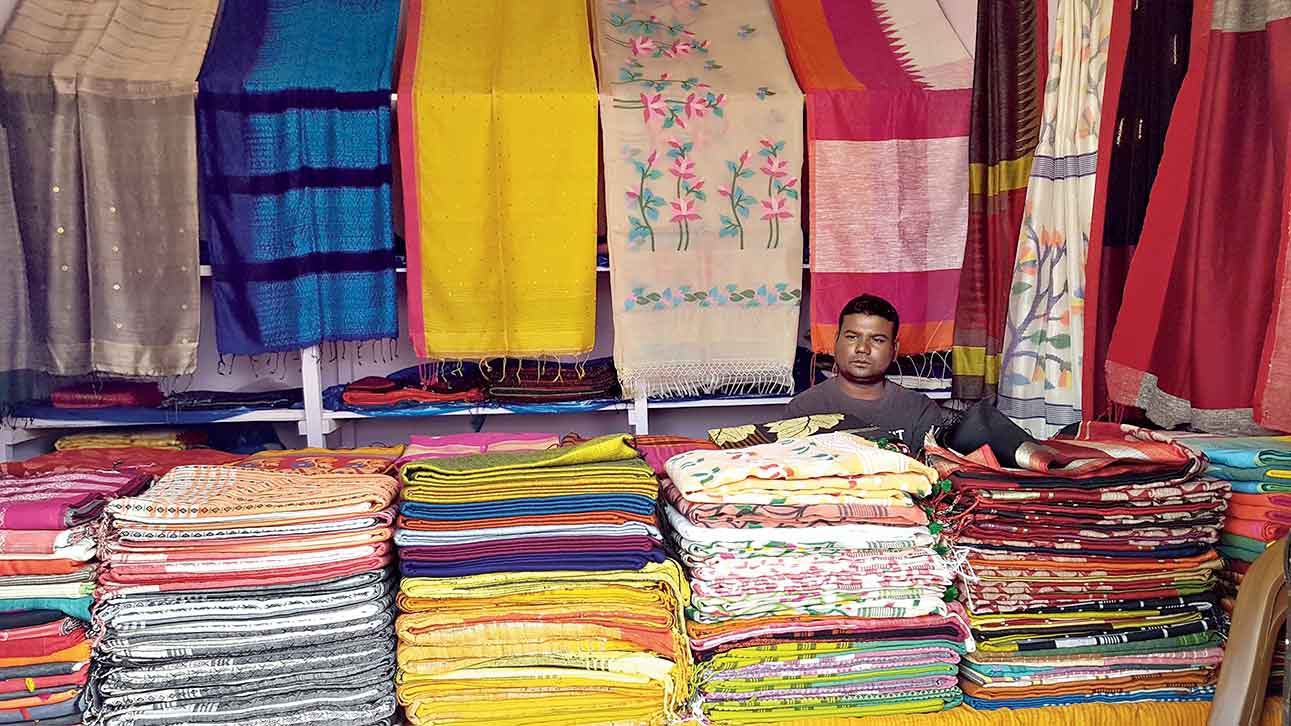 A stall keeper at Banglar Tanter Haat with stacks of saris to sell.
Brinda Sarkar
---
Salt Lake
|
Published 01.01.21, 01:58 AM
|
---
The two fairs in our vicinity have breathed fresh life into the fates of artisans, many of whom have been out of work since the lockdown. Saras Mela at New Town and Banglar Tanter Haat at Central Park are a chance for artisans to earn a decent income after months of living on government doles.
"We are completely dependent on fairs and used to attend seven or eight big ones round the year across the country. Delhi and Mumbai used to be our biggest markets," says Jaggaram Pannu who has come to Saras Mela from Rajasthan with bed linen in ajrakh, applique, patchwork, embroidery. "We'd never come to Calcutta before but pounced on the offer  this time as this was the only fair happening."
Biswajit Basak of Burdwan says they have some 300 artisans working for them but with their workshops shut many have turned to selling vegetables, tea or become farm labourers. "The workshops have still not reopened as we have to clear old stock first," says the seller at the taant fair.
Tapan Kumar Palit used to take part in over 100 fairs across the state selling hair clips and the like. "Everything from rath-er mela to the fair outside Sreebhumi during the pujas. Fairs would make me a good living and I even managed to fund my son's education with it. He shall graduate from medical college next year," says the proud father who this year was making ends meet selling vegetables. "But it pays peanuts. If I earned Rs 10 from a fair, I earn Rs 2 selling vegetables."
Shefali Begum and her husband, both artisans, have eaten out of their savings and were living on doles till Saras Mela was announced. "We didn't know if customers would come to shop in the midst of the pandemic but then we figured it couldn't have been worse than the situation we were already in," sighed the lady who had made marginal sales over WhatsApp during the lockdown.
Mantu Pal of Chinsurah was somewhat better off than weavers as her self-help group (SHG) deals with spices, a commodity people needed even if locked down. "But then transport was a problem. Lorries were not available and we had to change several buses to reach Burrabazar and carry items back ourselves," she says.
Some were not spared even by Amphan. "The cyclone broke my asbestos roof and all the cotton we had stored got drenched," says Suparna Pramanik of Serampore. "Artisans couldn't come to work, we couldn't deliver the saris on time and our payment got stuck."
Ila Basak usually sells her tussar, matka and khadi saris at Park Street and Gariahat but this year the shops are taking very few as demand as plummeted, says the Phulia resident.
Partha Pratim Das explains that no matter how many times a year they sell saris to stores in the city, they are paid 80 per cent upfront. "The balance is cleared after the pujas. This year stores haven't even been able to pay half that amount so how do we pay artisans? Those who toiled to weave the saris others wore for the pujas couldn't afford to buy their own children anything this year," says the owner of Das Sari Centre of Santipur.
Das also blames the rise of WhatsApp sari sales during the pandemic for diluting quality. "Firstly, laymen cannot differentiate between handloom and machine-made saris and more so when seeing their pictures over WhatsApp. Many fraudulent traders have sold machine-made saris as handloom at cheap rates and now customers are not believing us when we quote the real prices of handloom saris. If this goes on artisans will quit the business and the art will be lost," he says.
Response, especially at the tant fair, is no great shakes. In the first five days of business, Basak only made sales on two days. "Customers are coming, asking prices and walking off. Else they are seeking discounts but we are in no position to make allowances this year," she says.
Others feel the winter is a terrible time for a tant fair. "Saris sell before the pujas. Who will buy them now," asks Das.