'Poor' or 'very poor': Calcutta's recent air quality
Reading raises concerns that the situation would further worsen as temperatures fall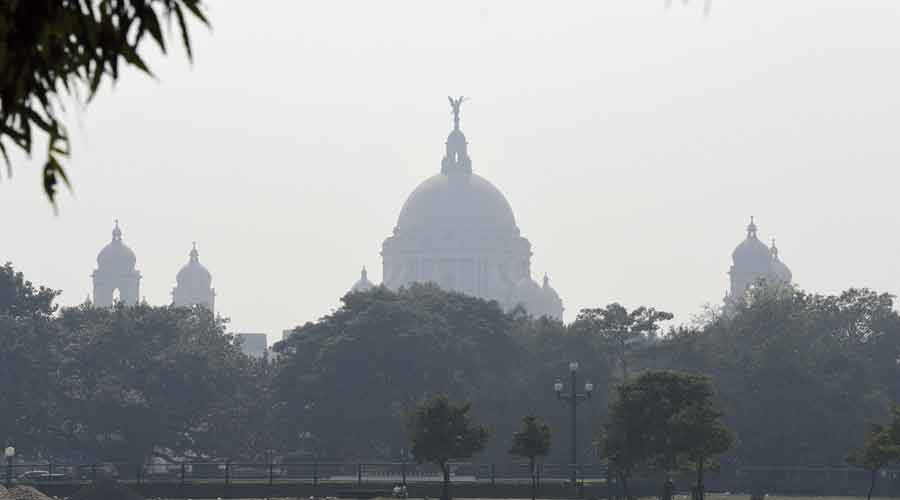 The Maidan wrapped in a haze on Tuesday
File picture
---
Calcutta
|
Published 03.12.20, 02:34 AM
|
---
Air quality in the city has remained "poor" or "very poor" in many instances in the past several days, according to the National Air Quality Index, raising concerns that the situation would further worsen as temperatures fall.
At 4pm on Wednesday, the air quality was "poor" at the monitoring stations in Ballygunge, Bidhannagar, Jadavpur, Victoria Memorial and Rabindra Sarobar. It was "very poor" at the monitoring stations in Fort William and Rabindra Bharati University (BT Road campus).
At 4pm on Monday, the air quality was "poor" at all stations barring Rabindra Bharati, where it was "very poor".
The Telegraph checked the index for the last seven days.
The readings at each of these stations was the average of the air quality of the previous 24 hours, said a scientist at the Central Pollution Control Board, which compiled the air quality index based on data from the stations.
The index mentioned prolonged exposure to "poor" air could cause "breathing discomfort" in most people, while prolonged exposure to "very poor" air could result in "respiratory illness".
Air quality management specialists said more days of "very poor" and "severe" air could be waiting as winter has just set in. As temperatures will fall in December and January, the polluted air will hang close to the surface and take more time to disperse in the absence of steady winds.
"Severe" air quality could affect healthy people and "seriously impact" those who are ailing, said doctors. They are more worried this year because of the Covid-19 pandemic.
The most potent of the air pollutants are PM2.5, which are less than 2.5 micron in size. They can enter deep into the lungs and trigger a host of critical ailments.
"Every year the air quality in Calcutta starts deteriorating from November. This year, too, is no exception," said Anupam Deb Sarkar, a professor of civil engineering at Jadavpur University, who specialises in environmental engineering.
"As temperatures fall in winter, the surface and the air close to the surface become cold. Being heavy, cold air does not rise up easily and get replaced by warm air. It takes almost till next afternoon for the situation to improve, which is why evenings, nights and mornings are particularly bad during winter. This natural phenomenon is called thermal inversion," Deb Sarkar said.
Other specialists said other factors were adding pollutants in the air, which float for a longer duration during winter because of thermal inversion. 
Anumita Roy Chowdhury, the executive director of the Centre for Science and Environment, said burning of biomass also contributed to the worsening air quality.
Poor air quality can have multiple effects on the human respiratory system, and can have worse impacts if someone has Covid-19. "If a person who has Covid-19 is exposed to polluted air, there are more chances of the person developing severe symptoms. Besides, air pollution also exacerbates the ailments in people with COPD and asthma," said Sumit Sengupta, a respiratory disease consultant at AMRI Hospitals Salt Lake.
Health hazard
Average air quality over 24 hours till 11am on the days mentioned
Victoria Memorial
Poor: On December 1 and 2; November 26, 27 and 29
Moderate: On November 28 and 30
Rabindra Bharati
Very poor: On December 1 and 2
Poor: On November 26, 27, 29 and 30
Moderate: On November 28
Source: National Air Quality Index