Pollution test must for govt buses
Machines to check tail-pipe emissions are being set up across 11 depots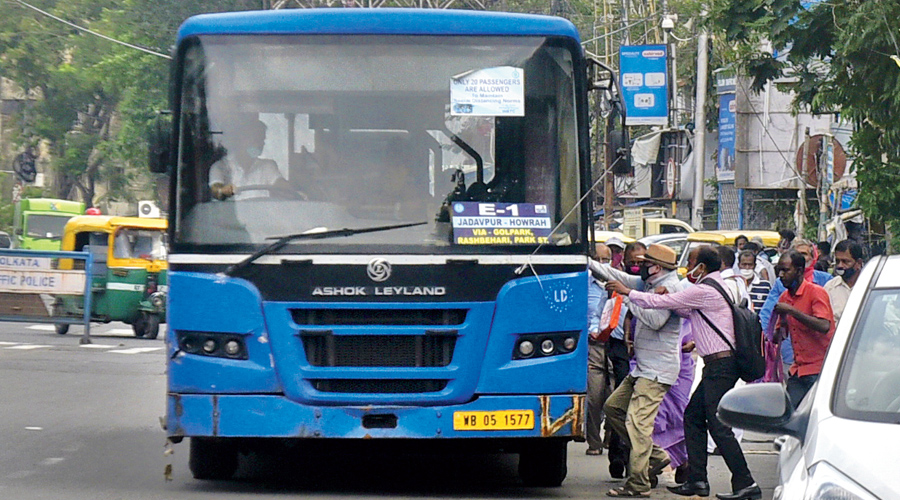 "Each bus will have to undergo the test regularly and the depot managers will have to submit reports."
File picture
---
Calcutta
|
Published 26.03.21, 02:29 AM
|
---
Government buses can ply only after they have cleared pollution tests, the transport department has decided.
Machines to test tail-pipe emissions are being set up across 11 bus depots. "Only a vehicle that clears the pollution test will be allowed to roll out of the depot," an official of the transport department said. 
The buses are likely to be tested at the depots from mid-April, officials said.
"Once the environment department certifies that the machines installed for testing tail-pipe emissions are in order, we will start testing," said an official of the West Bengal Transport Corporation. "Each bus will have to undergo the test regularly and the depot managers will have to submit reports."
Tail-pipe emissions from buses and other diesel vehicles are among the greatest contributors to air pollution in Calcutta, several studies have revealed.
A recent source apportionment study commissioned by the West Bengal Pollution Control Board and conducted by the National Environmental and Engineering Research Institute (NEERI) suggests that tail-pipe emissions could account for nearly a third of the PM2.5 in the air. PM2.5 are the most potent air pollutants that can enter deep into the lungs and trigger a host of critical ailments, including cancer.
Transport department officials said each of the buses would undergo the same pollution test that all vehicles undergo and those found unfit will be immediately handed over to the maintenance team in the depot. 
"Around two years back I had moved the National Green Tribunal seeking to know why government buses in Bengal did not undergo the mandatory pollution check like other vehicles," environment activist Subhas Datta said. "It will be a good move if the state government actually subjects its buses to pollution checks." 
Transport department officials said that initially 1,200 buses, which ply within the city and its adjoining areas, would be made to undergo the test.